Fast fashion is toxic for the planet and the people involved in the production process. Labour is underpaid, enormous waste is created and agricultural biodiversity is imbalanced.
It's becoming increasingly cheap to buy fashionable clothes but as journalist Lucy Siegle says, "Fast fashion isn't free. Someone, somewhere is paying."
Check out our article on ethical clothing to know more about fast and slow fashion.
What Is Ethical Clothing?
Ethical clothing resolves the issues that fast fashion has created today. Ethical fashion brands support good working conditions, curb exploitation, facilitate fair trade, are involved in sustainable production, and support animal welfare.
Ethical clothing brands are mindful of their activities, and their impact on the planet and are transparent about their operations and vision.
The Best Ethical Loungewear Brands You Can Buy in the UK
Loungewear is loose, comfy, fashionable, warm and soft clothing that you can wear in or outside the house.
We've listed some of the best ethical and sustainable brands below. Some of these brands are loungewear brands while some are clothing brands with a dedicated loungewear line.
1. Damson Madder
Damson Madder is run by an all-female team based in London that aims to make a difference in the fashion industry. They make sure to monitor their supply chain and audit factories regularly to provide transparency and accountability to customers.
Most of the clothes are made with organic cotton which is Global Organic Textile Standard (GOTS) certified but they also recycle plastic bottles to create some products.
Damson Madders also makes use of deadstock or discontinued fabric meant for the landfills. These products have the 'deadstock' logo on them.
The loungewear they offer is both sustainable and comfortable, moreover, it is affordable compared to other sustainable brands.
2. Thought
Thought started in 1995 and has had sustainability on its mind ever since. Their yarn comes from traceable and low impact sources. They also upcycle their leftover fabric to reduce waste.
The different materials they use are – GOTS certified organic cotton, hemp, bamboo, tencel from FSC certified eucalyptus trees, modal from beech trees, recycled polyester and wool.
They have different varieties to choose from in their loungewear range. Check out their entire range here.
Thought uses recycled paper and compostable cornstarch bags for its packaging and labelling.
3. BAM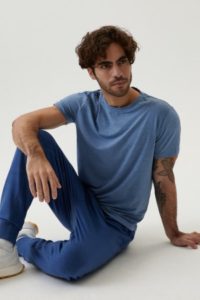 BAM was built with the vision of one creating a viable and environmentally sustainable business. It is on a journey to becoming impact positive and plans on reducing its carbon footprint to zero by 2030.
BAM creates bamboo clothing which is considerably better for the environment – bamboo absorbs five times more carbon than hardwood trees do, produces 35% more oxygen, needs only half the land compared to cotton, and it doesn't need irrigation or pesticides.
Bamboo also performs much better as a material, it stays fresh for longer so it needs less washing, this reduces your carbon footprint drastically.
BAM have a loungewear range for men and for women.
4. The Simple Folk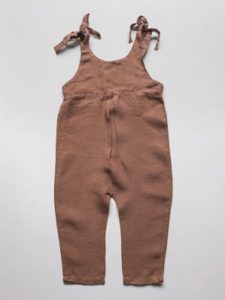 The Simple Folk is the brainchild of two mothers and friends determined to make minimalistic, eco-conscious and luxurious one-pieces for babies and children.
These clothes are made in Portugal and are perfect for children to play in and romp around in.
The clothes are toxin-free and are made of GOTS and OEKO-TEX certified fabrics and dyes. Moreover, they use green energy in their factory, well water is recycled and power is generated by solar panels. The artisans are respected and empowered.
The greta overall added above is made in classic dungaree style from rare organic flax from the mountains of France. If you liked this, you will also like their noor jumpsuit.
4. Baukjen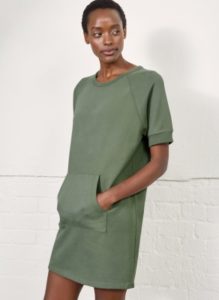 Baukjen is a London-based womenswear brand determined to focus on slow fashion and high-quality clothing. They also offer women's clothing for rent.
Baukjen is one of the best scoring Fashion B Corp in the UK. This means that as a for-profit company, they meet the highest standards of social and environmental performance, transparency, and legal accountability. As of 2020, they are carbon negative.
Baukjen's packaging is plastic-free and biodegradable, they're a zero-waste company, 10% of the annual profit is donated, fabrics are 90% responsibly sourced, and they value their workers and pay a good living wage.
Although Baukjen does not have a dedicated line for loungewear, they have a few loungewear options that you can take a look at here.
Caring for Your Clothes in an Eco Friendly Way
Washing clothes adds an enormous amount to your carbon footprint. A single load of laundry can generate between 0.6kg to 3.3kg of CO2.
Your yearly carbon footprint could be equal to what you'd generate if you were to fly from London to Glasgow and back.
According to BAM, washing clothes releases 14.8% of the carbon emissions of clothing throughout its life cycle.
The most sustainable way to care for your clothes is to wash less and wash only at 30°C. Refresh your clothes often, we suggest you make refresher spray at home using 50% fabric conditioner and 50% water.
Additionally, dry your clothes on the line, tumble dryers generate substantially more emissions.
Keep your clothes in a well-ventilated place so they do not smell and you wash them less.
Fun fact: Sunshine is a natural stain remover!
Conclusion
We recommend Damson Madder as they use GOTS certified cotton, use deadstock and have affordable prices.
With the increase in awareness about fast fashion, many brands have come up that offer ethical clothing, all we need to do is be mindful about what we purchase.
"There is no beauty in the finest cloth if it makes hunger and unhappiness." —Mahatma Gandhi

Anahita is a Yoga Instructor and Content Creator who is determined to help each individual shift to a healthier and eco-friendly lifestyle.