Walk into a freshly painted room and you'll get that typical new paint smell. Did you know that it's VOCs you're smelling and it can have serious adverse effects on your health and the environment?
Why Is Conventional Paint Bad?
The familiar fresh paint odour that we know has an array of greenhouse gases and other harmful chemicals which are released into the atmosphere when the paint is applied on walls.
Conventional paints use solvents such as volatile organic compounds (VOCs) that bind the ingredients together while the paint is in a liquid state. However, when the paint is applied on walls, these are released into the air. They combine with airborne pollutants to greater smog.
Inside the house, the pain can continue to emit VOCs for around a year after application! It makes for unhealthy indoor air and long exposures to these hazardous air pollutants (HAPs) may even lead to headaches and respiratory or metabolic illnesses.
Most conventional paints contain plastics such as polyvinyls, polyurethanes, polyesters and acrylics which make them durable.
Microplastics make up to 15% of some paints and a recent study by Environmental Action found that paint is the largest source of microplastics in oceans.
Conventional paints are especially bad for painters' health. A study found that painters are at a much greater risk of developing lung cancer, especially if they work in construction or repair jobs.
What Is Eco-Friendly Paint?
Although the amount of VOC in paint is regulated through legislation, even the controlled amount is toxic to humans and damaging to the environment. Very often low-VOC paint is marketed as eco-friendly, but it still contains HAPs. While shopping for eco-friendly paint, be aware of greenwashing.
Eco-friendly paints are paints that are not damaging to the environment or your home, do not contain plastics and are preferably natural. An eco-friendly paint should ideally contain no VOC.
Titanium dioxide is a white pigment used in paints which has light-scattering properties. Although the European Commission has termed Titanium dioxide as a suspected carcinogen by inhalation, there is little evidence suggesting that the level and form of titanium dioxide used in paints can be harmful. Hence, we have included some paints with titanium dioxide in this list.
What Is Natural Paint?
Natural paints are produced using natural ingredients like plant extracts, linseed oil, earth minerals and mineral pigments.
They are free of synthetic chemicals and are biodegradable. They may only have small amount of cleaned petrochemicals that are approved for food production.
Natural paints are good for the building, they're breathable and utilize less energy to produce. They may come as dry powder, which has to be mixed with water before painting.
Where to buy Eco-Friendly Paints in the UK
Luckily there are a few brands selling eco-friendly and/or natural paints in the UK. We've listed down some of the best ones for you below.
1. Lakeland Paints
30 years ago, the founders of Lakeland Paints became determined to create an odourless paint, so they spend six years to create the world's first odourless, organic, eco-friendly, VOC-free paints (and varnishes) which would make for a healthy home and would be safe for nurseries and people with asthma/allergies.
All their paints are free from vinyl chloride, phthalates, acrylic softeners, plasticisers, formaldehyde, and APEOs. Additionally, they're super breathable and dry quickly. The paints come in a 100% recyclable packaging.
Lakeland Paints has an extensive range of wall, wood, metal, and floor paints. They have an excellent anti-mould paint and also a special atmosphere purifying paint for those of us who live in busy pollution-filled cities.
Lakeland Paints is so sure of their product that their website actually has a video of their founder eating some of their matte white paint.
2. Graphenstone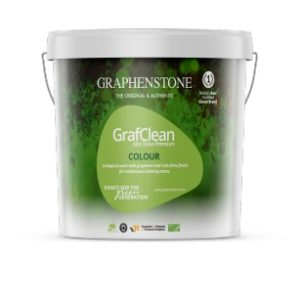 Graphenstone makes excellent paints using artisanal lime paste which absorbs CO2 and improves air quality. 15l of this paint (applied on walls) will absorb 14.40kg of CO2, as much as an adult tree over the span of a year. These paints also limit mould and fungi.
Graphenstone paints are natural, non-toxic, have no plastics, but do contain trace amounts of naturally occurring VOCs. However, the VOCs contained is only 1g per litre (under 0.1%) .
They also have paints that are nursery and toy safe but are never tested on animals. They have a full range of 1000 colours and the paint comes in pots which have been recycled and are also recyclable.
3. AURO Paint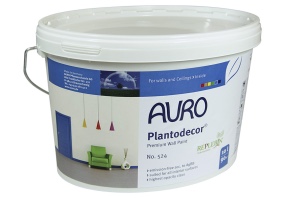 AURO is on a mission to protect the planet and so their products are eco-friendly and compostable. They use renewable, plant based ingredients to make VOC-free, zero-emission paints.
AURO also has a transparent supply chain and they also claim to ethically source their raw materials. They have natural emulsion (96 shades), natural clay and eggshell and gloss paints.
Their paints are highly breathable, vegan and come in recyclable packaging.
4. Edward Bulmer Natural Paint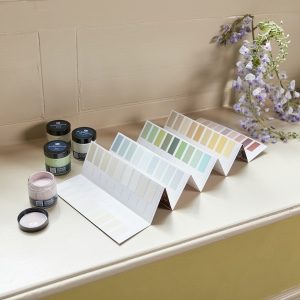 Edward Bulmer is an interior designer and architectural historian who also restores heritage buildings. He was on a campaign to clean up the paint industry when he ended up creating natural paint.
The company uses gentle chemistry to make sustainable paint using plant-based ingredients instead of petrochemical-derived products. Edward Bulmer Natural Paint has teamed up with AURO (No. 3 brand added above) in the past as well.
On their website, the company transparently states the ingredients they use in their paint and where they are sourced from. Their products do contain titanium dioxide which is refined from natural minerals (like rutile) in an acid-free process.
Edward Bulmer Natural Paint is one of the only companies that use only natural pigments to create their colour range. Their paints are breathable and suitable for people with allergies.
5. Earthborn Paints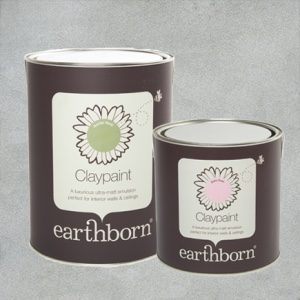 Earthborn paints is the first UK brand to receive the EU Ecolabel for Indoor Paints and Varnishes. They offer two fully breathable paint finishes – clay paint which is water-based and silicate masonry paint which is suitable for older properties.
Earthborn paints contain negligible trace amounts of VOCs. Although they have colours that contain titanium dioxide, they also offer natural clay colours like marbles, humpty dumpty, and freckle & flower pot, which do not contain titanium dioxide or colourant.
The tins the paint is packaged in are made of 70% recycled material and are fully recyclable. The foam chips that are used for packaging are fully biodegradable and dissolve in water.
Conclusion
It's easy to find paints of different colours but difficult to find paints that are "green".
From the brands listed above, we specifically recommend Lakeland Paints not only because it is VOC-free, organic and suitable for people with allergies, but also based on the level of trust that the founder of the company, Ian West, displayed in his product by eating a spoonful of paint on video.

Anahita is a Yoga Instructor and Content Creator who is determined to help each individual shift to a healthier and eco-friendly lifestyle.