Did you know that your regular laundry detergent could be irritating your skin, triggering a range of health conditions and polluting the land and oceans?
That's why switching to a greener, non-toxic laundry detergent is an important step to take if you're serious about living a more natural life.
In this article we'll look at why you might want to avoid regular laundry detergent, which brands we recommend and give you some links to instructions if you'd prefer to make your own.
What's the Problem with Regular Laundry Detergent?
Most regular laundry detergents contain potentially harmful chemicals which leave a residue on our clothing.
These chemicals are absorbed by our skin and can be inhaled into our lungs, potentially triggering eczema, skin irritation, asthma, and even disrupting the natural hormonal balance in our bodies. It can be especially bad for children and those with sensitive skin.
Laundry detergents can cause contact dermatitis, which is a condition that manifests itself as an itchy rash.
These chemicals also seep into the land and wash into the sea, harming and even killing plants and wildlife.
Boxes of washing powder and washing tablets often contain warnings about the dangerous ingredients found inside.
Potentially harmful or irritating chemicals found in laundry detergent include the following:
Sodium carbonate peroxide – This ingredient acts as a bleach and an anti-microbial agent. Over-exposure to this chemical can cause eye, skin, nose and respiratory irritation (source).
Sodium dodecylbenzenesulfonate – This ingredient is a surfactant that helps remove dirt and grease. It can irritate the skin and eyes (source).
Sodium C12-18 alkyl sulfate – This ingredient is a surfactant that helps remove dirt and produces a foam. It can cause respiratory irritation and could exacerbate asthma (source).
Choosing a Natural Laundry Detergent
Luckily, there are a range of eco-friendly alternatives to regular laundry detergent that won't just reduce your exposure to these potentially harmful chemicals, they'll also be kinder on your skin, great for all the family and minimise harm to the planet too.
These include products made from plants and minerals and products that are 100% biodegradable.
We're about to share our top recommendations below, including links to a few recipes for making your own non-toxic laundry detergent if you'd prefer.
If you end up choosing a laundry detergent that isn't on this list, be sure to find one that is free from harmful chemicals, artificial fragrances, bleach and dyes, and also look for something that is organic, cruelty-free and palm oil free.
Also look for a seal of approval or any awards by third parties. If you can find vegan laundry detergent then that's even better.
Be sure to consider what kind of packaging is used.
It's always better to minimise your plastic usage and choose a product that can be reused many times so you can keep plastic pollution out of the ocean and reduce your waste footprint.
If you'd like to check the eco 'score', have a look at the excellent guide to laundry detergents on the Ethical Consumer website.
Without any further ado, here are our favourite eco-friendly laundry detergent options.
Best Eco-Friendly Laundry Detergents in the UK
1. Ecoegg Laundry Egg
Ecoegg is a clever invention that allows you to fill a reusable plastic egg with mineral pellets instead of harsh chemicals. Although the egg itself is made of plastic, you can simply refill it with eco-friendly washing pellets when needed.
The manufacturers also guarantee that it will last for ten years so you can keep filling it and filling it. This reduces your consumption of plastic laundry detergent bottles and fabric conditioner.
With long term use, minimal plastic, and being made in the UK, the Eco Egg is one of the best eco-friendly laundry detergents in the UK today.
The washing pellets are also vegan, cruelty-free, free from harmful chemicals, kind to skin and even certified by Allergy UK.
Pros
Saves a small fortune!
Made in the UK
Long term use
Minimal plastic
Pellets non toxic and chemical free
No bleaches
The Queens Award for Enterprise
Comes with instructions
Pellets are refillable
Easy to exchange
Cons
Takes time to get used to
Egg holder occasionally breaks
Not for heavily soiled clothes
Not for above 60 Celsius
Uses crystals
2. Ecover Non-Bio Washing Powder
Gentle yet powerful, this eco-friendly washing powder from Ecover will get your clothes clean without hurting the environment or the planet.
Free from animal testing, triclosan free, made with sustainable palm oil and suitable for septic tanks, it's great for sensitive skins, made from natural plants and minerals and even works well at 30 degrees.
Although it comes in a cardboard box, it does contain a plastic inner liner so be aware if you're working towards zero waste.
Pros
Made from natural plants and minerals
Made with sustainable palm oil
Packaging mostly recyclable
Natural fragrance
Uses biodegradable oxygen bleach
Cons
Not economical (3 kg = 40 washes)
Plastic use
Not for long term use
Uses bleaching
3. Ecozone Soap Nuts
If you've never tried soap nuts before, I strongly encourage you to give them a try because they are wonderful. Naturally unscented, chemical-free, kind to skin, 100% biodegradable and great for the planet, they're a natural surfactant which comes from the sapindus genus tree.
To use them, you simple pop a handful into the smaller bag they provide, throw it into your washing machine and you can allow the magic to unfold.
If you like, you can also make great natural hand soaps, shampoos and other detergents by using the soap nuts. Soap nuts are some of the most environmentally friendly cleaning products around, and so versatile.
They're also vegan, eco-friendly, palm oil free, paraben-free, triclosan-free, phthalate-free, great for septic tanks, biodegradable and certified by Allergy UK. In fact, overall Ecozone soap nuts are one of the best eco-friendly laundry detergents available. They are reusable and soap nuts are easy to grow, thus sustainable.
Soap nuts do not even require the rinse cycle, because that is in place to rid clothes of unwanted chemicals, when using toxic laundry detergents.
Soap nuts have got to be the least toxic laundry detergent out there.
Pros
100% natural and biodegradable
No scent
Eco-friendly
330 washes!
Extremely economical
For use in all washing machines
Organically harvested
Can use to make other products
Cons
Takes time to get used to
Reliability of cleaning varies
Single use plastic
Sourced from India
4. Faith in Nature Super Concentrated Laundry Liquid
For an eco-friendly laundry detergent that's made with essential oils and is cruelty-free, SLS free and paraben-free, look no further than this effective concentrated laundry liquid from Faith in Nature.
Coming in a huge 5 litre bottle, you'll get around 150 washes from just one package.
It's also gentle on skin, works well and contains 98% natural ingredients. It has to be one of the least toxic laundry detergents available, since it contains no optimal whiteners.
However, the packaging itself is plastic, so again, it's worth thinking carefully if you're trying to reduce your plastic footprint.
Pros
Uses no bleaches, parabens, phosphates or enzymes
Made in the UK
Suitable for fine fabrics
Natural fragrance
SLS free
150 washes
Concentrated
Cons
Huge plastic waste
Uses palm oil
Less economical compared to other alternatives
Depth of cleaning unsure
Scent disputable
5. Mangle & Wringer Pure Laundry Powder
This gorgeous award-winning natural laundry power is about as eco-friendly as it gets.
Made purely from 100% coconut oil soap, natural minerals and water softeners, and it comes in a biodegradable paper bag, reducing the amount of single use plastic in your life.
It's free from synthetic detergents, phosphates, optical brighteners, enzymes, fragrances and preservatives, making it great for sensitive skins or anyone who cares about protecting their health or the environment.
Lightly scented and highly effective, I recommend you give this natural laundry power a try.
Homemade Laundry Detergent Recipes
Of course, you can also get creative and make your own natural laundry detergent if you'd prefer.
There are various options which range from the more traditional chemical-free options to the 100% plant-based version. Choose whichever works best for your skin and your principles.
Here are our favourites:
1. Traditional Liquid Laundry Soap by Wellness Mama
This homemade laundry soap contains soap, borax and sodium carbonate (washing soda).
2. Homemade Borax-Free Laundry Soap by Practically Functional
Using baking soda, citric acid, sea salt, washing soda and castile soap, this one is a great option if you'd prefer not to use borax.
3. Soap Nuts Laundry Detergent by Green Child Magazine
This versatile, 100% natural laundry detergent is fab for sensitive skins and can be used as a great eco-friendly alternative to shampoo, washing up liquid and hand soap. You just need soap nuts, water and vinegar.
Conclusion
Be kinder to your skin, your health and the environment by switching to a natural, eco-friendly laundry detergent. If you can opt for cruelty-free, vegan and plastic-free, even better.
For us, the best eco-friendly laundry detergent in the UK is the Eco Egg 720 washes, because for such a reasonable price, it lasts for 3 years of washing. It significantly cuts down on plastic use too with the egg lasting at least 10 years.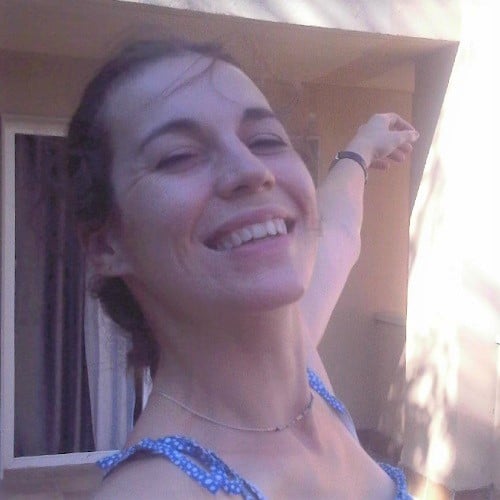 Charlotte Witts is a writer and entrepreneur who wants to show you how easy it is to live a more conscious, zero-waste lifestyle. A confirmed yoga-addict, trail runner and ocean-lover, she currently lives in the Azores where she enjoys the simple pleasures in life.