Most of us are aware that plastic pollution has become a serious issue for our planet.
Plastic is littering our cities, rivers and oceans, and single-use plastic bags are one of the worst culprits.
According to some estimates, over 1 trillion plastic bags are thrown out each year, and each bag can take up to 1000 years to fully degrade.
As plastic bags break down, harmful chemicals can be released into the earth. Animals, birds and marine life can also get trapped and harmed by plastic carrier bags found in oceans and rivers.
In 2015, a 5p charge for plastic carrier bags was introduced into larger UK shops and supermarkets. The good news is that since then, plastic bag usage in the UK has fallen by more than 80%.
It's clear that we should all be reducing our plastic bag usage, but what alternatives are available for taking home our shopping and groceries from the supermarket, local shop or market?
Cardboard boxes are a great idea, but not always practical to carry if you're walking to the shops rather than driving. Some shops provide paper bags, but these aren't always strong enough for heavier items.
One alternative is cotton mesh produce bags. These bags are cheap to buy and perfect for carrying groceries, particularly fruit and vegetables.  Because they fold up small, you can pack a few into a handbag or coat pocket so you've got one ready when you pop to the shops.
Cotton is sustainable, renewable, and biodegradable, so it's a perfect choice for the environment throughout its entire product life cycle.
Cotton mesh produce bags are also great for storing foods such as vegetables, as the mesh provides excellent air circulation.
They can be easily washed by hand or sometimes in the washing machine, so you can reuse them again, and you don't have to just use them for groceries – they're also handy for storing toys and other items around the home, or as a laundry bag for washing delicate clothing.
We've listed some of the places you can buy cotton mesh produce bags in the UK below.
Amazon
Online retailer Amazon has a great range of cotton mesh produce bags, starting at as little as a few pounds each for a single bag. There are also some great value packs of mesh product bags containing different sized bags.
Some bags are open at the top like a traditional shopping bag, and others have drawstrings at the top to keep the contents secure.
Most of the bags for sale on Amazon use organic cotton and are made with a chemical-free process, although it's worth checking the details before you buy.
Esonmus Cotton Mesh Bags
This set of organic cotton mesh bags from Esonmus (sold on Amazon) contains bags in 3 different sizes, so you should find a bag to suit your different shopping requirements. The bags also come with different colour tags, helping you to organise your grocery or household items easily.
These bags are use a very strong, long-lasting mesh, so they're great for carrying heavier items like potatoes, and they're also machine washable.
Because these bags are made of a stronger, thicker mesh, they don't fold as small as some other cotton mesh bags, but they're still fairly easy to take to the shops with you.
Ecocasa Reusable Produce Bags
Ecocasa Reusable Produce Bags are available from Amazon, and there are four different sizes in each set, including a bread bag, a small size that will fit around 4 apples, two medium-sized bags, and two large bags that can hold up to 2 kg of groceries.
These are excellent quality bags, and will fold up easily to fit in a pocket or handbag when empty.
The bags are all machine washable at 30 degrees, so they're easy to keep clean between shopping trips.
Etsy
Online market place Etsy is another great website to try if you want to buy reusable mesh produce bags.
On Etsy you can find a variety of cotton mesh produce bags made by independent sellers around the world, usually for a reasonable price (starting at around £2 for a single bag).
You might also find produce bags that are little unusual and unique, with an interesting trim or ribbon at the top for example. Most of the bags are handmade, and when you buy from an Etsy seller you're also supporting a small business.
GreenTulip.co.uk
Green Tulip, the online ethical gift store, sell A Slice of Green produce bags made with Global Organic Textile Standard (GOTS) certified organic cotton grown on small farms in India.
The fabric is woven to the actual size of the bag when the bags are made, so there's no wastage from bags needing to be cut to size.
The bags are made by a family business that makes the bags in their own sewing unit in Tamil Nadu, India.
This pack of three produce bags is perfect for carrying fresh fruit or vegetables from the supermarket, and for storing your food at home. The bags are machine washable at 40 degrees.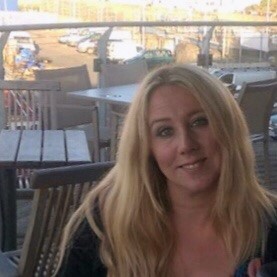 Clare began her career as a technical writer, but since having her boys has worked mostly from home writing content for various websites, including health and beauty and educational resource sites.