Nearly every one of us will have a kitchen sponge at home that we use for washing dishes and cleaning our dirty kitchen surfaces, but how often do we throw away our used kitchen sponges?
Our kitchen sponges are home to lots of bacteria, and researchers have found that "not only are sponges dirtier than your toilet seat, but they're dirtier than any other item in your house" (source).
Some experts recommend washing your kitchen sponge in the dishwasher or microwaving it to help clean it and kill bacteria, but harmful bacteria can still survive.
The safest and most hygienic option is to change our kitchen sponge around once a week, but this is bad news for the environment, as regular kitchen sponges will take thousands of years to degrade.
Most kitchen sponges are mass produced from polyurethane, a petroleum-based ingredient, along with other manmade materials.
These artificial sponges are made by a chemical reaction that instantaneously turns liquid into sponge form, which is then topped with even more plastic.
These sponges can't be recycled or composted.
Kitchen sponges create waste that will be around in landfill for hundreds of years, and they can cause other problems to the environment and our health.
Many sponges are sold with antibacterial properties, but this often means they are laden with toxic chemicals including triclosan, a serious hormone disrupter that has been linked to cancer, developmental toxicity and skin irritation.
Some kitchen sponges also contain petroleum-derived artificial dyes, and can shed microplastic into water as they deteriorate.
Fortunately, there are alternatives to plastic-based kitchen sponges that are much kinder to the environment.
Types of Biodegradable Sponge
Loofah and Coconut Sponges
Luffa or loofah sponges are the dried up, fibrous flesh of the mature luffa gourd, a vine that grows in tropical climates.
Loofah sponges are 100% compostable and biodegradable, and you can even find organic versions.
Ambitious gardeners can attempt to grow their own plant to produce sponges at home, but for most of us it's easy and fairly cheap to buy these natural, effective sponges in shops or online.
For really tough cleaning jobs and when you need to scrape food off pots and pans, spongers and scourers made from coconut husks offer a natural, biodegradable alternative to plastic.
Loofah and coconut plants grow quickly and are renewable, and these plants also absorb carbon dioxide as they grow.
Cellulose Sponges
Unlike loofah or coconut kitchen sponges, cellulose sponges are still man-made, but because they are made from natural materials such as wood fibres, hemp or bamboo, they are much better for the environment than plastic alternatives.
These sponges can usually be composted or recycled and will biodegrade fully in landfills, and they also have a far less toxic manufacturing process.
However, always check that cellulose sponges are 100% cellulose with no polyester filling.
Where to Buy a Biodegradable Sponge in the UK
Abel & Cole
Organic grocery box delivery company Abel & Cole sell a useful twin pack of 100% biodegradable and compostable washing-up pads, handmade in Egypt from loofah plants.
With a soft and spongy unique texture, they're perfect for all kinds of washing up and kitchen cleaning tasks.
These sponges are quite large, but you can easily cut them up yourself to make each pack last longer.
Amazon
Amazon has a wide range of loofah sponges and 100% cellulose sponges, and many of these are sold in multi-packs offering great value for money.
Greenet Washing Up Sponges Cleaning Sponges are fully biodegradable cellulose sponges made from 100% plant-based wooden pulp and come in a pack of 24, with two extra heavy duty scouring pads.
Goldrick dishwasher sponges come in a pack of 5 and are made from 100% natural loofah. They are 100% biodegradable and can simply be placed into your compost bin once you've finished with them.
BigGreenSmile
Online eco-retailer BigGreenSmile sell natural loofah washing up sponges made by Loofco.
These sponges are flexible, durable and can be composted or recycled at the end of their natural life.
These sponges are a great choice for eco-friendly consumers. They are also vegan friendly and made from sustainable raw materials in Egypt, with Loofco supporting local industry and fair wages.
Boobalou
Eco living website Boobalou sell a handy 4-pack of compostable, fully biodegradable sponge cloths, made of natural renewable raw materials and free from plastic and petrochemical compounds.
These highly absorbent and durable cloths retain up to 10 times their dry weight in water, making them ideal for cleaning the kitchen or bathroom, and with minimal packaging, they're another excellent eco-friendly option.
Etsy
Etsy has a wide range of pretty cleaning sponges by Tabitha Eve called "None Sponges".
Plastic free and biodegradable, None Sponges come in lots of fun and stylish designs, and are simply made from cotton and naturally antibacterial bamboo.
These heavy duty sponges have a scrubby side for removing dirt, and can be machine washed to kill bacteria.
They can also be cut up and thrown into your compost or recycled when you have finished with them.
Peace With The Wild
Online eco-retailer Peace With The Wild sell a wide range of natural kitchen sponges, including 100% natural LoofCo Washing up pads made from loofah plants.
Completely plastic free and biodegradable, they make a perfect vegan alternative to plastic sponges, and all Loofco packaging is also recyclable.
Peace With The Wild also stock a range of Rowen Stillwater "unsponges", made from 100% cotton and available in a wide range of beautiful prints.
Plastic-free, eco-friendly and recyclable, they're ideal for zero waste kitchen cleaning.
The Wise House
The Wise House is independent British online shop selling household items that make it easier to use less plastic and live more sustainably, and they stock plenty of natural sponges on their website.
As well as loofah spongers by LoofCo and Tabitha Eve "Non Sponges", the range also includes a Coconut Pot Scraper by LoofCo.
Made ethically using traditional techniques in Sri Lanka, the Coconut Pot Scraper is made from natural coconut husks and is ideal for tough cleaning jobs.
It's also 100% biodegradable and compostable.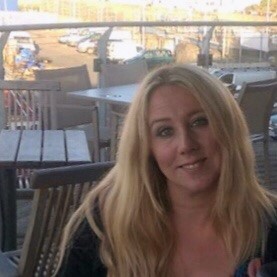 Clare began her career as a technical writer, but since having her boys has worked mostly from home writing content for various websites, including health and beauty and educational resource sites.