We're all in search of a product that will ensure healthy, shiny hair wash after wash, but what if the products that we use to do this only create the appearance of luscious locks and in reality are causing more harm than good?
Silicone is one of those chemicals that is often found in shampoos and conditioners and is used to lubricate the hair and add shine.
Silicones are polymers that are made up of chains of alternate silicon and oxygen atoms.
Silicones are unnatural chemicals and are often used in plastics, rubber, lubricants and polishes and not something that most of us would knowingly want in our hair.
About Silicone-Free Shampoo
Why should you ditch your silicone shampoo?
Silicones only give the illusion of healthy hair by coating the hair and therefore smoothing over the porous (unhealthy) parts that make hair look frizzy or split.
The problem is that this is coating the hair strands in an essentially plastic layer through which no moisture or nutrients can penetrate, meaning that although the hair looks smoothed and shiny, it can eventually end up more dry and brittle than before.
Another worry is that silicone is often added to hair care products alongside chemicals such as SLS in order to wash away the silicone, as it is not water-soluble.
SLS removes all of the natural oils from your hair that provides a beautiful natural moisturiser, meaning that it is left yet more dry and brittle.
This dryness or frizz can then, in turn, be covered up by the silicone, but if it is allowed to build up, this healthy shine can soon become a limp and greasy mess that becomes more and more difficult to wash out without yet harsher chemicals that we all know cannot be good for our hair, often causing irritation and allergic reactions.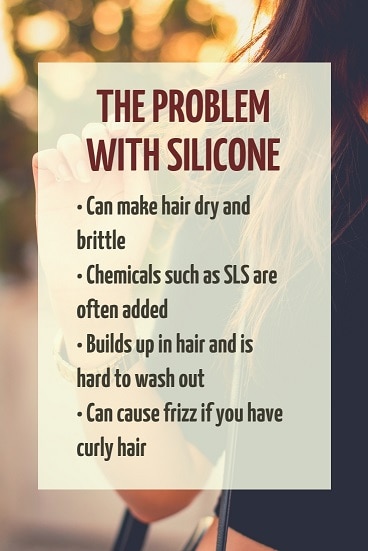 What should you look out for when buying hair products?
It can be a nightmare trying to figure out what exactly is in our beauty products as long lists of chemical names; their function and safety elude most of us.
Unfortunately, identifying silicones generally isn't an easy task either.
They appear under many different names, however, a good marker is that most end in the suffix 'cone' such as 'dimethicone'.
Changing to a silicone-free shampoo
Changing to a silicone-free shampoo will do wonders for your hair, as all the nutrients in your hair's natural oils will finally be able to do their job and nourish your tresses.
While it may take some time for your scalp's natural balance to be restored, it will be worth it to be rid of limp and dull hair.
You will also have realised that different hair types react differently to products used on them and some can be naturally more dry or greasy than others.
Those with curly hair will especially benefit from changing to a silicone-free shampoo as often this hair type is one of the driest, leading silicones and harsh chemicals to damage your beautiful curls further, causing frizz and the lustre of healthy hair.
Recently, some of the mainstream brands have begun to release 'silicone-free' shampoos onto the market to jump onto the "healthy and natural" bandwagon.
Be aware, however, that these shampoos often contain chemicals that cause just as much damage to your hair as silicone.
You can see some of the best brands available to ensure that you are buying a shampoo that is going to nourish rather than damage your hair.
Best Silicone-Free Shampoo in the UK
1. Faith in Nature Natural Dragon Fruit Shampoo Bar
Faith in Nature makes vegan and cruelty-free natural products in the UK. Their aim is to reconnect people with nature and make natural products affordable for all.
This soap bar is silicone, paraben and SLS free and is made from 99% naturally derived ingredients. Moreover, it has a 100% natural fragrance!
The handmade shampoo bar comes in a cardboard wrapper, ideal for travelling and completely compostable and recyclable.
Dragon fruit is antioxidant-rich and leaves weak hair feeling stronger and hydrated.
To wash hair properly, first lather the bar in your hands and then massage the foam into wet hair. Leave your bar on a dry surface after use to make it last the longest.
Faith in Nature also has other options for shampoo bars such as Coconut and Shea Butter, Lavender and Geranium, and Shea and Argan.
2. Full by Living Proof Shampoo

Almost all women (and men) long for bouncy, full and thick hair. People with naturally fine hair usually also have flat hair. Moreover, using heavy products can also make your hair look flat.
This shampoo by Living Proof is designed to leave dull and flat hair fuller and feeling thicker.
This is due to their patented Healthy Hair Molecule which removes residue and build up in your hair and also repels dirt and oil. As a result, hair stays cleaner for longer.
The shampoo is free from cruelty, phthalate, paraben, sulphate, and silicone. It is also color-safe and safe for chemically treated hair.
This shampoo is quite expensive compared to the other products reviewed here. It comes in a 60ml travel pack, 236ml normal pack and jumbo size.
3. Green People Daily Aloe Shampoo
This shampoo may be a little more costly than your average high street shampoo, but the peace of mind that you are using only natural products on your body as well as the fact that one bottle lasts around three months certainly helps.
As well as being silicone-free, this shampoo is also SLS free with only natural foaming properties, meaning that your hair won't be stripped of its all-important oils.
For those who are worried about the effects of pesticides for themselves and the planet, this product uses all organic ingredients, meaning that you can rest easy that this product is in no way contaminated by harmful chemicals.
The light aloe vera and the lavender scent is both gentle and soothing for the skin and therefore perfect for those who have easily irritated skin or allergic reactions to harsh alcohol created scents in beauty products.
They also have scent-free and intensive repair options.
4. Odylique Gentle Herb Shampoo

This shampoo is a must-buy for those with sensitive or itchy scalps, being named the best shampoo for sensitive scalps by 'Guide de Meilleurs Cosmetiques' as well as being nominated for other awards.
It contains chamomile, coconut oil and biodynamic nettle to ensure a soothed and healthy scalp as well as rosemary and aloe vera for moisturised and shiny hair.
The scent is 100% natural, almost all of the ingredients are organic and the container is completely recyclable, making this ideal for those who are environmentally conscious.
For those who suffer from allergies, this is the perfect product as it is free from wheat, dairy, soy and common nut oils.
The ingredients list also has a "translation" into plain English for those of us who struggle to understand the chemical jargon, so you can be assured that the ingredients are all naturally sourced.
5. Cantu Shea Butter for Natural Hair
This Cantu shampoo is firstly great value for money, coming in a 400 ml bottle and at a decent price considering its natural, hair-saving ingredients!
Being free of sulphates, silicones, parabens phthalates, gluten, paraffin, propylene or Mineral Oil, it maintains your hair's natural oils to keep it healthy and moisturised naturally.
It also contains pure shea butter, a luxury ingredient, to ensure that your hair is plenty hydrated – this makes it a great option for those who suffer from particularly dry hair or those who are looking to rid their natural curls of frizz.
This product can also be used in conjunction with a Cantu conditioner, meaning that your hair care routine can still leave you feeling pampered without damaging your naturally healthy hair.
6. Palmer's Coconut Oil Formula Shampoo
This is the perfect shampoo for those with especially dry, weak or colour-damaged hair as it contains coconut oil, keratin and vitamin E to provide the hair with extra moisture.
It is also free from silicone, paraben, sulphates, phthalates, dyes, gluten or mineral oil to ensure that your hair can absorb this moisture and your own natural oils produced by your scalp.
For those who enjoy a fragrant and tropical scented shampoo, this is a great option without having to worry about a possibly irritant alcohol-based perfume.
It was also the winner of the 2015 Hair Awards for 'Best Daily Shampoo' and has a luxuriously creamy texture that can sometimes be lacking from natural-based shampoos, but without the clogged feeling of chemical-based shampoos.
This is a great option for those looking to repair damaged hair while enjoying the pampering of a fresh scented and thick haircare product.
7. Matrix Biolage R.A.W. Nourish Shampoo
This is the perfect shampoo for aiding the repair of dull and dry hair. It gives your hair a healthy look and makes it softer because of the quinoa and honey in it.
The shampoo is ideal if you wash your hair frequently. It will leave your hair feeling light.
R.A.W. stand for Real, Authentic, and Healthy. Biolage is a care range that contains ingredients of natural origin.
The shampoo is free from silicone, sulphates, parabens and artificial colours. It is also 93% biodegradable and made with 95% recycled plastic.
8. Burt's Bees Baby Bee Shampoo and Wash
While this shampoo is listed as a product for babies, it is perfect for people of all ages who are looking for a shampoo that is both gentle on the hair and scalp as well as natural.
98.9% of its ingredients are naturally sourced and it contains none of the nasties such as phthalates, parabens, petrolatum or SLS as well as being silicone-free as well as there being no irritant alcohol-based scent.
This shampoo contains soy proteins which help support healthy hair growth, as protein is an essential building block for hair, giving your hair an added boost.
At the more affordable end of the silicone-free shampoo range, this is a great natural and gentle option for those working to a beauty budget too.
9. Pure Aloe & Bamboo Shampoo by Herbal Essence

This aloe vera based shampoo is great for color-treated hair. It gently hydrates and deeply moisturizes your hair.
The formula is silicone-free, sulphate-free, paraben-free, colourants-free, cruelty-free and paraffin-free.
True to its name, Herbal Essence aims to create unique products only with ingredients found in nature to inspire authentic beauty.
What's unique about this product is that Herbal Essences partnered with the Royal Botanic Gardens, Kew for producing it. They used the Royal Botanic Gardens' 260 years of botanical experience to identify their most potent aloe.
The company is quite conscious regarding minimizing its impact on the environment. They claim to contribute Zero waste to landfills and use recyclable plastic!
10. Garnier Ultimate Blends Nourishing Shampoo for Dry Hair

This shampoo is banana and coconut-based, made with natural ingredients and a 100% vegan formula.
For those struggling with dry hair, this shampoo is ideal for you as it nourishes your hair without weighing it down.
It comes in a recyclable bottle which is made with 50% recycled plastic.
Although is silicone-free, however, the shampoo does have SLS, which strips fats and oils from the hair and can cause a dry, itchy scalp.
Garnier's ultimate blends range also has other options such as aloe vera for normal hair, coconut for frizzy hair, and papaya for damaged hair.
This shampoo is quite inexpensive compared to the products reviewed here.
List of Silicone Ingredients in Shampoo
As silicone can be listed under so many names, you may wish to check the products that you own to check for them.
Below is a list of the ones that commonly occur in shampoos, haircare and other beauty products so you can be sure that your hair not only appears to be but is naturally healthy.
Ingredients to look out for:
Amino Bispropyl Dimethicone
Aminopropyl Dimethicone
Amodimethicone
Amodimethicone Hydroxystearate
Behenoxy Dimethicone
C24-28 Alkyl Dimethicone
C30-45 Alkyl Dimethicone
C30-45 Alkyl Methicone
Cetearyl Methicone
Cetyl Dimethicone
Cyclomethicone
Cyclopentasiloxane
Dimethicone
Dimethicone Copolyol
Dimethiconol
Dimethoxysilyl Ethylenediaminopropyl Dimethicone
Hexyl Methicone
Hydroxypropyldimethicone
Lauryl Methicone Copolyol
Methicone
Phenyl Trimethicones
Polydimethylsiloxane
Stearamidopropyl Dimethicone
Stearoxy Dimethicone
Stearyl Dimethicone
Stearyl Methicone
Sterile Dimethicone
Trimethylsilylamodimethicone
Vinyl Dimethicone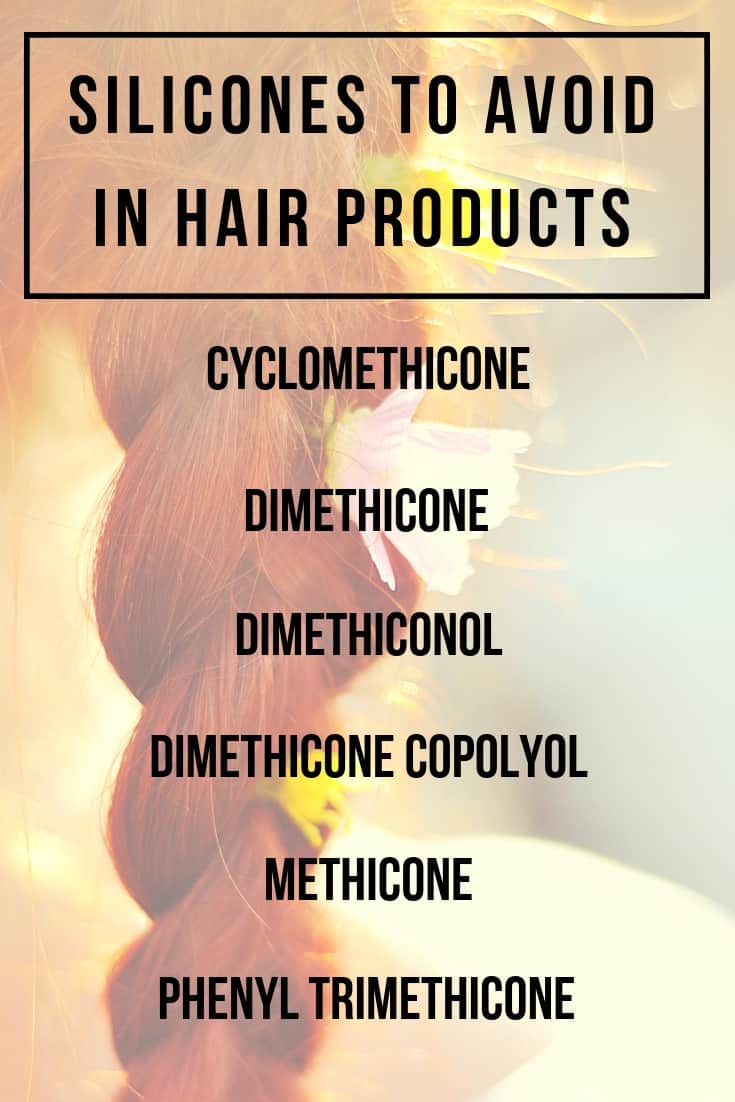 What Else Should You Avoid in Shampoo?
As well as avoiding silicones, it's also a good idea to avoid the following chemicals:
Parabens – These chemical preservatives can disrupt your hormones.
SLS – SLS helps make shampoo foamy, but it can irritate the scalp.
Sulphates – Sulphates can irritate the scalp. See some sulphate-free shampoos here.
Sometimes parabens, silicones and sulphates are confused with one another, but they're not the same thing.
Just because a shampoo is paraben or sulphate free, that doesn't mean it's also silicone-free.
Silicone-Free Shampoo on the High Street
If you need some new shampoo right now and don't want to order one online, you can find silicone-free shampoos in the supermarket and on the high street. Here are some products to look for:
Boots:

Burt's Bees Baby Bee Shampoo and Wash
Palmer's Coconut Oil Formula Conditioning Shampoo
Cantu Sulfate-Free Cleansing Cream Shampoo

Superdrug:

Cantu Sulfate-Free Cleansing Cream Shampoo
Conclusion
If we had to pick just one silicone-free shampoo to recommend, it would be Faith in Nature Natural Dragon Fruit Shampoo Bar because apart from being silicone, paraben and SLS free, it also has a completely natural fragrance. Moreover, it comes in a cardboard box (no plastic!) and is made in the UK.

Naturaler is a UK website full of tips and recommendations for living a more eco-friendly, chemical-free and natural lifestyle.