Most of us want out hair to be soft and silky, but the products we use to clean our hair may actually have the reverse effect – drying it out and even damaging the health of our hair and scalp.
Sulphates such as SLS and SLES are effective at creating a lather and removing grease, but they can also irritate the scalp and dry out your hair.
Many sulphate-free shampoos are marketed toward people with curly and dry hair types, but in fact anyone who wants to achieve softer, healthier hair could benefit from going choosing a gentler shampoo.
Keep on reading to discover some shampoos that are free from sulphates as well as many other harmful chemicals.
Best Sulphate-Free Shampoos in the UK
1. Green People Daily Aloe Shampoo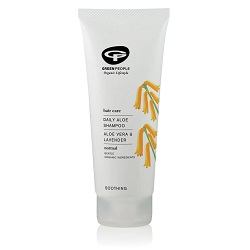 Free from: Sulphates, parabens, phthalates, methylisothiazolinone, silicones, gluten
Green People is always a go-to brand for genuinely natural and gentle products free from nasty chemicals.
Their Daily Aloe Shampoo uses the healing ingredients of Soil Association certified organic aloe and lavender to soothe the scalp and hair follicles.
Aloe Vera gel is a traditional remedy for repairing damaged skin and its antibacterial properties prevent dandruff.
Lavender herb oil is also incorporated for its soothing and anti-inflammatory and qualities.
This is a purifying shampoo, suitable for everyday use and great for people who tend to suffer from product build-up or a flaky scalp. It can be used on dyed hair, leaving all hair types soft and silky.
This shampoo is free from sulphates as well as phthalates, alcohol, synthetic fragrance, parabens and a whole range of other harsh chemicals. It is vegan and certified by PETA's cruelty-free bunny.
Although plastic, the packaging is recyclable.
Like most Green People products, their shampoo is reasonably priced and should last for several months of use.
Pros
Gentle formula with no harsh chemicals
Free from sulphates, parabens and silicones
Nice subtle scent
Lathers well
2. Burt's Bees Baby Bee Shampoo and Wash
Free from: Sulphates, parabens, phthalates, silicones
Burt's Bees Baby Bee Shampoo and Wash is an extremely gentle formula that is mild enough for infants, but that works just as well for grownups too! This shampoo is free from phthalates, parabens, petrolatum and SLS.
Looking at the Burt's Bees baby range (which includes ointments, lotions and so on), many of the products contain a large proportion of obviously natural ingredients like shea butter, buttermilk and beeswax. However, the shampoo seems a little more on the "naturally derived" side, a few steps removed from purely natural raw materials.
Nevertheless, the formula is paediatrician-tested and has been designed to be extremely gentle on thin baby skins. It may also help to soothe eczema and skin irritation for children and adults.
If you have a sensitive scalp, this shampoo should be a good choice.
Pros
Very gently on the scalp
Tear-free—good for babies and kids
Nice smell
Cons
Some people believe the version sold on Amazon is watered down
3. Cantu Shea Butter for Natural Hair
Free from: Sulphates, parabens, silicones
Cantu is an affordable brand designed specifically around the needs of people with curly, dry and African hair types.
Cantu Shea Butter Cleansing Cream Shampoo has a rich cream texture perfect for smoothing and moisturising the hair and scalp.
Shea butter is a common ingredient in formulas for this hair type as it is very rich in fatty acids, although the smell of the unrefined butter can be rather unpleasant.
This shampoo uses fragrance to disguise any trace of shea, but this is likely to be synthetic and thus not hypoallergenic.
Glycerin is also used to attract moisture to the hair and make it more manageable, however the use of sodium chloride (salt) may negate these effects as salt is known to be very drying in hair.
Overall this formula is very effective at purifying and cleansing the hair, preparing it for further targeted conditioning.
The formula has relatively few ingredients and is free from many of the big nasties including sulphates, parabens, silicones, phthalates, paraffin and propylene.
That being said, it is not a particularly natural formula, containing ingredients like polyester-11.
If you are looking for a shampoo formulated specifically for curly hair, this one is an effective and affordable option, endorsed by Ebony magazine, a leading publication for people of African descent.
Pros
Inexpensive
Creates a good lather
Good for curly & afro hair
Cons
Contains Cocamidopropyl Betaine, which is a surfactant and acts in a similar way to a sulphate
4. ManCave Caffeine Shampoo
Free from: Sulphates, parabens
This sulphate-free shampoo is aimed at men, but can be used by women too.
It contains caffeine which is thought to stimulate hair growth, though there isn't really any evidence that caffeine can have an effect on male pattern baldness.
As well as caffeine, this shampoo also contains eight essential oils plus vitamin E and shea butter to help moisturise and condition hair.
This shampoo is formulated in the UK and comes in recyclable packaging.
Pros
Creates a good lather
Removes hair gel etc. effectively
A little bit goes a long way
Cons
Contains Cocamidopropyl Betaine, which can irritate the scalp
Probably doesn't have an effect on hair loss
5. TrueVit Naturals Biotin Shampoo
Free from: Sulphates, parabens, silicones
This shampoo has a relatively short ingredients list, which is usually a good thing when shopping for health and beauty products.
It uses six active ingredients: saw palmetto, biotin, rosemary, coconut oil, aloe vera and caffeine.
It's thought that biotin could help stimulate hair growth, though there's limited research into this.
This shampoo doesn't create much of a lather, and you might need to use quite a lot to get it to foam up.
Pros
Nice natural fragrance
Vegan and cruelty free
More natural than most shampoos
Cons
Contains Cocamidopropyl Betaine, which can irritate the scalp
Doesn't lather much
Quite expensive
6. Palmer's Coconut Oil Formula Shampoo
Free from: Sulphates, parabens, phthalates, gluten
This formula was a winner at the 2015 Hair Awards, taking the prize for best daily shampoo.
Palmer's is a well-known brand for working with natural oils and butters, with their staple product being the famous cocoa-butter lotion.
The brand has evolved over time and developed a range based on coconut oil, infused with Monoi oil.
Monoi oil is a Polynesian ingredient literally meaning "scented oil," made from infusing the native Tiare flower in coconut oil, to create a natural perfume.
Palmer's Coconut Oil Formula Shampoo is designed to be hydrating and moisturizing, nourishing damaged or dry hair.
As well as coconut oil, it contains keratin for strengthening and repairing hair. Ideal for curly and dry hair, this shampoo could be too heavy and greasy for oily hair types.
Palmer's is a cruelty-free brand and works with several organizations to ensure sustainable ingredient sourcing, however they are not particularly transparent with their ingredients.
This formula is free from most of the basic nasties in most shampoos such as sulphates, parabens, phthalates, and mineral oil, but does contain a few potential irritants such as fragrance and salt.
The coconut oil isn't necessarily the most prominent ingredient either, despite the label.
This shampoo also contains dimethicone, which is a silicone that can build up in the hair and make it lifeless.
For those trying to balance a natural lifestyle with a healthy bank balance, this shampoo is a highly affordable option.
Pros
Affordable
Coconut oil helps condition hair
Gentle on the scalp
Cons
Contains dimethicone (a silicone)
Contains surfactants that act in a similar way to sulphates
7. Shea Moisture Raw Shea Butter Moisture Retention Shampoo
Free from: Sulphates, parabens, pthlatates
Shea Moisture is another brand specifically targeted to curly hair types.
A family business based on traditional African homemade recipes, Shea Moisture sells a range of hair care products. Their Moisture Retention Shampoo uses raw shea butter to fortify and restore hair.
Formulated for dry, damaged or processed hair, this shampoo is ideal for people transitioning away from chemically processed hair to a more natural routine.
The shea butter is certified organic and fair trade, with additional key ingredients including aloe, rosemary extract, kelp extract, honeysuckle extract and argan oil.
This shampoo contains mostly natural ingredients, with relatively few foaming agents or chemical ingredients. It is free from parabens, pthlatates, paraffin, mineral oil, petroleum, formaldehyde and propylene.
If using this product to repair damaged hair, it's best used in conjunction with the rest of their Raw Shea Butter range; otherwise this shampoo can be used for all hair types.
Shea Moisture is a PETA certified cruelty-free brand and they operate a Community Commerce program to promote a range of women based charitable causes.
Pros
Moisturising
Good for sensitive scalps
Cons
Fragrance isn't to everyone's taste
About Sulphates
Shampoo is designed to remove oils from our hair; our natural oils accumulate between washes and attract dander from our surroundings, such as pollen, dust and even pollution.
A shampoo's job is to remove all this unwanted dirt, but sulphate-containing shampoos can be "too" effective, not only removing dirt, but also the natural oils that keep our hair healthy and moisturised.
Sulphates (spelled sulfates in American English) have been commonly used in shampoos since 1930 to create a foamy lather and to remove oils from the hair.
Most other modern beauty and hygiene products contain sulphates too, from skin cleansers to toothpaste.
Sulphates belong to class of substances called surfactants, which have a similar function to detergents and without which we wouldn't have that satisfying foamy "squeaky clean" feeling that the 21st century population has become accustomed to.
While these chemicals are very effective cleansers, they can be irritating to the skin, causing dryness and a stinging or burning sensation, especially with prolonged exposure.
A shampoo with sulphates will sting if it gets in your eyes and can really damage delicate skins and hair follicles.
According to the American Personal Care Council and Cosmetic Ingredients Review, sulphates are generally considered safe for use in low concentrations and products that come into brief contact with the skin and are washed off quickly.
However, many are sceptical about the safety and benefits of using these chemicals even with limited contact with the skin, particularly as residues can stay on the skin after the shampoo has been washed away.
It has been suggested that sulphates can lead to cancer, however the science is far from conclusive on this and most chemists agree that there is not enough evidence to link these chemicals with cancer.
The most well recognised sulphate is probably Sodium Lauryl Sulphate (SLS), but other common alternatives include Sodium Laureth Sulfate (SLES) and Ammonium Laureth Sulphate (ALS).
Sulphate-free shampoos are a current trend in the beauty world, but often times the sulphates are merely replaced with a similar chemical that is no less irritating.
Most sulphate-free shampoos will contain an alternative foaming agent, such as decyl glucosid (derived from corn) or cocamidopropyl betaine (derived from coconut), which should be milder than sulphates while still creating a frothy texture.
Sulphate-Free Shampoo FAQs
Here are the answers to some frequently asked questions about sulphates and sulphate-free shampoos.
Are sulphates bad for your hair?
There's no evidence that sulphates damage the hair, but they can dry out the scalp, making hair drier.
If you have sensitive skin or eczema, it might be a good idea to avoid sulphates as they can irritate the scalp.
Why can sulphates be bad for curly hair?
People with curly or frizzy hair tend to have drier hair, so it's more important to try to retain the hair's natural moisture.
Since sulphates strip hair of its natural oils, this can lead to hair becoming even frizzier and more unmanageable.
This is why those with curly or frizzy hair are often advised to avoid sulphates when choosing shampoo.
Are some sulphates worse than others?
Yes, some sulphates are harsher than others. The EWG's Skin Deep Cosmetics Database gives the following sulphates different scores:
Sodium laureth sulphate: 3 (moderate hazard)
Sodium lauryl sulphate: 1-2 (low hazard)
Ammonium lauryl sulphate: 1 (low hazard)
Out of these three popular sulphates, the gentlest is ammonium lauryl sulphate. Don't be fooled by the 'ammonium' in the name – it's quite different to ammonia!
Do sulphate shampoos strip colour?
Yes, sulphates can remove colour from dyed hair. If you have dyed hair, your colour will probably last longer if you use a sulphate-free shampoo.
Do sulphate-free shampoos work? Do they lather?
You can get hair clean without sulphates, but you may need to rinse it for longer.
Sulphates are added to shampoo to create a lather and remove grease, and it's generally easier to remove grease using shampoos that contain sulphates.
Sulphates can dry the scalp out, encouraging it to produce more sebum (the natural oil that makes your hair greasy). Therefore, if you stop using sulphate shampoo your hair might become naturally less greasy over time.
Are sulphates the same as sulfates?
Yes, 'sulphates' is the British spelling, whereas 'sulfates' is the American spelling.
Are sulphates the same as sulphites?
No, they have quite similar chemical structures but are different things. Technically speaking, a sulphate has one sulphur atom and four oxygen atoms, whereas a sulphite has one sulphur atom and three oxygen atoms.
Sulphates are used as detergents, whereas sulphites are used as preservatives in wines and foods.
Are sulphates and parabens the same?
No, shampoos are often described as being free from sulphates and parabens, but they are different things. Parabens are used as preservatives, whereas sulphates are surfactants, meaning that they remove grease.
Why avoid SLS?
SLS is a type of detergent commonly found in shampoos as well as other grooming products like soap, shower gel, cleansers, moisturisers and toothpaste.
It is synthetically created and is generally used in order to create a foaming effect, something that most modern day consumers have come to expect in bodycare products to get that "squeaky clean" feeling.
SLS is a very effective cleanser, but it's also harsh and can be damaging to the human body.
SLS is a known skin irritant and is actually used by scientists as a laboratory standard when they want to purposely irritate skin for experiments. It can penetrate the top layer of skin, disrupting proteins and causing dryness, itching, cracking and blocked pores.
SLS in shampoo can irritate the skin on the scalp, causing itchiness and eventually dandruff as well as blocking the hair follicles.
It not only strips dirt from your hair and scalp, but also the beneficial natural oils, leading to dry, frizzy and tangled hair.
The public has become far more aware of the dangers of SLS over the last few years, with the result that companies are developing alternative foaming agents and detergents for use in products.
Increasingly, naturally derived alternatives are being developed from sources like coconut, although these have yet to undergo long term clinical testing.
Does SLS cause hair loss?
There's no clear link between hair loss and SLS, but it can have a few negative effects on your hair and scalp:
Removes natural oils (though all shampoo does this to some extent)
Irritates the scalp. Irritation is linked to inflammation, which has been linked to hair loss.
To conclude, SLS probably doesn't cause hair loss, but choosing more natural and less harsh alternatives to SLS-laden shampoos is a good idea.
Research suggests that hair loss is more likely to be accelerated by nutrient deficiencies rather than chemicals in hair products.
Does x Shampoo Have Sulphates in it?
Here's a list of popular shampoos with information about whether or not they contain sulphates:
Batiste – Batiste Dry Shampoo does not contain sulphates.
Biolage – Some, but not all Biolage shampoos are sulphate free. Their sulphate-free shampoos include the R.A.W. collection, 3Butter Control System Shampoo and Advanced Keratindose Shampoo.
Kerastase – Kerastase have a few sulphate-free lines including Bain Fluidealiste and Bain Chromatique.
OGX – Some OGX shampoos contain Ammonium Lauryl Sulphate (ALS), but most of the brand's shampoos are sulphate free.
Pantene – Most Pantene shampoos contain sulphates, but there is one that doesn't: Pantene Pro-V Gold Series Sulfate Free Shampoo.
Pureology – As far as we're aware, all Pureology shampoos are sulphate free.
Redken – Some, but not all Reken shampoos are sulphate free. Their sulphate-free options include: the Redken Curvaceous line, Frizz Dismiss, Color Extend Magnetics and Blonde Idol.
TRESemmé – TRESemmé Botanique Color Vibrance and Shine is sulphate free. Most of their other shampoos contain sulphates.
List of Sulphates Used in Shampoo
Below is a list of the most commonly used sulphates in shampoo.
We've used the British spelling of 'sulphate', but if you see 'sulfate' instead on the ingredients list, it refers to the same thing.
Sodium Lauryl Sulphate (SLS)
Sodium Laureth Sulphate (SLES)
Ammonium Lauryl Sulphate (ALS)
Ammonium Lauryl Ether Sulphate (ALES)
Sodium Myreth Sulphate
Ethyl PEG-15 Cocamine Sulphate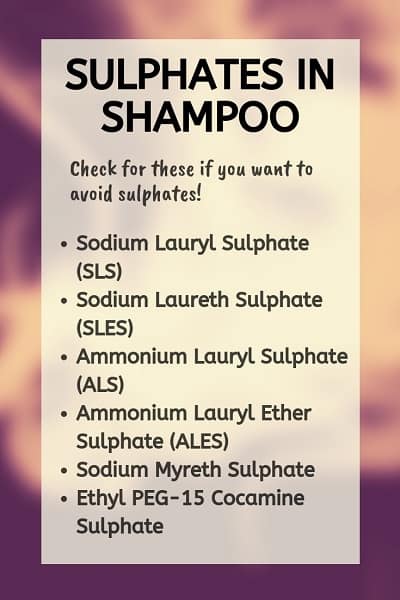 What Are Sulfonates in Shampoos?
When looking for a sulphate-free shampoo, you may come across ingredients such as Sodium Laurylglucosides Hydroxypropyl Sulfonate, Sodium C14-16 Olefin Sulfonate or Sodium Xylene Sulfonate on ingredients lists.
The 'sulfonate' in these ingredients sounds a lot like 'sulphate', but are they the same thing?
Sulfonates have some similar properties to sulphates, but they are not technically the same as they have a different chemical structure.
Like SLS and SLES, these ingredients are surfactants, meaning they can produce a lather and are effective at removing grease from hair.
Sulfonates can have a drying effect on the scalp, but they tend to be relatively gentle.
Sodium Xylene Sulfonate scores a 1 on the EWG's Skin Deep Cosmetics Database while Sodium C14-16 Olefin Sulfonate scores a 2, so both are classed as 'Low Hazard'.
Conclusion
If we had to choose just one sulphate-free shampoo to recommend, it would be Green People Daily Aloe Shampoo. Not only is it free from sulphates, it's also free from phthalates, synthetic fragrance and parabens as well as being vegan and cruelty.
Consumer demand for sulphate-free products is only growing, with more and more people becoming conscious of what they apply to their bodies.
Brands and their chemists are being forced to get creative with their formulations as customers look for higher quality products that are less damaging to their bodies and the environment.

Naturaler is a UK website full of tips and recommendations for living a more eco-friendly, chemical-free and natural lifestyle.