Raw unrefined shea butter has landed in the natural health and beauty world with a bang!
And it's hardly surprising.
Shea butter is a plant-based oil which is extracted from the nut of the shea tree which grows in African countries like Guinea, Senegal, Uganda, Sudan and Burkina Faso.
It's 100% natural, rich in vitamins A and E, non-toxic, vegan-friendly, preservative-free, paraben-free, preservative free and it works miracles on skin complaints like acne, eczema, psoriasis, dry skin, stretch marks and sunburn.
No wonder that it's becoming a favourite in every toxin-free, vegan and eco-conscious household!
However, for optimal benefits, it's important to select a raw, unrefined shea butter which hasn't been stripped of its natural properties and still contains all the good stuff that you need to nourish yourself both inside and out.
Here's our pick of the best unrefined raw shea butters available in the UK.
Best Unrefined Raw Shea Butter in the UK
1. PraNaturals 100% Organic Shea Butter
If you're looking for the perfect organic shea butter that is versatile and perfect for the whole family, look no further than this one from PraNaturals.
Certified by the Vegan Society, it's ethically sourced and suitable for vegans and vegetarians.
Packed with vitamins A and which help treat acne, soothe skin complaints and help stretchmarks disappear, it also works as an effective natural sunscreen that will protect you from UV damage whilst nourishing your skin.
It also comes in a generous 300g plastic tub which means you'll have enough unrefined raw shea butter to use directly on your skin, create your own natural cosmetics or even cook with.
Be aware that its purity means that it does have a strong nutty smell which might not be to everyone's tastes. If this is you, chose another raw shea butter on this life.
2. The Soapery Organic Unrefined Shea Butter
When you take this unrefined shea butter in your hands, you can tell instantly that you're getting something authentically raw and unrefined.
The packaging is very simple and no-frills which allows the Ghana-produced raw shea butter inside to absolutely shine.
Certified as 100% organic by the Soil Association and completely unrefined by chemicals, this one comes exactly as nature intended.
We love the fact that it's also very affordable and guaranteed to be less than 9 months old.
3. Nurifi Pure Organic Shea Butter
If you're looking to buy a larger quantity of organic shea butter to use in your natural cosmetics such as massage bars, moisturisers and hair treatments, or you simply want to stock up, treat yourself to this 1kg pot from Nutrifi.
This raw shea butter is very light in colour and carries barely any fragrance, making it perfect for those who prefer less of a nutty smell yet don't want to compromise on quality.
It's also Soil Association certified, 100% organic, pure, raw and refined and comes in a stylish tub for easy storage.
4. Naissance Organic Shea Butter
Picked and pressed in small villages in Ghana by local women, this organic, unrefined shea butter is ethically-created, vegan-friendly, Soil Association certified and absolutely wonderful.
Created by a company based in Wales, UK, Naissance are proud to build strong partnerships with local communities to create one of the best natural shea butters on the market.
Perfect for making body butters, moisturisers, lip balm and sunscreen, the unprocessed natural oils in this luscious and creamy shea butter will moisturise and soothe your skin without harming the planet.
5. Shealife 100% Organic Unrefined Shea Butter
Give your skin a luxurious treat by indulging in this whipped unrefined shea butter.
Light, creamy and deliciously soothing to the touch, it will nourish your skin with vitamins A and D and won't weigh it down, harm the environment, cause any suffering to the planet or expose you to toxic chemicals.
Coming in a handy 100g container which fits right into your suitcase, it's the perfect shea butter to take with you on your travels, treat your sunburn or to pop into your handbag for those moments when your skin needs a little extra TLC.
Developed in association with indigenous communities and women's co-operatives, this unrefined shea butter is hand processed, paraben-free, colour-free, fragrance-free, synthetic-free, and even comes in a 100% recyclable container.
Shea Butter Uses & Benefits
Shea butter is rich in vitamins A, E and F, and also contains as wide range of essential fatty acids, antioxidants and other skin-friendly ingredients.
This means that it's super-nourishing, beautifully soothing and carries great anti-inflammatory properties, making it perfect for all skin types.
Here are some of the main benefits of shea butter:
Moisturises skin naturally
Reduces acne
Soothes and nourishes dry skin
Helps skin look younger and healthier
Fights back against dandruff and dry scalp conditions
Soothes insect bites, rashes and nappy rash
Treats sunburn
Reduces itching
Helps heal cracked skin and wounds
Softens tough skin
Reduces razor burn
Prevents stretch marks and scarring
Helps treat eczema and other skin conditions
Protects skin against sun and wind
Helps plump and nourish the skin
Nourishes dry, flyaway hair and helps prevents split ends
This makes unrefined, raw shea butter perfect for:
Using as a versatile moisturiser for the face, body and hair
Using as an ingredient in natural homemade beauty products
Creating a rich, soothing massage bar
Providing low grade sun protection
Using as a natural, toxin-free baby toiletry
As a anti-scar and anti-stretch mark balm
As an anti-blemish treatment
And many other things besides. Once you start using the stuff, we guarantee you'll somehow find a million and one ways to use it!
Refined vs. Unrefined Shea Butter
Shea butter is available in both unrefined and refined forms.
Refined shea butter is the highly processed version. It uses chemicals to help open the shea seeds and extract the fats in larger quantities than would be possible by hand.
This also allows the manufacturers to remove the natural nutty smell, smooth the texture of the shea butter and add perfumes and preservatives if required.
On the other hand, unrefined shea butter is the 100% natural version. The seeds are removed by hand, then boiled and beaten with water to extract the fat.
The shea butter itself might be lightly filtered to remove any stray bits of shell or debris, but other than that, the unrefined, raw shea butter is exactly as nature intended.
Shea Butter vs. Coconut Oil
Shea butter and coconut oil are both wonderful natural, vegan-friendly moisturisers which can give you nourished and healthy skin whilst reducing your use of plastic and exposure to toxic chemicals.
Yet there do have a few key differences that you should bear in mind when deciding between the two.
Coconut oil is easier to find on the shelves of your supermarket or local shop and it's becoming increasingly affordable.
It works well as a lightweight moisturiser for a variety of purposes and contains essential fatty acids which help promote healthy skin and a small amount of vitamin E. However, those with acne or blemish-prone skin should avoid using it as it can clog pores.
Shea butter is a better option for use on acne-prone skin, it's richly moisturising and also offers some protection from damaging UV rays.
It also contains vitamins A, E and F, in addition to those essential fatty acids also found in coconut oil.
However, it is heavier on the skin than coconut oil.
Shea Butter FAQs
Are shea butter and cocoa butter the same?
Not quite! Whilst they are both extracted from plants, shea butter is an oil which comes from a nut, and cocoa butter comes from cocoa beans.
They're both rich in healthy oils, nourish the skin and feel wonderful when applied.
However, shea butter provides some UV protection to the skin whereas cocoa butter does not. Cocoa butter has a lighter natural fragrance than shea butter, which is why it works well as a base in cosmetics.
If you suffer from problem skin, you should avoid cocoa butter as it can be comedogenic, whereas shea butter is not.
Does shea butter clog pores?
Even though shea butter is luxuriously rich and creamy, it isn't comedogenic so won't clog your pores.
This means it's a great natural moisturiser if you struggle with acne, blemishes or other skin complaints.
Does shea butter go off?
Refined shea butter is usually treated with preservatives to help prolong shelf life.
The refining process itself can hide signs of your shea butter turning rancid so it's always wise to check your expiry dates on the product.
If you're choosing a natural, unrefined shea butter, you'll need to use your shea butter slightly faster. It's best to use it within 18 months of purchase for best results.
You can help your shea butter last longer. Make sure you keep water out of the packaging and store in a cool place, away from direct sunlight.
Is shea butter good for acne?
Yes! If you're looking for a great non-comedogenic moisturiser which gives you that dewy look without causing you to break out, shea butter is your perfect choice.
You might feel worried the first time you apply it as it can be quite thick, but there's really no need.
Simply apply a thin layer with clean fingers and watch as those fine lines, wrinkles and other dry skin are soothed away.
Is shea butter edible?
Yes! Traditionally, shea butter has been used in cooking and even to make delicious treats like chocolate. If you do fancy trying it for cooking, make sure you chose 100% unrefined, grade A shea butter from a reputable source.
It's also worth looking for the words 'safe for dietary purposes' or 'food grade' on the label.
Is shea butter vegan?
Yes! Shea butter is 100% plant-based and free from animal products or animal testing.
This makes it the perfect choice for vegetarians, vegans and those wanting to live a more conscious lifestyle.
Conclusion
If we had to pick just one of these products to recommend it would be PraNaturals 100% Organic Shea Butter as it's one of the most highly rated and popular unrefined raw shea butter products on the market.
Before you choose your unrefined shea butter, it's a good idea to first consider what your needs and requirements will be.
Are you planning to make a particular natural beauty product with it?
Or are you looking for a general multipurpose natural oil to nourish your skin? Maybe something lighter and more indulgent is your thing? Or raw unrefined and nutty?
Then make your selection and enjoy the soothing, nourishing effects of this raw, unrefined natural oil.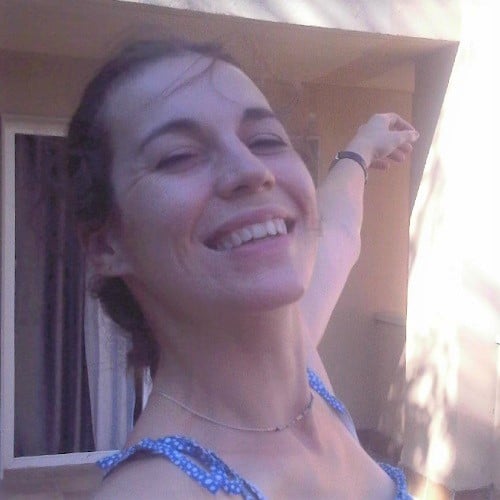 Charlotte Witts is a writer and entrepreneur who wants to show you how easy it is to live a more conscious, zero-waste lifestyle. A confirmed yoga-addict, trail runner and ocean-lover, she currently lives in the Azores where she enjoys the simple pleasures in life.