I take my lunch to work with me every day, and for a long time, I used a plastic lunch box.
I have a stainless-steel water bottle, I don't use plastic sandwich bags or anything, but I continued to use a plastic lunch box. I reasoned that a plastic lunch box isn't a throwaway item—it lasts for ages.
So, the damage a plastic lunch box does to the environment is surely lower than say a plastic bottle. Well, this is most likely true, but I still think there is a strong argument for converting to a plastic-free lunch box.
Not all plastic-free lunch boxes are created equal! Some will not stand up to well to the abuse of daily work life.
We've compiled a list below of the best plastic-free lunch boxes in the UK right now.
Check them out and take your sandwiches to work with some style!
Best Plastic-Free Lunch Boxes in the UK
1. The Bamboo Box by Yuvo
This bamboo lunch box is one of the most stunning lunch boxes on this list—I never thought I'd write that sentence!
The lid of this lunch box is made from solid bamboo, while the box itself is made from bamboo fibres. It's a great size for sandwiches, salads and fruit so you can use this for a storage box or take it with you.
The style of this bamboo lunch box is really simple, but it works great. It even includes an elastic strap to secure the lid and keep your food fresh.
This lunch box is vegan-friendly and dishwasher safe (the lid isn't, but just wipe it with a damp cloth).
Of course, as this lunch box is made from bamboo, it isn't microwave safe, but apart from that, it is just an extremely cool lunch box!
2. Mintie Duo Stainless Steel Lunchbox Set
This one-litre stainless-steel lunch box is perfect if you love a little variety for lunch!
The two compartments mean that you can take some leftovers and a bit of fruit or a side salad without them mixing up and forming something a little too crazy to eat at your desk.
You also get a little snack pot with this lunch box too so you can take some nuts to work with you and not be tempted by eating your whole lunch during the morning.
One of our favourite things about this lunch box is that it comes with a silicone band to keep your food wrapped up tight. It also comes in a cotton bag which you can store it in to protect your important homework or presentation.
This lunch box will probably last you until you retire!
3. GA Homefavor Stainless Steel Bento Lunch Box
This stainless-steel lunch box is another one that comes with compartments.
However, this one has three!
One big one, for your sandwiches or salad and two smaller ones for snacks. If you love a good snack throughout the day, who doesn't, this is the lunch box on this list for you.
The stainless steel this lunch box is made from won't degrade over the years and will keep your food fresh from the moment you make it.
The only downside to this lunch box is that it isn't leak proof.
So, if you enjoy a salad with dressing, you'll need to take the dressing separately.
However, it is dishwasher, fridge and freezer safe, so it's perfect for storing food as well as taking it on the go!
4. Janolia Stainless Steel Food Storage Containers
This set of stainless-steel food storage containers are a game changer.
Right off the bat, they aren't microwave safe, which can be a little annoying for some, but other than that they are excellent.
You can take them all with you to work and enjoy breakfast and lunch. Plus, thanks to the silicone lids, these are leakproof.
They are also dishwasher and freezer safe!
Once again, these stainless-steel containers won't degrade over the years and neither will the silicone.
So, these containers will keep your food fresh all day every day for the rest of your working life, or keep your leftovers fresh in the fridge until the cows come home.
These food containers really have a great look and work exceptionally well.
5. Black+Blum Sandwich Box
In terms of looks, this is our favourite lunch box on this list.
Look at it, have you ever seen a lunch box this stylish? Not only is this lunch box stylish, but it is seriously practical too!
You see, this lunch box combines all the things we like about all of the other lunch boxes on this list.
Firstly, you get the silicone band to wrap around it and ensure the lid is secure. You also get the stainless-steel construction of the box itself that will keep your food fresh for hours.
Plus, you get a beautiful bamboo lid that you can also use as a plate to eat your lunch on or as a chopping board!
This stylish lunch box looks amazing and makes you look like a pro in your office!
Also, thanks to excellent construction, this lunch box will last you for years!
6. Nature & My Plastic-Free Lunch Box for Kids
This plastic-free lunch box has been designed for the kids. It has a cute little bear design moulded into the rice husks!
Yep, that's right, this lunch box is made from rice! Well, a by-product of rice making that is normally thrown away, but Nature and My decided to repurpose it!
This lunch box comes with a spoon and a fork, once again, made from rice husks, and it also comes with a removable compartment bit that is great for separating your kid's food.
What's more, unlike all the other lunch boxes on this list, this one is microwave-safe!
It is also dishwasher, freezer and oven safe.
Finally, this lunch box is also 100% biodegradable.
Each time your child uses this lunch box, you'll teach them a valuable lesson about the environment, making this lunch box the most important one on this list!
Why Use a Plastic-Free Lunch Box?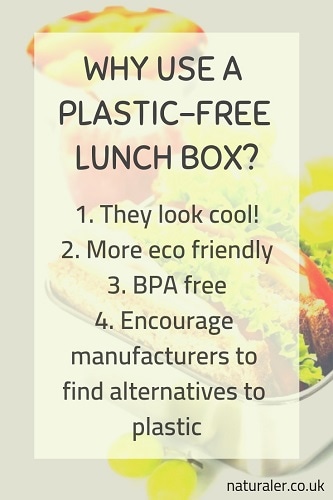 1. They look cool!
I use a stainless-steel lunch box and, in my opinion, it is far cooler than a plastic one.
If you fancy looking cool at work or at school, grab a plastic-free lunch box and feel the coolness for yourself.
Of course, this isn't the only reason you should use a plastic-free lunch box, but it is the least serious reason!
2. More eco friendly
Although a plastic lunch box doesn't do as much damage to the environment as a plastic bottle, it does still damage the environment and carries with it the potential of harming wildlife and local environments all over the world when it's disposed of.
Using a plastic-free lunch box takes this harm and damage and throws it out of the window.
3. BPA free
Plastic lunch boxes can also contain harmful chemicals such as BPA (bisphenol A), which disrupts our hormones. Even though many plastic lunchboxes are now BPA free, they can contain other harmful chemicals that just aren't as well known as BPA yet.
There's growing evidence that BPA-free plastic products aren't much safer than the products they replace.
4. Encourage manufacturers to find alternatives to plastic
Using a plastic-free lunch box also sends a message to big companies making plastic products.
It shows them, hopefully, that the future of their company doesn't lie in plastic products. Instead, their future lies in longer lasting products that do not harm the environment as much as plastic.
Conclusion
We hope this list of awesome plastic-free lunch boxes has been helpful! We love plastic-free lunch boxes. Gone are the days of plastic lunch boxes for us.
When you can look this cool and help the environment while taking a break from work, we'll never go back now!
If we had to pick just one of these lunchboxes to recommend it would be the Bamboo Box by Yuvo as it's very stylish and is made from natural materials.
If you liked this list of cool stuff for the environment, check out the rest of our website!
We have loads of cool things that can help us keep the environment safe for the future.