Many of us are choosing to go plastic-free in as many ways as we can and this includes appliances. This isn't just for environmental reasons; health concerns play a role too.
If you're looking for a kettle with minimal amounts of plastic, we've reviewed 5 of the best below.
Not all of these kettles are 100% plastic free, but they don't have plastic parts coming into contact with the water.
Sometimes you will need to remove a plastic filter or replace it with a stainless steel one.
Best BPA and Plastic-Free Kettles in the UK
1. Ottoni Fabbrica Italian Top Kettle "Alice Nero"
This stylish kettle from Italian brand Ottoni Fabbrica is a great choice if you're looking for a kettle with longevity, as it is a bit of an investment piece.
It's guaranteed to be free from plastic and BPA free, which is great. The inside is completely free from plastic, so there's no danger of any plastic getting into your tea.
The kettle is made from sturdy 18/10 stainless steel, so it should keep you making cuppas for a good few years.
Sometimes this kettle comes with a plastic strainer, but if you email the company when you order the kettle requesting a stainless steel strainer they will include one at no extra cost.
With a removable limescale filter and heat insulated handle, you can keep it clean as a whistle and ensure that you won't be burning your hands as you use your slick, modern kettle!
Each part is made in Europe to the highest standard and are certified by the IMQ.
Despite being made in Europe, this kettle comes with a UK plug when bought in the UK.
Ottoni Fabbrica's Italian Top Kettle is cordless and has a great capacity of 1.7 L – perfect for making plenty of cups of tea at once!
Features
7 L capacity
Automatic shut off
360° base
Boil dry protection
Heat-isolated handle
2400 W power
Pros
100% plastic-free
BPA-free
Stylish, cordless design
2-year warranty
Great quality parts and build
Removable limescale filter
Cons
Pretty expensive
May not be the quickest to boil
Lid can get quite hot
You need to email the company to request a stainless-steel filter
2. Ottoni Fabbrica Italian Top Kettle "Fjord Satinato"

Here's another 18/10 stainless steel kettle from Ottoni Fabbrica, who are one of the best brands to go for if you want something plastic-free.
Like the Alice Nero model reviewed above, the Fjord Satinato is an expensive kettle, but could be worth the investment if you want something durable that is guaranteed to be free from plastic.
This kettle often comes with a removable plastic limescale filter but if you email the seller when you order it they will include a stainless steel filter instead.
Features
Made from 18/10 stainless steel
Automatic shut off feature
Cordless
Heat-isolated handle
Boil dry protection
1.7 L capacity
2400 W power
Pros
No plastic parts in contact with water
Beautiful design
BPA-free
Well made and durable
Cons
Expensive
You need to email the company to request a stainless-steel filter
3. Ascot Stainless Steel Kettle
This stylish kettle is handmade primarily from stainless steel, and only limited amounts of plastic (which don't come into contact with the water).
It's BPA free and has some useful safety features such as auto shut off and boil dry protection.
Sometimes this kettle comes with a plastic lid to prevent burns, but is also available with a stainless-steel lid.
Features
Auto shut off
Boil dry protection features
1.5 L capacity
3000 W power
Max water indicator
Cordless
Pros
2-year warranty available
Boils quickly
BPA free
No plastic in contact with water
Cons
Sometimes comes with a plastic lid
4. Russell Hobbs Cambridge 20070
This kettle from Russell Hobbs is the most affordable on our list at the time of writing and still offers a great 1.7 L capacity and 3000 W power, so would be a great option for anyone on a tighter budget.
It's not completely plastic free—it has a plastic lid and a removable plastic level indicator.
As long as you remove the level indicator, there won't be any plastic coming into contact with the water.
The internal rapid boil indicator shows you how much to fill the kettle for 1, 2 or 3 cups and it only takes 45 seconds to brew a cupful for one!
This indicator is however plastic, so you may want to remove this before use (it will clip on and off easily).
The well-designed spout means you can pour your cuppas without any annoying splutters or dribbles and the easy to remove lid means refilling your kettle is a breeze.
The spout has an easy to clean, removable limescale filter which means you should only get tip-top tasty tea and coffee!
Features
7 L capacity
3000 W power
360° base
Removable plastic filter
Rapid boil indicator
Boil dry protection
Pros
Very affordable
Simple, modern design
Quick to boil
Easy to use
Removable boil indicator means inside has no contact with plastic
Cons
Not completely plastic-free (filter and boil indicator)
Water level is not visible outside
Cord length may not suit all kitchens
No LED indicator
Relatively noisy when boiling
5. Aicok Electric Kettle 3000W Fast Water Kettle
Aicok have created a quirky little BPA-free kettle with a great 1.7 L capacity and quick boil technology.
It's not completely plastic free but the interior of the kettle is made entirely from stainless steel and is coated to avoid oxidation occurring.
The outer coating helps to keep heat inside the kettle meaning the outside should not get too hot – should not burn if you were to accidentally touch it.
This kettle is designed with a large spout, which means you can fill the kettle without removing the lid – perfect for that second round of coffees when the lid could still be hot.
An LED switch means you can safely see when the kettle is boiling and when it has boiled and a 360° base means you can put your kettle anywhere with ease of use!
Features
LED switch
360° base
Automatic shut off
7 L capacity
Boil dry protection
3000 W power
Pros
No internal plastic
Metal limescale filter
Quirky, cordless design
Fun blue colour
Easy to use
Cons
Not completely plastic-free (but is plastic-free on the inside)
Expensive when not on offer
No outer water level indicator
Long-term quality could be questionable
Are plastic kettles safe?
We all know that plastic is practical and has so many uses in our everyday lives, but is all of this plastic actually doing us any good?
Plastic is known to contain chemicals that can have harmful effects on humans. These chemicals include phthalates, BPA and BPS (a common alternative to BPA).
BPA
Bisphenol A (BPA) is a compound found in a lot of plastic products which can leak out when the plastic is heated.
In a plastic kettle, there is an increased chance of BPA leakage due to the boiling water and steam.
BPA is an endocrine disruptor thought to cause several health problems, so it's not something you want in your tea or coffee.
BPA is linked to obesity and is also said to disrupt the development of unborn children and young children who are exposed to this substance.
These health concerns have led some to call for BPA to be banned.
BPA contaminated foods and drinks could be causing a whole manner of issues in the human body, with speculated links to infertility, learning difficulties, diabetes, breast cancer and lots of other pretty major health concerns.
Due to the health concerns surrounding BPA, a lot of kettles are now BPA free. However, research suggests that BPA alternatives such as BPS could be just as bad.
Therefore, it's best to avoid the water you boil in your kettle coming into contact with any type of plastic.
How to avoid plastic in kettles
Almost all electric kettles contain at least some plastic—it's very hard to find an all-metal kettle. The important thing is to avoid the plastic elements from coming into contact with boiling water.
Look for a kettle with a stainless steel interior. Be careful when buying a kettle that looks like it's made from glass, as it could actually be made from a transparent plastic material.
Even if the kettle has a stainless steel interior, it might still contain a plastic filter at the top. Often the filter can be removed easily, but in some kettles you're stuck with it.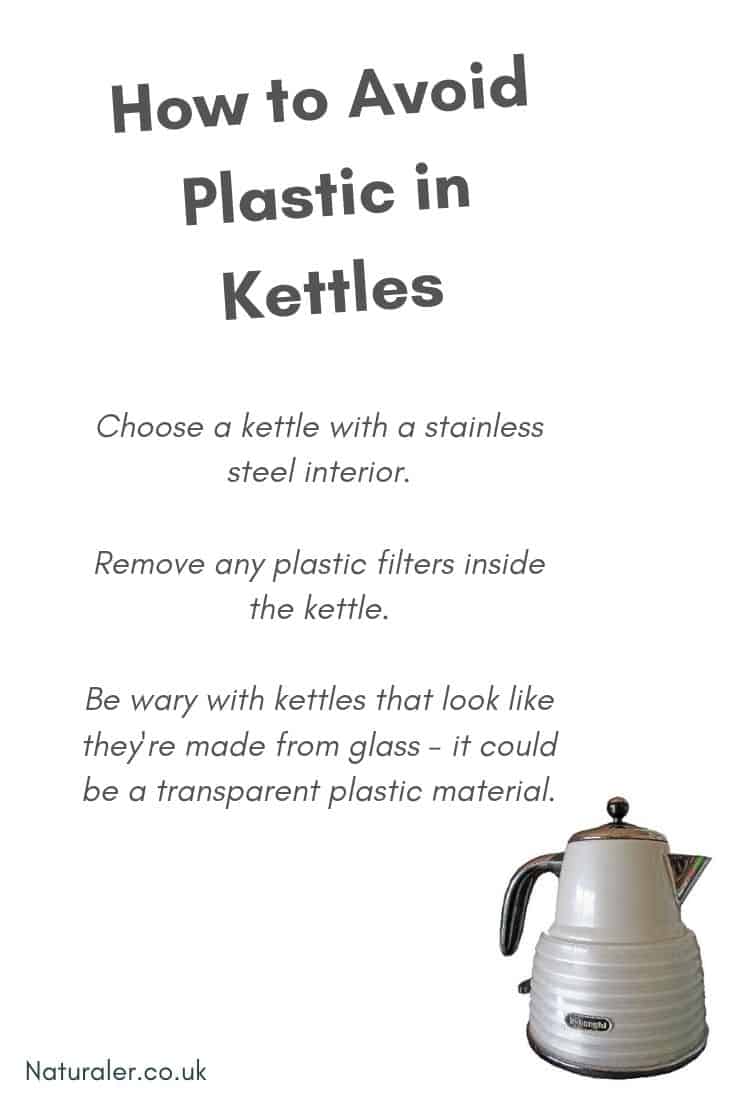 Plastic kettles vs. stainless-steel kettles
Despite the fact that both kettle types are just as able to boil you up a batch of hot water, there are some pretty major differences.
For starters, a plastic kettle will more than likely be super cheap to purchase (you could find a fully functioning plastic kettle for a few quid) in comparison with a stainless-steel kettle, which will usually set you back a few more pounds.
Secondly, there is the concern for health and safety. Plastic kettles could contain BPA which is released when the plastic gets heated up (see the section above) and this could have negative effects on our health.
Stainless steel isn't going to fill your tea with BPA, though many people opt not to choose this material for other safety reasons.
The outside of a stainless-steel kettle will of course get hot, as metal conducts heat really well, so people with children in the house may opt for a plastic kettle for this reason.
Style also plays a big part in the choice of a kettle, as you want something that will complement your decor and stainless-steel kettles do tend to come in much more stylish designs than their plastic counterparts.
Plastic kettles also tend to look cheaper, so appear to be worse quality.
Longevity is something a lot of us will consider when splashing a bit more cash on an appliance, especially when the UK ranks 3rd in the biggest tea drinkers in the world!
We want our appliances to keep us going for at least a few years, so when shelling out for a high-end, plastic-free, stainless steel kettle, we need to be sure the build quality will last.
Plastic kettles may have proven their worth in student lets across the country, but with fears that BPA could cause health problems, opting for stainless steel seems like the better option.
Here's a quick round-up of pros and cons for each kettle type, so you can choose whether going BPA-free is worth it for you and your family:
Plastic Kettles
Pros
Cheap to buy
Easy to obtain
Lightweight and easy to use
Boil water efficiently
Plenty of colour choices to match kitchen decor
Cons
BPA worries
Not all that stylish in design
Can be cheaply made
Can discolour over time
Stainless Steel Kettles
Pros
No BPA worries
Stylish designs available
Boil water efficiently
Cons
More expensive to buy
Generally quite heavy
Rust and scratches can form over time
Paintwork could bubble over extended use (not relevant to plain, uncoated kettles)
Conclusion
If you are on the hunt for a completely plastic-free kettle, then you might want to check out the Ottoni Fabbrica Italian Kettle.
However, if you're kettle budget won't stretch this far, then opting for the Russell Hobbs Cambridge 20070 would be absolutely fine. Once the plastic indicator is removed from inside the kettle then you will get that same plastic-free cuppa and from a pretty well-known, household brand.

Naturaler is a UK website full of tips and recommendations for living a more eco-friendly, chemical-free and natural lifestyle.