Many of us are choosing to go plastic-free in as many ways as we can and this includes appliances. This isn't just for environmental reasons; health concerns play a role too.
If you're looking for a kettle with minimal amounts of plastic, we've reviewed 6 of the best below.
Not all of these kettles are 100% plastic-free, but they don't have plastic parts coming into contact with the water.
Sometimes you will need to remove a plastic filter or replace it with a stainless steel one.
Best BPA and Plastic-Free Kettles in the UK
1. Susteas Stove Top Stainless Steel Kettle
This timeless stylish kettle is for use on all types of hobs including gas, electric, induction radiant and halogen.
Important to note: if using a gas hob, this kettle is not made for a large flame, keep to a small-medium sized flame to ensure safety.
This kettle is 2.6 L in max capacity and made of surgical grade stainless steel (it will not rust), aluminium and iron. The majority of the kettle is stainless steel and 100% BPA free.
It comprises three layers to enable faster heating and preservation of heat after the kettle has boiled. This in itself is energy saving. The three layers are stainless steel, aluminium and iron. The use of iron ensures better performance for induction hobs.
An important note: it is recommended to leave this kettle for five minutes after the whistle blows, to ensure safety while handling it. Due to the proximity of the spout, hob kettles have always been a little more dangerous when the steam escapes. However, it does feature an anti-scalding handle.
It also prevents water from overflowing by preventing the whistle from blowing, if water is filled up above the 2.6 L line.
Features
Use on gas, electric, induction and radiant hobs
Iron layer for better induction performance
Water insulation
Aluminium layer for quicker performance
Silicone mitt and handle
Pros
2-year warranty available
Economical price
3 L capacity
Induction hob use
100% BPA free
Stylish classic design
Anti-scalding handle
Cons
Does not indicate boiling time
Made in China
2. Russell Hobbs Cambridge 20070
This kettle from Russell Hobbs is affordable and still offers a great 1.7 L capacity and 3000 W power, so would be a great option for anyone on a tighter budget.
It's not completely plastic-free — it has a plastic lid and a removable plastic level indicator.
As long as you remove the level indicator, there won't be any plastic coming into contact with the water.
The internal rapid boil indicator shows you how much to fill the kettle for 1, 2 or 3 cups and it only takes 45 seconds to brew a cupful for one!
This indicator is however plastic, so you may want to remove this before use (it will clip on and off easily).
The well-designed spout means you can pour your cuppas without any annoying splutters or dribbles and the easy to remove lid means refilling your kettle is a breeze.
The spout has an easy to clean, removable limescale filter which means you should only get tip-top tasty tea and coffee!
Features
1.7 L capacity
3000 W power
360° base
Removable plastic filter
Rapid boil indicator
Boil dry protection
Pros
Very affordable
Simple, modern design
Quick to boil
Easy to use
Removable boil indicator means inside has no contact with plastic
Cons
Not completely plastic-free (filter and boil indicator)
Water level is not visible outside
Cord length may not suit all kitchens
No LED indicator
Relatively noisy when boiling
3. Tower Bottega T10020W Rapid Boil Traditional Kettle

This is an elegant kettle by Tower Bottega with rapid and quiet boiling operation. The 360° swivel base makes it suitable for both right handed and left handed people to use. 
The design is quite stylish and the kettle comes in three colors – rose gold and white, black and rose gold, and white marble and rose gold.
This kettle is made of stainless steel while the handle is made of rubber to make it easy for you to hold when hot. 
The most unique thing about this kettle is the temperature dial which will tell you exactly what the temperature of the water is at a certain point of time.
Features
1.7 L

Temperature dial

3000 W

Made from stainless steel

Boil dry protection

Rubber handle
Pros
1 year guarantee and extended 2 years warranty upon registration

Boil dry protection

360° swivel base

Handle made of rubber

Elegant design

Temperature dial
Cons
Customers have complained of leaks in the kettle

The kettle may start making a noise after long usage
4. Ottoni Fabbrica Italian Top Kettle "Alice Nero"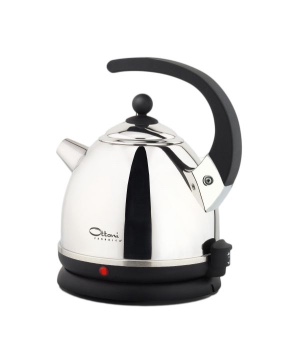 This stylish kettle from the Italian brand Ottoni Fabbrica is a great choice if you're looking for a kettle with longevity, as it is a bit of an investment piece.
It's guaranteed to be free from plastic and BPA free, which is great. The inside is completely free from plastic, so there's no danger of any plastic getting into your tea.
The kettle is made from sturdy 18/10 stainless steel, so it should keep you making cuppas for a good few years.
With a removable stainless steel lime scale filter and heat insulated handle, you can keep it clean as a whistle and ensure that you won't be burning your hands as you use your slick, modern kettle!
Each part is made in Europe to the highest standard and is certified by the IMQ.
Despite being made in Europe, this kettle comes with a UK plug when bought in the UK.
Ottoni Fabbrica's Italian Top Kettle is cordless and has a great capacity of 1.7 L – perfect for making plenty of cups of tea at once!
Features
1.7 L capacity
Automatic shut off
360° base
Boil dry protection
Heat-isolated handle
2400 W power
Pros
100% plastic-free
BPA-free
Stylish, cordless design
2-year warranty
Great quality parts and build
Removable limescale filter
Cons
Pretty expensive
May not be the quickest to boil
Lid can get quite hot
Made in Italy
5. Ottoni Fabbrica Italian Top Kettle "Fjord Satinato"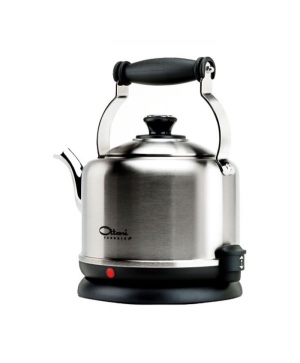 Here's another 18/10 stainless steel kettle from Ottoni Fabbrica, which is one of the best brands to go for if you want something plastic-free.
Like the Alice Nero model reviewed above, the Fjord Satinato is an expensive kettle but could be worth the investment if you want something durable that is guaranteed to be free from plastic.
This kettle comes with a stainless steel lime scale filter.
Features
Made from 18/10 stainless steel
Automatic shut off feature
Cordless
Heat-isolated handle
Boil dry protection
1.7 L capacity
360° rotation
2400 W power
Pros
No plastic parts in contact with water
Beautiful design
BPA-free
Well made and durable
6. ASCOT Electric Kettle

This ASCOT kettle comes in many colors and has a very stylish, ergonomic design. It is made of stainless steel, is BPA free and has no plastic contact with hot water.
The kettle has a capacity of 1.6 L and can boil the water in 5 mins. It has auto shut off technology and boil dry protection so you can focus on other tasks after switching it on to boil water.
This kettle is cord free, moreover, the power base has a 27-inch power cord.
It also has a specially designed pour spout which makes sure that most of the water goes into the cup with less splashes and spills. The kettle is lightweight and easy to clean.
The on-off button has an LED light and the base also has a hidden cord storage. The top finger-ring to pull off the lid does have some plastic lining, and this part can get hot to touch.
Features
1.6 L

LED indicator light

Automatic shut off

Boil dry protection

2200 W

Overheat Protection

360° base
Pros
1-year limited quality assurance

Smart design

Comes in many colors

27-inch power cord for flexible placement
Cons
Some customers have complained of a smell left behind in hot water

The kettle has a short life span
Are plastic kettles safe?
We all know that plastic is practical and has so many uses in our everyday lives, but is all of this plastic actually doing us any good?
Plastic is known to contain chemicals that can have harmful effects on humans. These chemicals include phthalates, BPA and BPS (a common alternative to BPA).
BPA
Bisphenol A (BPA) is a compound found in a lot of plastic products that can leak out when the plastic is heated.
In a plastic kettle, there is an increased chance of BPA leakage due to the boiling water and steam.
BPA is an endocrine disruptor thought to cause several health problems, so it's not something you want in your tea or coffee.
BPA is linked to obesity and is also said to disrupt the development of unborn children and young children who are exposed to this substance.
These health concerns have led some to call for BPA to be banned.
BPA contaminated foods and drinks could be causing a whole manner of issues in the human body, with speculated links to infertility, learning difficulties, diabetes, breast cancer and lots of other pretty major health concerns.
Due to the health concerns surrounding BPA, a lot of kettles are now BPA free. However, research suggests that BPA alternatives such as BPS could be just as bad.
Therefore, it's best to avoid the water you boil in your kettle coming into contact with any type of plastic.
How to avoid plastic in kettles
Almost all electric kettles contain at least some plastic—it's very hard to find an all-metal kettle. The important thing is to avoid the plastic elements from coming into contact with boiling water.
Look for a kettle with a stainless steel interior. Be careful when buying a kettle that looks like it's made from glass, as it could actually be made from a transparent plastic material.
Even if the kettle has a stainless steel interior, it might still contain a plastic filter at the top. Often the filter can be removed easily, but in some kettles, you're stuck with it.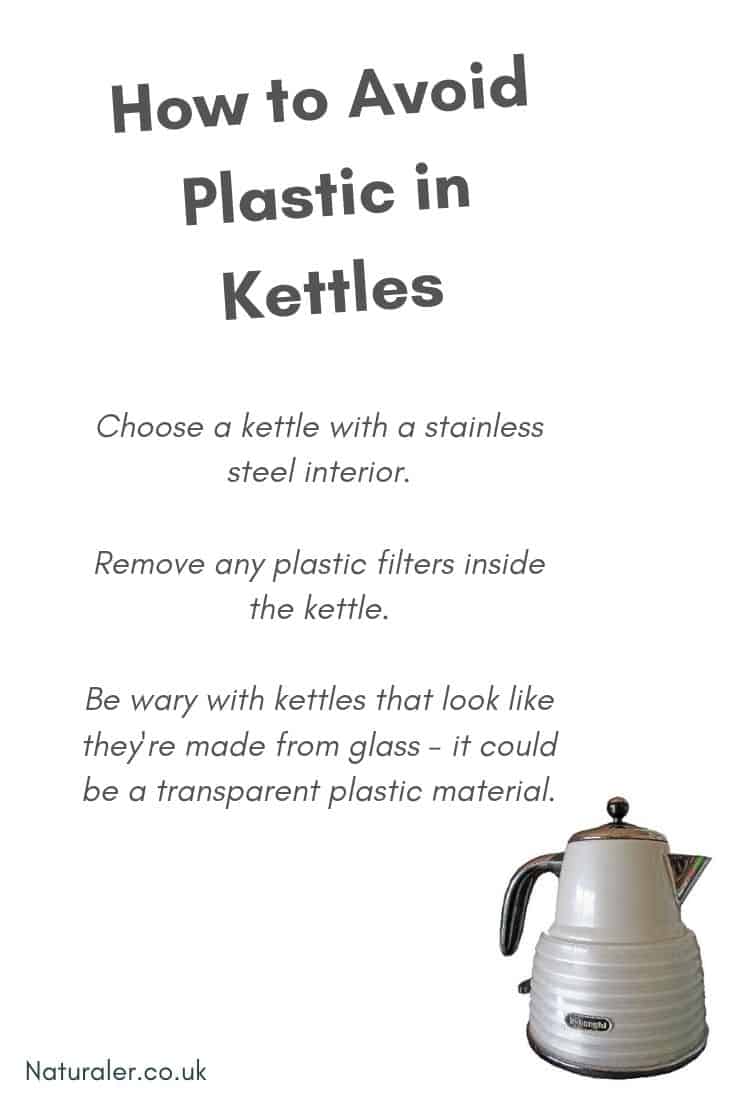 Plastic Free Hob Kettles
Another way to avoid plastic in kettles is to opt for a hob kettle instead. This is a kettle that boils on a hob/stove, instead of electrically.
Our No.1 kettle choice is the Susteas Stainless Steel Kettle, which enables boiling hot water from the stove, whilst avoiding plastic.
Converting back to the stove means hot water in just as little time, but often without the use of plastic.
This can mean a much safer and energy-efficient cuppa and hob kettles are now extremely versatile. They can be used on gas, halogen, induction, radiant, and electric (if needed) hobs. Some hob kettles cannot be used on ceramic hobs.
The benefit of hob kettles is that they come largely plastic-free, and are quite well made. They consist of superior mechanisms, and so are not cheap to make. This tends to mean they will last longer, and will not need to be thrown out into landfills, unlike regular plastic kettles.
The design also tends to be superior, which may mean adaptations like better insulation, or a temperature gauge for different liquids; for example, boiling green tea or coffee.
Purchasing a hob kettle is becoming quite popular for making tea and coffee (inside it). In particular, the V60 pour-over coffee method. Customers report a superior tasting coffee after using the Vinecraft Traditional Kettle.
Even though hob kettles are usually a little more expensive than plastic kettles, the Vinecraft Traditional Kettle puts the plastic version in the shade, coming in as the cheapest hob kettle we could find. It may still be more expensive than the cheap plastic version, but it will last far longer.
We highly recommend this kettle for its functionality and performance.
It is known to be highly efficient as an induction kettle, boiling water much faster than a plastic kettle. It can be used on all hob types and has a 2.7 L capacity.
Overall, hob kettles are much more efficient and environmentally conscious. In the long run, purchasing a hob kettle will save energy and will last longer; saving money and the environment.
Plastic kettles vs. stainless-steel kettles
Despite the fact that both kettle types are just as able to boil you up a batch of hot water, there are some pretty major differences.
For starters, a plastic kettle will more than likely be super cheap to purchase (you could find a fully functioning plastic kettle for a few quid) in comparison with a stainless-steel kettle, which will usually set you back a few more pounds.
Secondly, there is a concern for health and safety. Plastic kettles could contain BPA which is released when the plastic gets heated up (see the section above) and this could have negative effects on our health.
Stainless steel isn't going to fill your tea with BPA, though many people opt not to choose this material for other safety reasons.
The outside of a stainless-steel kettle will of course get hot, as metal conducts heat really well, so people with children in the house may opt for a plastic kettle for this reason.
The style also plays a big part in the choice of a kettle, as you want something that will complement your decor. Stainless steel kettles do tend to come in much more stylish designs than their plastic counterparts.
Plastic kettles also tend to be of worse quality, so appear cheaper also.
Longevity is something a lot of us will consider when splashing a bit more cash on an appliance, especially when the UK ranks 3rd in the biggest tea drinkers in the world!
We want our appliances to keep us going for at least a few years, so when shelling out for a high-end, plastic-free, stainless steel kettle, we need to be sure the build quality will last.
Moreover, with fears that BPA could cause health problems, opting for stainless steel seems like the better option.
Here's a quick round-up of pros and cons for each kettle type, so you can choose whether going BPA-free is worth it for you and your family:
Plastic Kettles
Pros
Cheap to buy
Easy to obtain
Lightweight and easy to use
Boil water efficiently
Plenty of colour choices to match kitchen decor
Cons
BPA worries
Not all that stylish in design
Can be cheaply made
Can discolour over time
Stainless Steel Kettles
Pros
No BPA worries
Stylish designs available
Boil water efficiently
Can often be used on induction hobs
Cons
More expensive to buy
Generally quite heavy
Rust and scratches can form over time
Paintwork could bubble over extended use (not relevant to plain, uncoated kettles)
Conclusion
If you are on the hunt for a completely plastic-free kettle, then you might want to check out the Ottoni Fabbrica Italian Kettle.
However, if you're kettle budget won't stretch this far, then opting for the Russell Hobbs Cambridge 20070 would be absolutely fine. Once the plastic indicator is removed from inside the kettle then you will get that same plastic-free cuppa and from a pretty well-known, household brand.
However, we recommend the Susteas Stove Top Stainless Steel Kettle since it saves electricity and has a good capacity along with being 100% BPA-free.

Naturaler is a UK website full of tips and recommendations for living a more eco-friendly, chemical-free and natural lifestyle.