Turmeric has been used in Indian cooking for thousands of years, and is famous for giving curries their yellowy colour.
As well as adding natural colour and flavour, turmeric also has lots of health benefits.
Turmeric powder comes from the root of the turmeric plant. The root contains compounds called curcuminoids.
The main curcuminoid is curcumin, which is the active ingredient that gives turmeric its health benefits.
It's important to point out that turmeric and curcumin aren't the same thing—in fact, curcumin only makes up about 3% of turmeric powder. Curcumin also isn't absorbed efficiently into the bloodstream unless it's combined with black pepper.
That's why lots of people choose to take curcumin and black pepper supplements rather than just consuming turmeric powder on its own.
Best Organic Turmeric Powder in the UK
When you buy organic turmeric as opposed to non-organic, you know that the turmeric has been produced in a relatively sustainable way and that no artificial pesticides or chemicals have been used while farming it.
Here are some things to look for when choosing organic turmeric:
Certified organic
100% pure turmeric – No additives or fillers
Below we've listed 3 of the best organic turmeric powders available in the UK at the moment.
1. Superfood World Organic Turmeric Powder
This turmeric powder from Superfood World contains 100% pure Indian turmeric powder which is certified organic.
It's packed and sealed in the UK and comes in a resealable 300 g pouch which is easy to reseal so it stays fresh.
Superfood World are an official sponsor of Medical Relief International, and they donate up to 25% of profits to charity, so you'll be supporting a good cause by buying from them.
As you'd expect, this turmeric powder is completely vegan, GMO and gluten free. It has a good taste and smell, and you can tell it's high-quality turmeric just by looking at it.
2. Sevenhills Wholefoods Organic Raw Turmeric Powder
This organic & raw turmeric powder from Sevenhills Wholefoods is processed below 45°C to retain its full nutritional value.
It's certified organic by the UK Soil Association and certified vegan by the Vegan Association. It's also tested for heavy metals.
This turmeric powder comes in a large 1 kg bag that offers good value for money when compared to other organic products. The large pack should last a long time.
This turmeric is high quality and has a nice taste.
3. StayFreshOrganics Organic Turmeric Powder
This turmeric powder from South Wales-based StayFreshOrganics is grown in India and is certified organic by the Soil Association. It's 100% turmeric with no fillers, and contains a minimum of 3% curcumin, which is higher than some products that only have a minimum of 2%.
This product is non-irradiated, which means it hasn't been treated with ionised radiation, which can reduce the nutritional benefits. It's also lab tested for lead and heavy metals.
This powder feels high quality, and the resealable pouch is convenient. The pouch weighs 500 g.
Health Benefits of Turmeric
Some of the main health benefits of turmeric (an in particular the active ingredient curcumin) include the following:
Antioxidant – Antioxidants help the body fight free radicals. Without antioxidants to combat them, free radicals can cause 'oxidative stress', which can trigger diseases and speed up aging.
Turmeric is a powerful antioxidant, so it's a good thing to include in your diet.
Reduces inflammation – Inflammation can contribute to several health conditions. Turmeric could help reduce joint pain in arthritis sufferers.
Could reduce risk of cancer – According to Cancer Research UK, "There is some evidence that curcumin, a substance in turmeric, can kill cancer cells in certain cancers."
Countries where consumer more curcumin tend to have lower rates of cancer, but more research is needed into potential benefits of turmeric for those with cancer.
May reduce risk of heart disease – Curcumin could prevent arteries from getting clogged, and thereby reduce the risk of heart disease.
Good for brain health – Turmeric could help prevent Alzheimer's and reduce symptoms of depression, though more research is still needed.
Most studies into these health benefits use concentrated turmeric supplements rather than just turmeric powder, and the health benefits are unlikely to be as great if you just consume turmeric powder.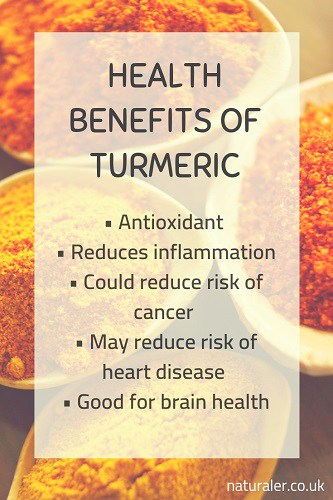 Uses of Turmeric Powder
As well as adding it to curry, there are lots of other ways to use turmeric powder:
Add it to a protein shake
Add it to soup
Add it in a smoothie
A lot of people use turmeric on their skin too, in particular in face masks.
Turmeric could help give you a natural glow, while reducing acne scarring, psoriasis and other skin conditions.
Turmeric Powder vs. Capsules
Turmeric powder isn't the most effective way to take advantage of the health benefits of curcumin, as it only contains about 2-3% curcumin. Also, you need to consume it with black pepper to absorb a decent amount of curcumin.
Curcumin capsules are a better choice as a health supplement as they contain concentrated curcumin and usually include black pepper for maximum absorption.
On the other hand, turmeric powder tastes great and is very versatile.
You can easily add it to lots of different recipes, and it's a more natural way to consume curcumin than by taking tablets.
Conclusion
If we had to pick just one brand of organic turmeric to recommend it would be Superfood World Organic Turmeric Powder as it's 100% organic, tastes and smells great, and the brand also donate up to a quarter of their profits to charity.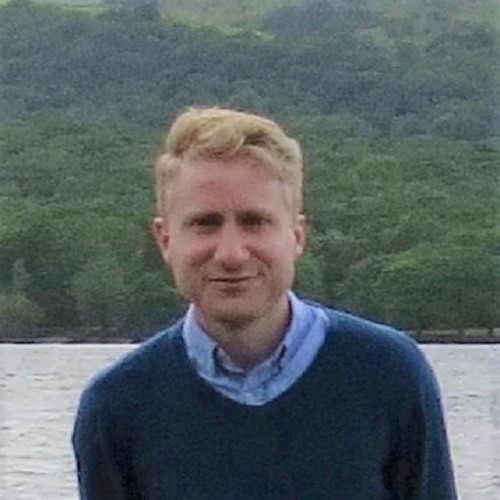 Laurence is the founder and editor of Naturaler. He's been working in the online world for over 5 years and is trying to live a more natural and eco-friendly lifestyle every day.