Whilst a swipe of colour to our lips can help us feel more beautiful, there is an ugly side to one of our favourite makeup staples.
Lipstick can be full of many potentially dangerous chemicals.
Whilst typically the performance of natural lipsticks has been overshadowed by more synthetic options, there are many brands making products that are high quality, pigmented and harm free to our bodies and the environment.
Tired of all those chemicals in your lippy? Looking for something a bit more kind to your lips?
Look no further and keep reading to find out the best organic and natural lipsticks on the market.
Best Organic & Natural Lipsticks in the UK
1. Green People Velvet Matte Lipstick
This UK-based brand was created by a mother looking to find kinder products for her daughter with eczema.
On her quest for more gentle products, she decided to create her own brand and so Green People was born.
The brand offers several natural and organic products including skincare, body care and makeup products so there are lots of more natural options to really clean up your beauty regime.
Their Velvet Matte lipstick in Damask Rose is a classic and flattering pinky-nude shade to give you that "your lips but better" look.
It is made of 100% natural ingredients including sunflower oil to soften and soothe, beeswax and carnuba wax to lock in moisture, and castor oil for lip protection.
Pros
Packaging is fully recyclable
Natural lip colour suitable for a lot of skin tones
Easy to use and long-lasting
Cons
Not completely cruelty-free because of beeswax and unsuitable for vegans
Has a faint scent
Some people find it slightly drying, but their lip primer helps
2. Odylique Organic Mineral Lipstick
Odylique is a family-run brand based in Suffolk, UK, that was created to soothe sensitive skin and provide alternatives to those chemically infused products on the market.
Their products are therefore all clear from synthetic chemicals and also certified by to strict Soil Association organic standards.
Odylique is one of the forerunners in natural cosmetics, so you can rest assured your skin is in good hands.
They also never test on animals so you can feel completely guilt-free. They also sell a variety of products so check them out!
Their mineral lipstick is 100% natural and 86% organic. They pride themselves in having created the first ever lipsticks certified by Soil Association and Fairtrade standards.
The lipsticks come in ten beautiful shades so there is something for everyone's tastes and to suit all skin tones.
The lipsticks are super moisturising as they contain jojoba, shea butter and plant oils.
Odylique have also created mineral lip liners which you can pair with the lipsticks to ensure a super long-lasting lip colour.
Pros
Packaging is recyclable
Does not dry out
Silky texture and glides on the lips
Cons
Contains beeswax so not suitable for vegans
Relatively expensive
Has a slight fragrance
3. Sky Organics Organic Tinted Lip Balm
If you are looking for handcrafted, organic and consciously made products, this brand is for you.
Sky Organics does not test on animals, and has sourced each of their ingredients to ensure they are made in pesticide-free environment.
They also support local and family farms that promote responsible work environments. You can definitely rest assured that your cosmetics are totally guilt-free.
This isn't technically a lipstick, but their lip balm can definitely give you a cute pop of colour.
Their tinted balms come in a variety of colours that can give you a natural sheen and glimmer.
The ingredients are 100% natural, and even contain nourishing lip butter, aloe vera and coconut oil to give you a natural moisture.
Pros
Fully recyclable packaging
Cool minty fragrance for freshness and a light tingle
Great for the natural no make-up look
Cons
Not suitable for vegans as contains beeswax
Lip balms are quite small
Requires a lot of reapplication as it is a tint
4. Burt's Bees 100 Percent Natural Satin Lipstick
Everyone has heard of Burt's Bees. They are famous for their lip balms which can be found in drugstores and supermarkets everywhere.
Burt and his partner Roxanne created the brand over three decades ago, using left over wax from honey production.
On average, 99% of their products are completely natural, and all products are paraben free, free from chemicals and do not test on animals.
Burt's Bees has also created lipsticks to give you a more intense colour than their lip balms.
Their 100% Natural Satin lipstick comes in eighteen shades to please every fancy, from pinks to corals to reds.
The lipstick contains moringa and raspberry seed oil to moisturise and hydrate your lips the whole day.
Pros
Lightweight and creamy feel
Intense colour without compromising moisture
Relatively inexpensive
Cons
Not vegan as contains beeswax
Some find the packaging design awkward
Has a subtle scent
5. 100% Pure Fruit Pigmented Cocoa Butter Matte Lipstick
The ethos of US-based brand 100% Pure is to provide the purest and healthiest products that are environmentally friendly and also kind to animals.
All their cosmetics are dyed with fruits, plants and tea pigments so you can assure there are no nasty chemical colourants in your lipstick.
They also have a large variety of products so you can complete your makeup look the natural way!
Their lipstick is a favourite for those looking for natural products and is extremely popular.
They provide a huge offering of shades in easy-to-use and sleek packaging.
Their lipsticks also provide tonnes of moisture with ingredients such as shea butter, cocoa butter and natural vitamin E.
Pros
It is completely vegan
Recyclable and reusable packaging
Intense colour with great moisture
Cons
Relatively expensive, but is a more 'high-end' product
Colour may bleed on some lips but a lip liner helps
Some may find the formula too creamy and sticky
nPotentially Dangerous Ingredients in Lipstick
Lipstick is a classic staple in every woman's makeup kit and has been since the beginning of makeup.
From bright brick reds to sass up any look to modern playful and quirky blues, yellows and greens.
Whilst lipstick can be that final touch to jazz up or complete any look, there is a dangerous side to this seemingly harmless makeup essential.
The scary thing is, what goes on your mouth can go in your mouth and into your body, meaning that you may be ingesting small doses of these toxic chemicals.
Whilst many studies show impacts may be negligible, it is the cumulative effect of continual usage which could be problematic.
Lead
Most people know that lead is not good for us. It has been banned from several products from paint to pipes to fishing rod weights.
But what is the problem with lead? Recent studies reveal that there is no safe level of exposure of lead.
Lead is a neurotoxin that is harmful even in small doses. It has a range of side effects including reducing fertility in both men and women, and has links to learning disabilities and adverse hormonal changes.
It is also especially dangerous for pregnant women and young children because of links to neurodevelopmental problems.
Many lipstick lovers do not realise that they are laying it on their lips on a daily basis.  A 2007 study by Campaign for Safe Cosmetics released a report A Poison Kiss with results from tests of 33 popular lipstick brands.
It was found that 61% lipsticks contained lead, and this was even from some of our favourite brands including L'Oreal and Dior!
Whilst lead itself is not used as an ingredient in lipstick, it can end up in our cosmetics through the manufacturing process or pigments used in them.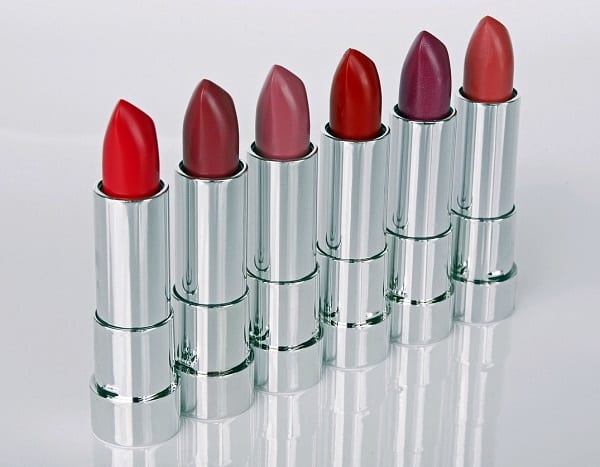 Parabens
Parabens are commonly used chemicals used to preserve our favourite cosmetics.
Whilst they make cosmetics last longer, they can be harmful. They disrupt normal hormone functions and have links to breast cancer and reproductive problems.
Look out for whether your products contain methylparaben, propylparaben, butylparaben, and ethylparaben in the ingredients list.
However, it is worth noting that often they are not shown in the ingredients list, so you may be unaware of these potentially dangerous chemicals. It's best to stick to lipsticks made with natural and organic ingredients.
Retinyl Palmitate
This is a synthetic form of vitamin A and used as a preservative.
It has been flagged by the cosmetics database as a 'moderate hazard' because of links to reproductive problems and even cancer. It is also especially harmful for pregnant women.
Whilst vitamin A helps repair collagen and elastin and keeps your lips kissable smooth, retinyl palmitate can cause genetic mutations and damage DNA. Yikes!
Colourants
Many lipsticks use artificial colourants with very technical and robotic names such as D&C Red 36, D&C Red 22 Aluminium Lake and FD&C Blue 1.
Whilst these ingredients are often the key to a rich and pigmented lip colour, they have been linked to nervous system damage.
Furthermore, these colourants are coaltar (bituminous coal) derivatives which basically means they come from aluminium and petroleum products that have carcinogenic properties.
To mitigate risks on us humans, they are therefore often tested on animals. Not good for those who want to be cruelty-free, and not so harmless.
These are often missing from ingredients labels, or listed as something else, so consumers can be ingesting these unknowingly.
No worries though, there are plenty of lipsticks that use natural colourants, for example from plants and fruits, to ensure you do not put any harmful ingredients onto your body.
Tocopheryl Acetate
This is a lab created ingredient also known as vitamin E acetate. It is cheaper and longer lasting than natural vitamin E which is why it is often used in cosmetics. Vitamin E is a popular ingredient for lipsticks because of its antioxidant and moisturising properties.
This ingredient was dubbed a 'moderate risk' by the cosmetics database because of its toxicity, and it can cause burning, itching, peeling, hives and blisters on the skin.
Some studies also show that it has a 'enhancement of photocarcinogenesis' effect, meaning it can increase the carcinogenic impact of UV rays.
It definitely sounds like something to be avoided and to make sure your skin stays safe stick to more natural forms of vitamin E.
Conclusion
These are just some of our favourite natural and organic lipsticks on the market.
There are loads out there to try out that can provide chemical-free and gentle alternatives to synthetic products on the market.
Our favourite is the lippy by 100% Pure because it is vegan, environmentally friendly and completely natural!
Have you tried any other natural lipsticks? Let us know, we would love to hear what you think!

Naturaler is a UK website full of tips and recommendations for living a more eco-friendly, chemical-free and natural lifestyle.