Yoga is an ancient form of exercise originating from India around 5,000 years ago.
It is now practised in leisure centres, schools, private gyms/health clubs and hospitals all over the world.
Many of us also like to practise yoga in the comfort of our own homes.
Focusing on strength, flexibility and breathing, yoga is often recommended for boosting physical and mental wellbeing.
Physical benefits include improved flexibility, protection against osteoporosis, relief of IBS symptoms and other digestive problems, and reduced blood pressure.
Yoga is excellent for lifting our mood, can help to boost our self-esteem, makes us feel more relaxed and improves our sleep.
Yoga is a safe and effective form of exercise to make us feel healthier in body and mind.
However, practising yoga may have a hidden danger that some of us are not aware of. Recently, there has been growing concern about the toxicity of PVC yoga mats.
Many of us will have a Polyvinyl Chloride (PVC) yoga mat, as these are the most commonly available mats and also the cheapest to buy.
However, you may not realise that PVC is one of the most environmentally hazardous consumer materials ever made.
PVC is toxic during every stage of its lifecycle, from manufacturing to the end consumer, and even during disposal.
PVC is full of toxic ingredients and chemicals, including phthalates, which mimic the body's hormones and are linked to several cancers, reproductive problems and birth defects.
When we use a PVC mat, we can be exposed to these phthalates and other toxic ingredients through inhalation and skin contact.
Luckily, safer yoga mats are now becoming more readily available. Mats made of non-toxic materials such as jute (a natural vegetable plant) or natural rubber can now be purchased easily online, and aren't always as expensive as you may expect.
If you're thinking of throwing away your PVC mat for a safer alternative, have a look at our list of eco-friendly, non-toxic yoga mats below.
Best Eco-Friendly Yoga Mats in the UK
1. Liforme Yoga Mat
The Liforme Yoga Mat isn't the cheapest eco-friendly mat on our list, but it does have some excellent features.
Nobody wants their yoga mat to slip around, and Liforme have sourced "GripForMe" material to make sure the mat stays put in all conditions.
Liforme have also used naturally sourced sustainable rubber for the bulk of the mat, and a revolutionary heat-bonding process that removes the need for toxic glues during manufacturing.
It's also free from 'heavy metals' such as lead and cadmium.
The mat also features intelligent markers to help guide you into the correct position when practising your yoga.
2. Heathyoga Eco Friendly Yoga Mat
The Healthyoga Eco Friendly Yoga Mat is made from TPE (Thermal Plastic Elastomer), a new material which is eco-friendly, recyclable and is considered to be safe.
This sturdy, good quality mat is reasonably priced and comes in five distinctive colours (grey, pink, blue, teal and lime green).
All Heathyoga products also come with a 1-year warranty and 100% Satisfaction Guarantee. It's also non-slip and can be used on most floor surfaces, and it's a thick and comfortable mat.
3. KeenFlex Yoga Mat
The KeenFlex Yoga Mat is affordable and comes in a wide range of bright colours.
This mat is made from eco-friendly TPE, with no PVC or chloride, and it's also recyclable.
It's also a good quality, tear resistant yoga mat, and is lightweight enough to carry if you're taking it to a yoga class at a gym or leisure centre.
The KeenFlex Yoga Mat is non-slip, and is fairly comfortable thanks to a layer of ultra-high density foam.
4. PeaceLoveYoga Mat by YogaBellies
If you're looking for something a little bit different, the PeaceLoveYoga Mat by YogaBellies might be the mat for you.
Each mat has an unusual, colourful design, featuring beautiful patterns including feathers, dreamcatchers and paisley hearts.
As well as looking great, the PeaceLoveYoga mat is eco-safe, non-toxic and made of biodegradable, recyclable natural tree rubber and water based inks.
The natural rubber is taken from the Hevea Brasiliensis tree and is biodegradable, sustainable and recyclable too.
It's also a good quality mat and offers great support and grip.
These mats are mid-priced, and for every yoga mat sold YogaBellies give $1 to Women's Aid.
5. Jade Harmony Yoga Mat
The Jade Harmony Yoga Mat is an eco-friendly yoga mat manufactured in the US from natural sustainable rubber, and contains no PVC, synthetic plastics or synthetic rubber.
Jade Harmony mats cost between £60 and £145 depending on size (choose from 68 or 74 inches), and they are available in a variety of colours including black, pink, blue, green and orange.
This is a thick, comfortable mat with an excellent grip, and it's a popular choice amongst yoga instructors.
Jade also plants a tree for every mat sold through a partnership with Trees for the Future – an impressive 940,000 trees have been planted on behalf of the company so far.
Non-Toxic Yoga Mat Materials
Several materials can be used instead of PVC to make non-toxic and environmentally friendly yoga mats. Here are some of the most popular options:
TPE – TPE stands for thermoplastic elastomers and refers to a group of plastics that are used as alternatives to PVC and rubbers due to their flexibility. TPEs are considered to be much safer than PVC, though there don't seem to have been many studies carried out into their safety. TPEs have passed lots of international safety tests, but it's still possible that there could be hidden health risks with using TPE yoga mats. TPEs can be recycled, but they are still plastics so they aren't completely sustainable.
Jute – Jute is a vegetable fibre that can be produced sustainably and shouldn't pose any risk to human health. It's a versatile natural fibre that was first used in India (also the home of yoga!) Jute is completely biodegradable, unlike synthetic materials. Jute yoga mats usually aren't made from 100% jute—jute is often combined with "eco PVC".
Natural rubber – Rubber is a stretchy and resilient material. Natural rubber comes from the rubber tree, which produces a natural kind of latex. Synthetic rubber is derived from petroleum.
Cotton – Cotton yoga mats aren't springy or sticky like regular yoga mats, so they don't suit everyone and aren't as well suited to ashtanga vinyasa yoga. They are thinner, so are better for balance, but not as comfortable.
Cork – Cork is an eco-friendly and biodegradable material that is soft and grippy. It's also a very light material, so cork mats are easy to carry around. Often only the top of a yoga mat is made from cork, with the bottom made from natural rubber or some other material. Cork has antimicrobial properties, so cork yoga mats don't require much cleaning.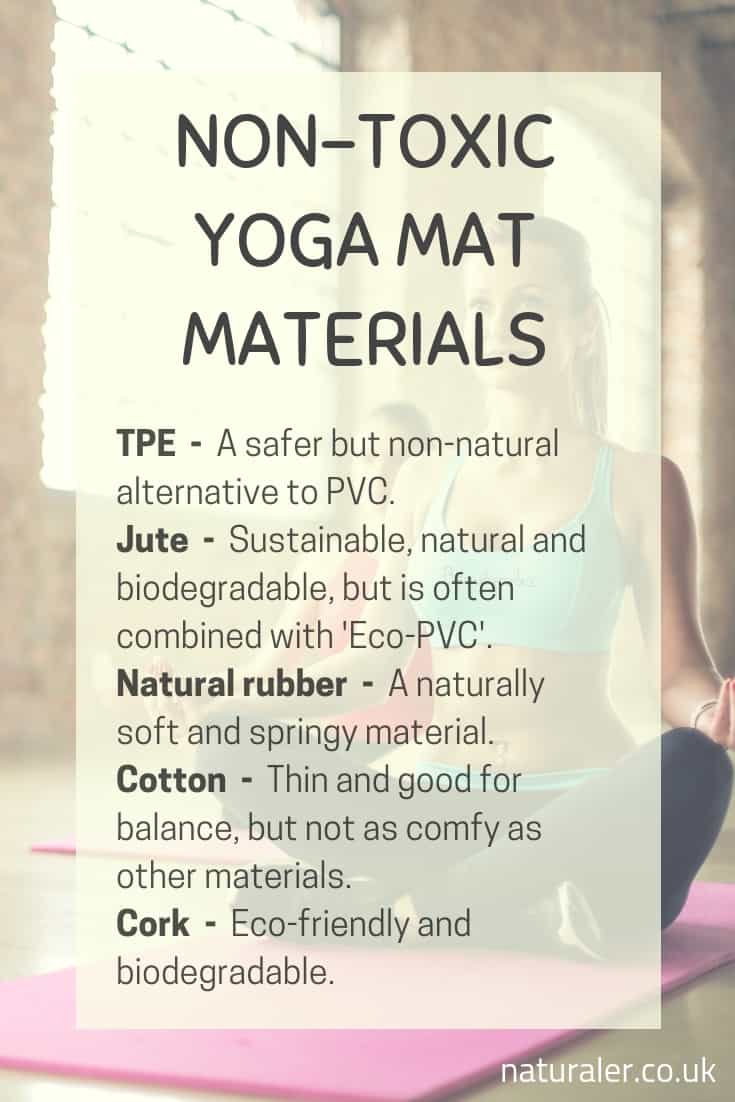 Are TPE Yoga Mats Safe?
Manufacturers of TPE yoga mats usually say that they are free from BPA and phthalates. However, this doesn't mean that they are free from other potentially harmful chemicals. TPE is used in baby products and is considered a safe alternative to PVC. However, research into TPE is still limited.
What Is Eco-PVC?
Some yoga mats are made using a material described as "Eco-PVC". This appears to be a marketing term rather than a scientifically recognised name for a material.
"Eco-PVC" appears to refer to PER (Polymer Environmental Resin), which is often used as a less toxic alternative to regular PVC.
PER is essentially a type of PVC. The difference between PER and regular PVC is that PER is plasticised (softened) with acetyl tributyl citrate, whereas regular PVC is plasticised with phthalates and lead.
Acetyl tributyl citrate is considered safe enough to use in cosmetics (source), but more studies need to be done before we can be 100% sure it's safe.
PER is often combined with jute to make it soft enough for use in yoga mats.
The word 'Environmental' in the name "Polymer Environmental Resin" doesn't mean that this material is natural, it just means that it's better for the environment.
Eco-PVC, or PER, may be less toxic to humans and the environment than regular PVC, but it's still not very eco-friendly as it's not biodegradable.
Cleaning Yoga Mats Naturally
Buying a natural yoga mat and then spraying it with artificial chemicals to clean it would be a bit counterproductive.
You can make a simple natural yoga mat cleaner using essential oils such as tea tree oil and/or lavender oil. For a stronger cleaner, you can add vinegar or witch hazel.
Conclusion
If we had to pick just one of these yoga mats to recommend it would be the Liforme Yoga Mat as it has a very smart design and is primarily made from sustainably sourced natural rubber.
However, it's quite expensive, so if you want a more affordable non-toxic yoga mat you should consider the KeenFlex Yoga Mat, which is the cheapest mat on this list (at the time of writing).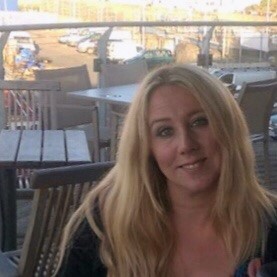 Clare began her career as a technical writer, but since having her boys has worked mostly from home writing content for various websites, including health and beauty and educational resource sites.