Flax seeds are known for their awesome health benefits, and one of the best ways of taking advantage of those health benefits is by using flaxseed oil.
If you're eager to start covering yourself and your food with flaxseed oil, we're sure you're wondering where you can find the best flaxseed oil in the UK.
Have no fear, here is a list of the best flaxseed oils in the UK right now!
Best Flaxseed Oil in the UK
We've split up our recommendations into two sections: Flaxseed oils, and flaxseed oil capsules.
Flaxseed Oils
1. Biona Organic Flax Seed Oil
Biona Organic Flax Seed Oil is a very high-quality flaxseed oil which is why it's first on our list of the best flaxseed oils. It is cold pressed and refined to ensure that the oil retains all of the goodness of the flax seeds.
This process means that this flaxseed oil retains all of the nutritional benefits flax seeds are known for.
Adding this oil to food is a great way to reap all of the rewards that flax seeds can provide. You can also take a spoonful of this flaxseed oil daily to grab your dose of goodness!
However, this flaxseed oil is also perfect for dogs; you can just simply add it to their food.
2. Holland & Barrett Flaxseed Oil
This flaxseed oil from Holland and Barrett is rich in omega 3, 6 and 9. It's organic and suitable for vegans and vegetarians.
Holland and Barrett make and supply some of the best supplements in the UK, and their flaxseed oil is no exception.
You can use this flaxseed oil for anything that you want to use flaxseed oil for and reap all the benefits of this awesome oil!
We couldn't find any information as to whether or not this flaxseed oil is cold pressed and so this may not have as many health benefits as some of the other flaxseed oils on this list.
Flaxseed Oil Capsules
1. Natures Aid Flaxseed Oil Capsules
The flaxseed oil in these 1000 mg softgel capsules is cold pressed and high in omega 3, 6 and 9, making great for lowering your cholesterol.
What's more, Natures Aid has created these capsules to be vegan-friendly too.
These capsules come in either a 90- or 180-capsule bottle, and you're recommended to take 1 to 6 a day with food.
2. Nu U Nutrition Vegan Flaxseed Oil Capsules
These 1000 mg vegan flaxseed oil capsules from Nu U Nutrition are great for using as dietary supplements.
Once again, the flaxseed oil used is cold pressed to retain all the benefits, and the capsules are made from tapioca starch extracted from the cassava plant, so they are perfect for vegans.
Something great about flaxseed oil capsules like these are that they replace other supplements like fish oil.
As flaxseed oil is rich with omega-3s fatty acids, you can replace cod liver oil tablets with flaxseed oil tablets and continue to get the benefits of omega-3s and get even more benefits because of how rich flaxseed oil is in loads of other good stuff!
3. Zipvit Flaxseed Oil Capsules
Zipvit makes this list because they make a damn good flaxseed oil capsule and they are also a great company.
They have donated a lot of money to charities and good causes over the years and you buying their flaxseed capsules means they can give more money away!
Their flaxseed oil capsules are 1000 mgs, once again.
However, we aren't sure whether these are cold pressed and they are not vegan or vegetarian friendly. But if that doesn't bother you, grab these flaxseed oil capsules and get yourself some health benefits!
These capsules are sold in a pack of 360 capsules which can last you nearly a year depending on how many you have per day. These are great capsules made by a great company, and we hope they make a vegan-friendly version soon.
Benefits of Flaxseed Oil
1. High in omega-3s
Flax seeds are known for having a healthy dose of fibre, protein and aiding in weight control. However, flax seeds are loaded with omega-3 fatty acids too.
This is great if you aren't a fan of oily fish or you want/need a lot of omega-3 fatty acids in your diet and don't want to eat a tonne of fish every day. Just one tablespoon of flaxseed oil can exceed your daily requirements for omega-3!
2. Good for the heart
One study found that supplementing with flaxseed oil for 12 weeks lowered blood pressure, which would help improve heart health.
3. Cancer cell growth may be reduced
Some studies have shown that flaxseed oil may reduce the growth of cancer cells. However, more research needs to be done in this area.
4. Flaxseed oil can promote bowel regularity
This study on mice showed that flaxseed oil can act as a laxative and promote 'regularity'.  Flaxseed oil can also help with diarrhoea. However, once again, more studies need to be undertaken.
These are just some the benefits of flax seeds and flaxseed oil.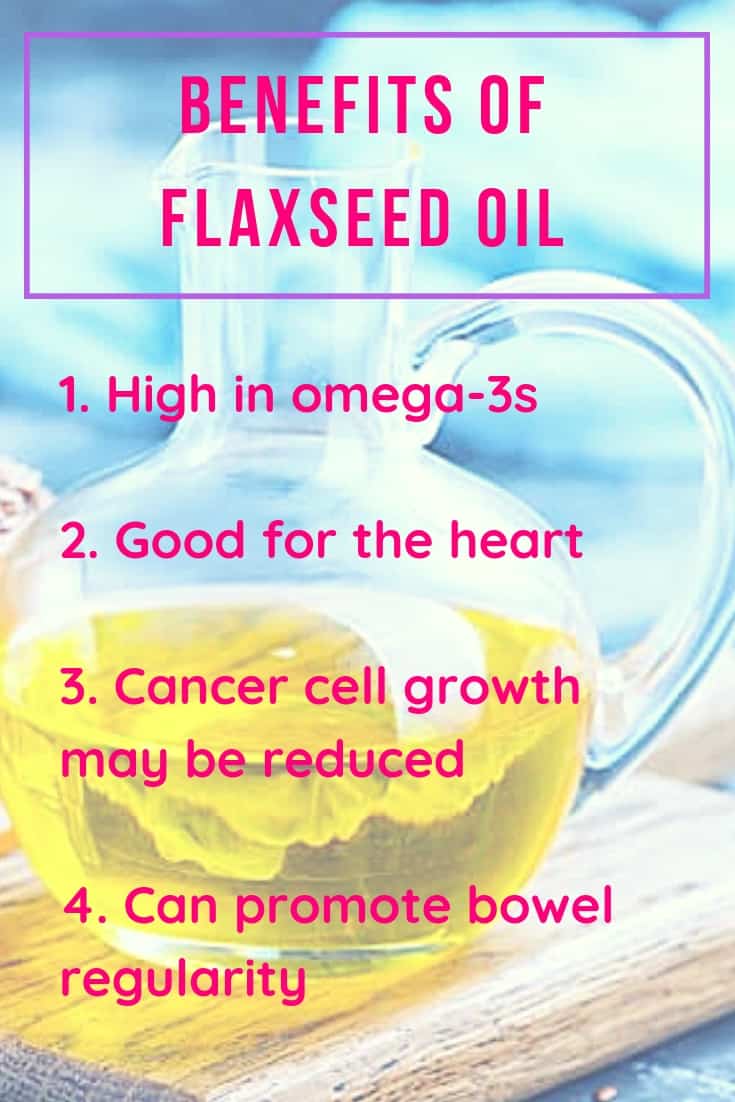 How to Use Flaxseed Oil
You can use flaxseed oil in a number of different ways. You can consume the oil mixed with food or liquids, or take flaxseed oil capsules as supplements.
Some healthy ways to add flaxseed to your diet include the following:
Add it to smoothies – use about 1 tablespoon of oil per smoothie
Make a flaxseed oil salad dressing
Drizzle onto food after it's cooked
Take flaxseed oil capsules after eating
You can also add flaxseed flour (rather than oil) to bread, cookie and cake recipes to reap the benefits of flax seeds when baking.
It's best to keep flaxseed oil in the fridge, especially once it has been opened.
Cooking with Flaxseed Oil
Flaxseed oil isn't recommended for cooking because it has a low smoke point and the healthy fats can become harmful when heated. Therefore, it shouldn't be used as a replacement for olive oil or other cooking oils.
Flaxseed Oil vs. Fish Oil
Flaxseed oil is a possible vegetarian alternative to fish oil if you're looking to get more omega-3s in your diet.
However, choosing flaxseed oil over fish oil has some drawbacks as well as advantages.
Pros of flaxseed oil vs. fish oil
Fish oil supplements can potentially contain mercury, though this is very rare
Flaxseed oil contains lignans, a type of polyphenol with several health benefits
Vegetarian
Cons of flaxseed oil vs. fish oil
Less efficient way to get omega-3s—you need to consume about 6 times more flaxseed capsules to get the same amount of omega-3
According to Harvard Health Publishing, the body doesn't convert the omega-3s in flaxseed oil into EPA and DHA as efficiently as it does the omega-3s in fish oils, so it shouldn't be considered as a substitute to fish oil.
Buying Flaxseed Oil in Supermarkets
You can often buy flaxseed oil in large supermarkets. Here are some flaxseed products available at the UK's main supermarkets:
Flaxseed Oil FAQs
Here are some frequently asked questions about flaxseed oil.
Is flaxseed oil the same as linseed oil?
Flaxseed oil and linseed oil both come from the seeds of the flax (linum usitatissimum) plant.
They are essentially the same, except that in the term flaxseed oil is used to refer to oil prepared for human consumption, whereas linseed oil refers to oil prepared for industrial use.
Confusingly, in the UK the term linseed oil may also refer to oil for human consumption, though usually the term flaxseed oil is used for edible oil and health supplements.
You should only consume flaxseed or linseed oil that has been prepared specifically for human consumption—don't consume linseed oil bought in a hardware shop or linseed oil prepared for thinning paint!
Is flaxseed oil good for dry eyes?
Omega-3 supplementation via flaxseed oil or fish oil is thought to help with dry eyes. In one study, 85% of patients experienced relief from dry eyes after supplementing with flaxseed oil.
Is flaxseed oil good for hair?
Yes, most people agree that consuming flaxseed oil is good for hair.
One of the reasons why consuming flaxseed oil is good for the hair is because it contains omega-3s, which promote healthy hair growth. It also contains protein and selenium, as well as vitamin E, which are all good for hair.
You can also apply flaxseed directly onto your hair to hydrate it and prevent it from drying out. This can be particularly beneficial in the winter.
Flaxseed oil could also help with scalp eczema. This study on mice found that atopic dermatitis-like skin lesions were reduced after consuming flaxseed oil orally.
Does flaxseed oil cause acne?
Diet is thought to play little role in acne, so supplementing with flaxseed oil would be very unlikely to cause an acne breakout. If flaxseed oil was applied directly to the face it could potentially contribute to acne.
Can flaxseed oil help with constipation?
This animal study found that flaxseed oil has a laxative effect, so it may be an effective home remedy for constipation. However, more studies are needed to know for sure if this is a good treatment for constipation.
Conclusion
Flaxseed oil can be a good thing to add to your diet for a variety of reasons. If you want a high-quality flaxseed oil, we'd recommend Biona Organic Flax Seed Oil as it's organic, cold pressed and vegan.
If you'd prefer to consume flaxseed oil in capsule form, we'd recommend Natures Aid Flaxseed Oil Capsules as they use cold-pressed flaxseed oil and are made in the UK.

Naturaler is a UK website full of tips and recommendations for living a more eco-friendly, chemical-free and natural lifestyle.