If you're thinking of buying an eco-friendly women's razor, you're probably well aware of how our use of those horrible disposable plastic razors, blades and even reusable handles is contributing to the plastic waste crisis we're facing.
Think about it.
You buy your disposable plastic razor or plastic replacement blades.
These are made from plastic and come wrapped up in layers of additional plastic, which aren't biodegradable and never decompose.
Once you've used your disposable razor a couple of times, you'll just toss it into the rubbish bin and it ends up with the billions of other razors which get thrown into landfill every year.
All that plastic soon adds up.
However, there are lots of plastic-free shaving options out there that will help you save money, reduce your household plastic waste and even get a closer shave.
Here's everything you need to know about eco-friendly women's razors, plus our pick of the best ones to choose in the UK.
While we're recommending these products to women, these razors are all unisex, so they can be used by both men and women.
Top 5 Best Eco-Friendly Razors in the UK
There are many beautiful eco-friendly razors available in the UK these days which will help you get closer to your dream of going zero-waste or at least reduce your impact on the planet. Here we've narrowed it down to just our five favourites.
1. Bambaw Double Edge Safety Razor
Looking for an eco-friendly women's razor with a difference? Then why not give the unique bamboo safety razors from Bambaw a try?
With a 100% bamboo handle which is naturally sustainable, lightweight, non-slip and biodegradable plus stainless-steel parts, you'll be reducing your plastic waste and helping to create a cleaner planet too.
Strong, durable and great value for money, you simply need to replace the blade when you're done and recycle the old one.
Bambaw also include a great user manual full of tips on how to assemble your razor, how to shave, how to increase the life of your blades and they even include two shaving recipes too.
Pros
Made to last
Made with zero waste in mind
All packaging easily recyclable
Comes with a user guide
Highly rated
Economical
Cons
Not as stylish as other razors
Design less shaver friendly
Does not include blades
2. Jagen David E01 Double Edge Razor
The Jagen David razor is the most affordable plastic-free shaving option on this list (at the time of writing), and it's also one of the best.
With a unique gold finish and high-quality travel case, it's the perfect razor to give as a gift this Christmas to encourage your friends and family to reduce their plastic waste. Or you can simply keep it for yourself and enjoy the close shave experience for less.
The razor is also compatible with all standard safety razor blades and the replacement process is easy and safe too, making it a great plastic-free razor experience for beginners.
Pros
Extremely affordable
Stylish design
Standard double edge safety blades
Quality weight and design
Cons
Does not come with blades
Plastic case
One style only
3. Edwin Jagger Kelvin Chrome Plated Double Edge Razor
The beauty of this razor is that it is Made in England; Sheffield to be exact and can be registered with the manufacturers. The product support that comes with this razor ensures the longevity of the product, and also speaks of the craftsmanship.
Edwin Jagger razors are handmade in Sheffield, which is renowned for steel craftsmanship. It also comes in at a very reasonable price for something handmade and so close to home.
Not to mention the five razor blades that accompany the purchase.
Once you are finished with the blades provided, you can cheaply purchase new blades online, saving money in the long run. It is compatible with all standard double edge safety blades.
It comprises both balance and weight within the handle to ensure an accurate close shave, and a knurled handle to improve grip.
This razor is designed for a classic wet shave and enables as close a shave as a cut-throat razor. It comes in various colours/design and can be easily used by a male or female.
Pros
Handmade in England
Excellent price point
Product registration and support
5 blades with purchase
Can choose length of handle
Cons
New style of shaving
Takes practise to use
4. Philips HP6341 Ladyshave Electric Shaver
If the thought of taking a safety razor to your body strikes fear into your heart, you might prefer to use an electric shaver like the Philips HP6341.
Electric shavers aren't the obvious choice when it comes to an eco-friendly shave as they are made with plastic and use electricity to run.
However, they do offer many advantages over disposable plastic razors. You can recharge and recycle the batteries and they usually have a very long lifespan, so you won't need to replace the plastic parts for years.
We love the Philips HP6341 because it's safe to use either wet or dry, it's hypoallergenic and it uses two AA batteries which can easily be recharged with a plug-in charger.
Pros
No need for blades
For use on wet or dry skin
Comes with batteries
Good for sensitive skin
2 year warranty
Use with or without cord
Can use in intimate areas with caution
Cons
Shaving head needs replaced
Difficult to buy shaving head
Heavily made of plastic
Uses electricity and batteries
5. KANZY Double Edge Safety Razor
Whilst the Kanzy safety razor is marketed mainly for men, it actually makes a wonderful zero-waste shave option for both sexes.
This is one of the most affordable safety razors around.
With its attractive chrome finish, ergonomically hand-crafted lightweight handle and ease of use, you'll never go back to plastic razors after you've used this one.
Just be careful the man in your life doesn't steal your razor! You have been warned!
Pros
Stylish design
For both men and women
Two different colours to choose
Lightweight
Economical
Money back guarantee
Standard double edge safety blade
Cons
Old fashioned design
Uses a plastic box
Only one design
What Is a Safety Razor?
Most eco-friendly razors are safety razors.
These are simply zero-waste, old-fashioned razors made of stainless steel that allow you to just replace the blades themselves without needing to buy a whole new plastic razor each time.
While safety razors are usually marketed at men, there's no reason why they can't be used by women, and many eco-conscious women are now switching from using disposable plastic blades to reusable safety razors.
Using these kinds of razors will also help you get a better, closer shave with much less irritation than you get when you use most disposable razors.
You can also recycle your used safety razor blades and the handle will last a lifetime, which is probably as zero-waste as you could possibly go.
Although the price of these safety razors can put people off at first, it's important to remember that they will last a lifetime if you take care of them properly, and so will actually end up being the cheaper option over time.
How to Shave With a Safety Razor
It's easy to feel intimidated when you see a safety razor for the first time, worrying that you might cut yourself on the bare blade. But there's no need to be scared of using one.
Once you learn how to shave with one of these razors, you'll actually find using one easier than using a disposable razor.
Here's how to do it:
Get hold of a good quality bar of soap. It doesn't have to be anything fancy, just as long as it gives enough lather to help your safety razor glide over your skin.
Forget buying shaving creams, shaving foam or other unnecessary shaving products—stick with soap and you'll reduce your plastic waste and be just fine.
Shave at an angle. Safety razors have their blades set straight, so it's up to you to find the right angle for your perfect zero-waste shave. Around 45 degrees is best for most people.
Be careful! There's no need to put pressure on the razor when you use it. Just use short strokes and be mindful of the area you're shaving, especially around bony parts like your ankles and knees.
Care for your skin afterwards. For the best results, you should also give your skin some TLC after shaving. Check out one of these beautiful plastic-free moisturisers available in the UK to get perfect kind of care for your post-shave body.
The Environmental Effect of Disposable Razors
Several decades ago, the clever team at Gillette realised that they could make a huge profit by making their shaving products single-use and disposable, transforming the shaving industry in the process.
However, they didn't ever consider the huge impact that all this single-use plastic could have on the health of the planet.
Once used, these disposable razors or razor cartridges simply get thrown away. They're not recyclable and they don't biodegrade so they either sits in landfill or end up being washed into the ocean where they add to the growing plastic pollution problem.
According to statistics, 5.5 million people currently use these disposable razors in the UK and in the US, an astonishing 2 billion of these disposable razors are thrown away every year.
These razors are also very labour intensive and cost intensive to manufacture and generate a huge amount of carbon emissions as they're shipped across the world.
For example, Gillette is based in the US but makes its handles in China and its blades in Sweden. This means that the innocent-looking packet of blades you pick up in your local supermarket could have be shipped from all corners of the world.
Disposable razors spell bad news for the planet. In terms of environmental impact, they're right up there with plastic straws, plastic balloons and plastic food packaging.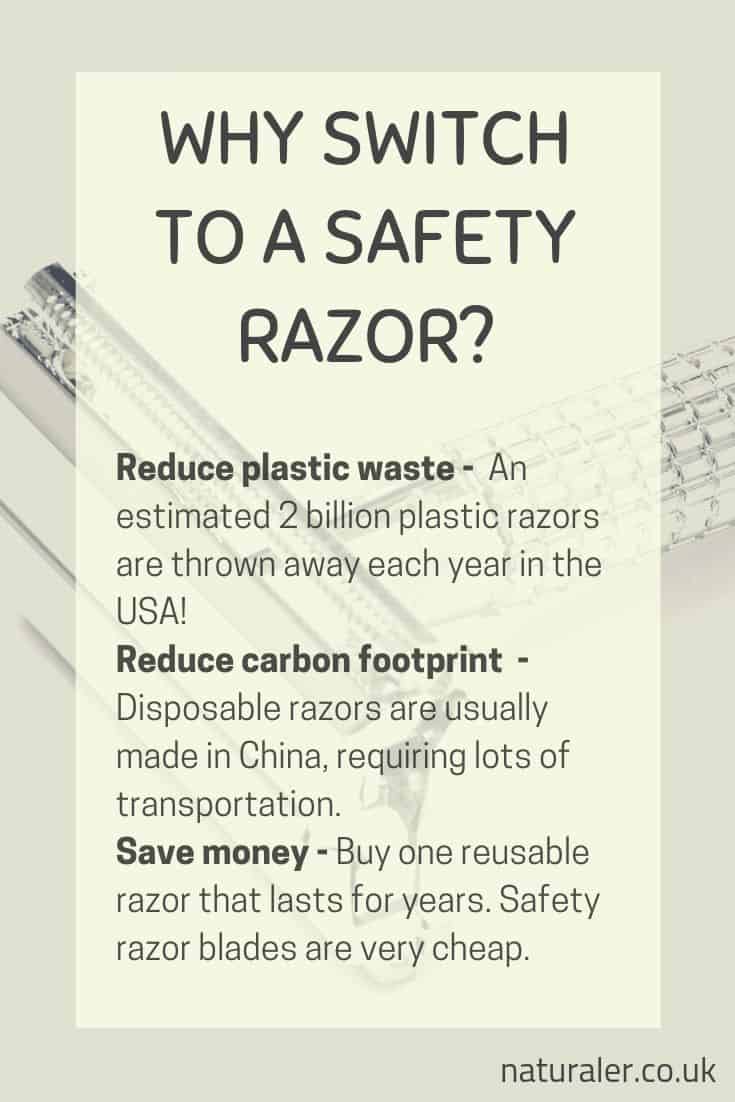 Safety Razor FAQs
Here are some of the most commonly asked questions about safety razors for women, along with their answers.
Are safety razors dangerous?
Safety razors might look scary but if used properly, they can be just as safe as using a disposable razor.
The secret lies in the technique.
Use a 30-degree angle, go slowly and be willing to learn and you'll soon master the art of shaving with a safety razor.
Having said that, it's perhaps best not to shave around your genitals with a safety razor, just in case!
Are safety razors allowed in hand luggage?
Disposable razors and their cartridges are allowed in hand luggage because their blades are mounted and are very hard to remove.
Unfortunately, this isn't the case for safety razors. They're not allowed in hand luggage on commercial flights. If you want to travel with your safety razor, it will need to go into the hold.
Are safety razors better for sensitive skin?
Yes, safety razors help reduce shaving irritation, avoid those annoying razor bumps, reduce ingrowing hairs and can also help reduce acne.
For best results, always moisturise afterwards with a high-quality, eco-friendly moisturiser.
Are safety razors good for legs?
Yes! Safety razors are great for shaving legs and offer a wonderfully smooth result that will last.
We recommend exfoliating first then moisturising afterwards. Remember to adjust your angle, use shorter strokes and go slowly in the beginning to avoid cutting yourself.
Do safety razors rust?
Safety razors are made from pure stainless steel so they can rust over time.
You can prevent this by happening by keeping your razor clean by boiling it on a regular basis.
Place a pan of water onto the stove, place your razor into a metal colander then drop into the water. Leave for ten minutes to allow it to clean thoroughly then leave to cool naturally.
Can women use men's razors?
Of course! Women were shaving with safety razors back in the 1940s and 1950s, back before disposable razors were invented, and they can certainly do so again. They're a great eco-friendly shaving option for both men and women.
Can you recycle razor blades?
Yes, razor blades can be recycled. However, it's not as simple as just putting the blades in the recyling bin. See this article for an in-depth explanation of how to recycle razor blades in the UK.
Conclusion
If we had to pick just one of these eco-friendly razors to recommend it would be Bambaw Double Edge Safety Razor as it comes in recyclable packaging and is made with zero waste in mind.
There are many zero-waste, eco-friendly women's razors in the shops these days, so there really isn't any excuse not to make a cleaner, greener choice and ditch those disposable razors. Happy shopping!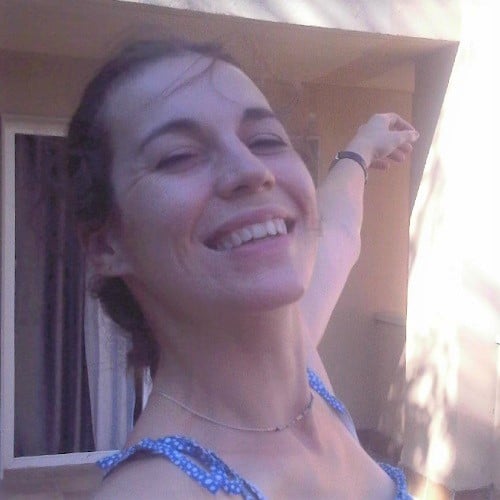 Charlotte Witts is a writer and entrepreneur who wants to show you how easy it is to live a more conscious, zero-waste lifestyle. A confirmed yoga-addict, trail runner and ocean-lover, she currently lives in the Azores where she enjoys the simple pleasures in life.