All of us want to live in a house with clean windows, work in an office with clean floors, have stain-free carpets and have a shining bathroom to use.
We don't often realise that cleaning products can be deceptive, they surely do their job by cleaning surfaces, dishes, clothes, toilets etc., but at a considerable cost to human health and the environment.
Common household cleaning products have potentially harmful and toxic chemicals, including reproductive disruptors, phthalates and allergens. Moreover, these products cause a substantial amount of water and air pollution.
Which Chemicals to Avoid in Cleaning Products
When purchasing cleaning products, we should look out for these ingredients in the list to avoid:
1. Perchloroethylene (PERC)
Perchloroethylene (PERC) is a colourless and non-flammable liquid solvent that has a sweet odour. When PERC is applied to a material or fabric it dissolves greases, oils and waxes. This chemical is found in spot/stain removers, metal and stone polishes, mould removers, paint, etc.
As a result of the industrial release, PERC is already present in the environment in small amounts. Small amounts of PERC is released from dry cleaned clothes as well.
Exposure to higher levels of PERC can irritate the eyes, skin, nose, throat or respiratory system. Considerably high exposure to the chemical can also affect the central nervous system and may lead to unconsciousness or death.
Recent studies have also linked PERC to cancer.
2. Bleach
Bleach is mainly used in households as a disinfectant for cleaning washrooms and as a bleaching agent (to remove stains) in detergents.
When the chemical is added as a bleaching agent in a product, the label may mention it as calcium hypochlorite, hydrogen peroxide, sodium carbonate peroxide, sodium percarbonate, sodium dichloroisocyanurate, sodium hypochlorite or sodium perborate.
Inhaling odours released from bleach can harm the respiratory system, especially in cases of pre-existing allergies or other respiratory conditions. The chemical is corrosive, so if it touches the skin, it can cause burns.
When bleach reaches our waters, it creates dangerous toxins that can take years to dissolve.
Household bleach has a chlorine component. Chlorine is a chemical element present in many bleach compounds. It is a greenish-yellow gas that is heavier than air. Chlorine is toxic in concentrated amounts—it reacts with moisture in the respiratory system and creates hypochlorous and hydrochloric acids on tissues.
3. Ammonia
Ammonia is a naturally occurring colourless gas that has a very pungent odour. Due to its cleaning properties, is found in many household cleaning products such as window cleaner, floor polishing wax, drain cleaner, toilet cleaner, bathroom cleaner, multi-surface cleaner, glass cleaner, oven cleaner, etc
When exposed to ammonia in high concentrations, it can cause irritation to the eye, nose and throat, and may lead to coughing and difficulty breathing. Prolonged exposure can cause the lungs to fill with fluid, resulting in death.
Ammonia is usually listed as ammonium hydroxide on product labels.
4. Butyl cellosolve
Butyl cellosolve is a toxic agent found in domestic cleaning products like glass cleaners, hand washing liquid, dishwashers. laundry additives, bathroom cleaners. kitchen cleaners, multipurpose cleaners, toilet cleaners, and wipes.
Butyl cellosolve can be extremely dangerous and can cause liver and kidney damage. It may also irritate mucous membranes, in the eyes, nose, or throat.
According to some studies, butyl cellosolve destroys red blood cells in all animals, resulting in damage to organs. It can also cause reproductive effects and birth defects in animals.
5. Formaldehyde
Formaldehyde is a flammable, colourless gas with a strong, distinctive smell. It is often found in laundry and dish detergents and also in many cosmetics.
Short term exposure to the chemical can cause skin and mucous membrane allergies, asthma and flu-like symptoms. Low-level but ongoing exposure can cause eye, nose, skin, and throat irritation. Ongoing high exposures can even cause cancer.
6. Sodium hydroxide
Sodium hydroxide (NaOH) or caustic soda is a white, odourless solid used in soaps, detergents, oven cleaners, drain cleaners and other heavy-duty cleaners.
A mild contact with skin or inhalation of sodium hydroxide can cause extreme reactions in sensitive areas. So much so that you may feel a burning sensation in your throat or skin for several days.
A high concentration of sodium hydroxide water has a toxic effect on aquatic life.
7. Other harmful chemicals
Apart from the most common harmful ingredients mentioned above, we recommend you also look out for these: phthalates, triclosan, quarternary ammonium compounds, or "QUATS", ethylene glycol monobutyl acetate, sodium hypochlorite and potassium hydroxide.
Best Eco-Friendly Cleaning Products in the UK
Even eco-friendly cleaning products may have some chemicals which will aid them to clean better. However, we've prepared a list of the best cleaning products with the least toxic chemicals that you're likely to need around your house.
1. Ecozone Soap Nuts
Ecozone is a British company on a mission to reduce toxic chemicals in homes and help cut household CO2 emissions. The company also has the EU Ecolabel which recognises that their products meet high environmental standards throughout their life-cycle.
Soap nuts, also called soap berries, are a kind of natural fruit grown in the Himalayas. This fruit acts as a natural detergent because of the cleaning essence in its shell.
These soap nuts sold by Ecozone come in a 1kg bag which is enough to last for 330 washes. It can be used in any type of washing machine.
The soap nuts are completely organic and non-toxic. They are sustainably sourced and Allergy UK approved, which means it is suitable for sensitive skin and babies.
The washing from soap nuts is mild so it does not remove stubborn stains. Soap nuts do not contain whiteners or bleach as normal detergents, so they are not great for white clothes and can make them a bit grey.
Soap nuts can also be used as dish and hand soap.
Pros
It is a fruit so no chemicals involved
Non-toxic and organic
No allergies
Vegan
Biodegradable
EU Eco Label
Cheaper than regular detergent
British company
Cons
Plastic packaging underneath the cloth bag
Not great for whites
Only mild washing
2. Natural Bathroom Cleaning Concentrate by Zero Waste Club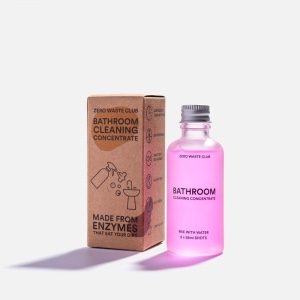 Zero Waste Club was founded by two friends on a mission to make eco-friendly products available and affordable for all. The company aims to create transparent, ethical, and sustainable goods.
This bathroom cleaner is vegan, organic and biodegradable. It is made from cleaning concentrates containing good bacteria and natural enzymes.
The fermentation extracts produced by the bacteria immediately clean and dissolve dirt and grime. The natural bacteria gets into porous surfaces and continues to clean for days after use.
The concentrate is shipped in 50ml glass vials which can be diluted to make around 1 litre of cleaning liquid.
The company plants a tree for every product sold and have offset around 307,828kgs of CO2 per year till now.
The Zero Waste Club also has similar natural multi-purpose cleaning concentrate, and glass and mirror cleaning concentrate.
Pros
Made from natural enzymes
Continues to clean for days after use
Vegan and biodegradable
Plastic-free
Tree planted for every sale
Cons
Extra effort to dilute the concentrate
3. Probiotic All-Purpose Cleaner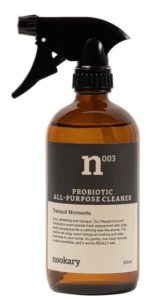 This probiotic cleaner by Nookary works with nature instead of against it. It comes in a 500ml bottle which contains a 50ml concentrated formula to which water can be added.
It uses gentle and non-toxic but effective ingredients which make use of beneficial bacillus bacteria to outcompete with the bad bacteria. This also means that the good bacteria left behind keeps working even after application.
The PH neutral formula makes it safe for all surfaces, the product is truly all-purpose and can be used on worktops, limescale, kitchen, bathrooms and windows.
We recommend the Sicilian lemon variant as it smells great too.
Pros
Probiotic
Palm-oil free
Biodegradable
Refillable
4. Kitchen Cleaner and Degreaser Starter Pack by Clean Living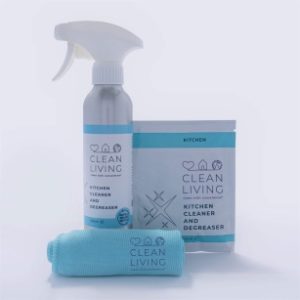 Clean Living is an excellent brand that is conscious of the environment. They create natural, non-toxic and biodegradable cleaning products that come in minimal, plastic-free packaging.
This kitchen degreaser is a heavy-duty cleaner that breaks down grease, oil and fatty residues without harsh chemicals. The degreaser is free from sodium hydroxide, chlorine, phosphate, solvent and ammonia.
The pack contains a reusable aluminium container, a microfiber cloth and a 30ml kitchen cleaner and degreaser concentrate sachets.
It can be used on all washable kitchen surfaces like floors, walls, appliances, air filters, fryers, grills and cabinets.
Clean Living has taken a unique approach to tackle the world's plastic problem. All their products come in concentrated refill sachets which can be diluted with water and filled in a reusable aluminium spray container. This also means that Clean Living produces a low carbon footprint during shipping compared to other brands that sell diluted cleaning products that take up more space.
You can also directly order kitchen degreaser refill sachets from their website.
Clean living also has other starter packs like their dry carpet cleaning kit.
Pros
Naturally derived and biodegradable
Not tested on animals
No plastic waste
Lower carbon footprint in shipping
No harsh chemicals
Made in the UK
Cons
Extra effort to dilute the refill
5. Ecozone Enzymatic Drain Sticks

We have all faced blockages in our bathroom and kitchen sink drains, especially those of us who have long hair.
These drain sticks by Ecozone are used to prevent blockages and bad odours in your drain. It makes use of natural bacteria and enzymes to break down grease, fat and food stuck in the drain and water pipes.
The sticks come in a pack of 12 which is enough for an entire year.
The drain sticks are not made to be used as unblockers, so if your drain is completely blocked, you may not get the result you need.
Pros
British company
EU Eco label
Non-toxic
No allergies
Vegan
Biodegradable
Cons
Plastic packaging
Cannot be used as an unblocker
6. Bio D Floor Cleaner with Linseed Soap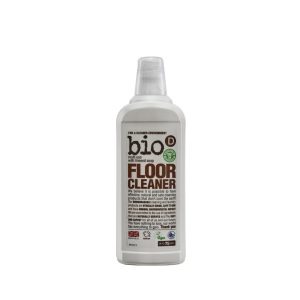 Bio-D is a small family business that produces cleaning products that are good for the planet while being affordable. They leave out many harmful ingredients in all of their products – chemical plasticisers, formaldehyde, glycerin, sodium tallowate, synthetic dyes, synthetic perfumes, benzisothiazolinone (BIT), phthalates, phosphates, optical brighteners, urea, tricosalan, GMO, chlorine bleaches, etc.
Bio-D also does not use enzymes in its products. Although enzymes are better than many other toxic chemicals, they can have a negative effect on health and the environment when produced synthetically.
This floor cleaner can be used on vinyl, laminate and ceramic tiles. Due to its conditioning properties, it can be great for cleaning wood too.
The bottle has to be shaken before use as the natural oils may separate when stored.
Pros
Can be used to clean wood
No toxic chemicals
Packed in recycled materials
Made in the UK
Pet friendly
Vegan and cruelty-free
Cons
The cap is not made from recycled plastic
Oils may separate when the product is stored
7. Cellulose and Sisal Sponge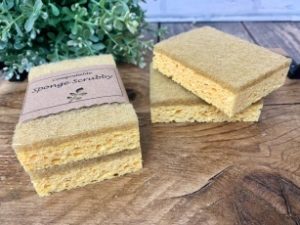 These compostable zero waste sponges & scrubbers by Willowood are available in packs of 2 or 4.
Each sponge is made from natural wood pulp cellulose and has a layer of sustainable plant-based sisal fibre on one side. It is fully biodegradable and can last for a considerable time.
Pros
Biodegradable
Natural
Plastic-free
Cons
Expensive compared to non-biodegradable sponges
8. Cuban Mop by Vesta Living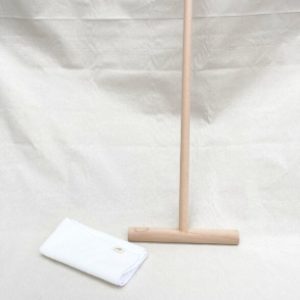 This handmade mop is made from solid beech which is naturally antibacterial. The wood is hardy and will last against pressure, chipping, and gouging.
The mop comes with an organic towel cloth.
Pros
Handmade
Made in the UK
Plastic-free
Sustainable
Organic cloth
Cons
Expensive compared to other mops
What Is Greenwashing?
Greenwashing is when brands label their product as eco-friendly when they're not. It is a marketing scam that is attempted to mislead consumers.
Brands involved in greenwashing market information which is only partly true, without really committing to green initiatives.
The words 'natural' and 'eco-friendly' are not regulated or clearly defined. So brands advertise products as 'natural' even when they contain potentially toxic ingredients.
How to spot (and avoid) greenwashing
Big commercial brands are often involved in greenwashing. If they have only one eco-friendly range it may show the company is in it for the money. Moreover, commercial brands are responsible for the cleaning industry's huge waste problem.
Signs that a cleaning brand is greenwashing:
The brand does not have third-party certifications
They have no policy on palm oil, recycled plastic or plastic-free packaging
The ingredients list or fragrance information is hard to find
Other products that the company sells are not sustainable
The brand does not have a strong environmental policy
The product is extremely cheap
DIY Probiotic Cleaner
Probiotic cleaners are powered by good bacteria instead of chemicals. The good bacteria crowds out the bad bacteria, it works much like how probiotics in kefir work well for our gut health (see the health benefits of kefir and where to buy it).
Here's how you can make a probiotic cleaner easily at home:
1 cup lemon juice
1/2 cup raw apple cider vinegar (we recommend this organic apple cider vinegar by Eat Wholesome)
1/2 an orange
Freshly filtered water
Combine the above ingredients in a glass jar and let it sit for 4-8 weeks until the alcohol smell is gone.
To use it, dilute it with water (1 part solution with 3 parts water) and put it in a spray bottle. For light cleaning tasks, the water content can be increased.
Conclusion
Cleaning brands have us all convinced that we need to use hospital-grade cleaning products with strong chemicals in our homes daily and so we've overlooked the benefits and effectiveness of natural and eco-friendly products.
While keeping our houses clean we also need to learn to be mindful of the effect that the products have on the planet and our family's health.
Instead of planning on and delaying to go completely eco-friendly, we recommend that you start with purchasing one of the above eco-friendly products right away and shift your usage gradually.

Anahita is a Yoga Instructor and Content Creator who is determined to help each individual shift to a healthier and eco-friendly lifestyle.