By eating well and consuming natural, organic ingredients, it is easy to believe that we are both healthy inside and out, but many of us forget that what we put ON our bodies as well as IN them can end up causing potential health problems too.
One of the products we use most regularly all over our body is shower gel, with normal products off the shelves often containing harmful chemicals such as ethanolamines, which are largely restricted now in Europe due to their carcinogenic effects.
Other chemicals often found in shower gels include parabens (used to prevent bacterial growth in products), sodium lauryl sulphate (to make products foam) and phthalates (used often in fragrances).
These chemicals can cause a range of issues from being carcinogenic to disrupting the endocrine system and causing skin irritation.
For more information on the individual ingredients found in skincare products as well as a database of hundreds of rated products, see the Environmental Working Group's list of products to avoid here.
If you don't have the time or patience to trawl through that website or are simply looking for some more natural alternatives to your usual shower gel, then read below for some great recommendations.
1. Green People Neutral Scent Free Shower Gel
As with many Green People products, this shower gel offers a lovely chemical-free alternative that is also fragrance-free.
Often products hide chemicals used behind the label "fragrance" listed in the ingredients, making it difficult to know exactly what you are buying, so this Neutral Scent Free shower gel can put your mind at ease that no chemicals are hidden away.
Despite being a bit more expensive than your average shower gel, the ingredients used are largely organic meaning that you can relax about the natural ingredients being treated with chemicals as well.
With no harsh chemicals and even no alcohol, this is a perfect shower gel alternative for those with sensitive skin.
2. Faith In Nature Lavender & Geranium Shower Gel
This shower gel is both vegan and skin friendly as the beautiful floral scents are derived from the essential oils it contains rather than a destructive chemical fragrance.
It comes in a large 40 0ml bottle, meaning you will not have to worry about replacing it too often and doubles up as a bubble bath if you fancy a relaxing, sweet-scented soak.
It contains no parabens or SLS, but still creates a good lather and is also free from alcohol, making it gentle on skin.
This product is ideal for those who enjoy a gentle scent to their skin products without the damage caused by harsh fragrances.
3. Jason Natural Cosmetics Citrus Body Wash
This shower gel is the perfect natural start to your day with its awakening zingy scent while also containing vitamins E and B10 that works to block free radicals from the body, which play a large part in the aging process and keeps your skin looking youthful.
Coming in a huge 840 ml bottle, this product is definitely value for money and will last you plenty of showers!
This product is also SLS, paraben and phthalate free as well as being naturally scented with nourishing oils and free of irritant alcohols.
This shower gel is perfect for those who enjoy an invigorating scent to their skincare regime without all the chemical nasties.
4. Green People Quinoa & Calendula Shower Gel
With all the buzz surrounding quinoa in the food world, it's no surprise that it can now be found in this Green People shower gel alongside the vibrant calendula flower.
Quinoa is a gluten-free protein that locks in moisture, while the calendula contains wonderful natural healing properties for dry and chapped skin, making this the ideal product for those with irritated or dry skin.
This shower gel also contains polysaccharides found in larch trees to ensure that your skin remains moisturised after you have finished showering.
It is also of course free of the chemical nasties found in other shower gels and contains the added bonus of ginger and orange essential oils for a fresh and natural scent.
5. ManCave Cedarwood Shower Gel
This shower gel for men offers a subtle forest-like scent that relieves tension while being both gentle on the skin and ensuring you feel clean and cleansed.
Cedarwood is known for having a soothing and calming effect on the mind, minimizing skin irritation and reducing inflammation and muscle pain.
This shower gel also contains L-Arginine which is an amino acid thought to restore skin health and help with wound healing.
For those worried with preserving the planet's animal population, you can use this product in peace, as it is both vegan and cruelty-free assured.
It is also a healthy option for humans as it is free of unnatural chemical ingredients that could cause your body harm.
Chemicals to Avoid in Shower Gel
If you've ever read the packaging on your shower gel, you might have noticed a rather large list of almost unpronounceable names.
Not all of these chemicals are bad though; many are derived from plants and other natural sources.
So which ones should you avoid when choosing cosmetic products?
Here are some of the more "questionable" ingredients to keep an eye out for in your shower gel.
Nitrosamines – DEA, MEA & TEA
Otherwise known as diethanolamine, monoethanolamine and triethanolamine, these chemicals have been speculated to cause hormonal imbalances as well as assisting in the formation of cancer-causing agents.
DEA specifically can react with nitrate-based ingredients to form NDELA (nitrosodiethanolamine), a product which is a known carcinogen, used to induce tumours in test animals.
Alone, DEA could cause skin sensitivity with prolonged use, though the levels at which it appears in cosmetic products have been deemed safe enough. Sadly, diethanolamine can pose harm to aquatic life and other animals, though there is still no hard and fast results that show a link between DEA and cancer in humans.
If you are concerned and want to avoid these substances, check your cosmetics labels for:
Cocamide DEA
Cocamide MEA
DEA-Cetyl Phosphate
DEA Oleth-3 Phosphate
Lauramide DEA
Linoleamide MEA
Myristamide DEA
Oleamide DEA
Stearamide MEA
TEA-Lauryl Sulfate
Triethanolamine
Phthalates and Parabens
Both of these agents are used to help prolong the life of your shower gels and other cosmetics and make them more suited to their purpose, but they have been under some scrutiny as of late.
Phthalates  are often used to make PVC and a lower grade of phthalate can be used in cosmetic products, such as shampoo and shower gel.
They have been associated with asthma, obesity and breast cancer, but there is no set proof that there is any link at all.
Many speculate that phthalates might be carcinogenic and could risk causing cancer in humans, but we would probably have to be exposed to them in much greater quantities than are in just our shower gel.
Parabens help to keep your shower gel (and other cosmetics) useable for longer.
These preservatives fight off bacteria and hinder mould or mildew from growing inside the container as they sit in your humid, moisture-rich bathroom.
Parabens have also been linked to cancer, again, specifically breast cancer.
Parabens have been said to be similar to the hormone oestrogen and could cause the growth of breast cells (cancerous as well as normal).
There is no solid evidence that parabens can cause cancer in humans, but tests are still being carried out on this tricky cosmetic ingredient.
Artificial Fragrance
Often labelled as just "fragrance" or "parfum" on the ingredients list, artificial fragrance can include anything from a list of over 4000 different ingredients.
A lot of artificial fragrances can be harmful to the skin and even the respiratory system, causing irritation for those with sensitivities.
It is conjectured that some so called "fragrances" could be toxic to the brain, blood, liver and kidneys and could possibly even cause cancer.
There is a level of secrecy when it comes to what "fragrance" actually stands for and manufacturers do not actually have to go into any more depth, other than stating there is an ingredient to enhance the scent, i.e. fragrance or parfum.
Fragrance-free products may also contain ingredients which are used to neutralise the smells of other agents in the product.
Quaternium-15
This is used as a surfactant in many cosmetic products but could actually cause skin complaints.
It is known as a skin toxicant and possible allergen, so if you are sensitive to certain shower gels, see if it has been made with this ingredient.
In the EU there are regulations to keep levels of Quaternium-15 at a percentage of 0.2 or below, but hairdressers and cleaners could be at risk of dermatological complaints from excessive exposure in the products they use.
Triclosan
Triclosan is an antibacterial ingredient which is actually a registered pesticide and could be causing you to have gut problems.
Of course, while using shower gel, you will not be ingesting any of this substance, but it is actually found in other products such as toothpaste.
At present, there are not any real reasons to consider triclosan as "dangerous" at the levels at which we are exposed to it, but there are ongoing studies.
Sodium Laureth Sulphate (SLS)
SLS  is used in many cosmetic products, including shower gels, as a foaming agent to create the froth and bubbles we're used to making as we clean ourselves.
SLS is actually one of the lesser irritants when it comes to ingredients which incur a foaming action and is deemed safe at the levels it is currently found in our products.
There is speculation that sodium laureth sulphate could be an irritant, causing skin and even gum complaints (it is used in toothpaste too). As to whether SLS could cause or trigger cancer, there are still no solid answers.
Dioxane
This is another possible carcinogenic ingredient which is present in many shower gels (and other products).
Dioxane is usually a compound found in PEG, Laureth and certain types of alcohols and dioxane can actually be absorbed into the skin.
This compound could cause irritation to eyes and the respiratory system as well as possible damage to internal organs, such as the kidneys and liver – this should not be a worry, unless your exposure is unfeasibly prolonged.
If you do want to avoid this substance, then keep your eyes peeled for these scientific prefixes and suffixes in cosmetic product ingredients:
Myreth
Oleth
Laureth
Ceteareth
PEG
Polyethylene
Polyethylene glycol
Polyoxyethylene
Oxynol
Propylene Glycol
As with many of the substances on this list, testing is continually being carried out and there are no glaringly obvious answers as of yet.
Propylene glycol is used in so many products, including cosmetics, food stuffs and antifreeze…
That does sound scary, but this ingredient does appear at very different levels in each. It has been said that PG could be cause for concern with links to dermatitis and kidney and liver problems, but no full answers are available as of yet.
To look at propylene glycol from a practical angle, it is actually used in medicines to help our bodies to absorb the medication more easily and helps to keep food moist and longer lasting.
Ingested PG should not be cause for worry at low levels, however if you want to cut it out of your daily routine, you could look for products without this ingredient. When it comes to shower gels, there is no harm in avoiding this ingredient there too.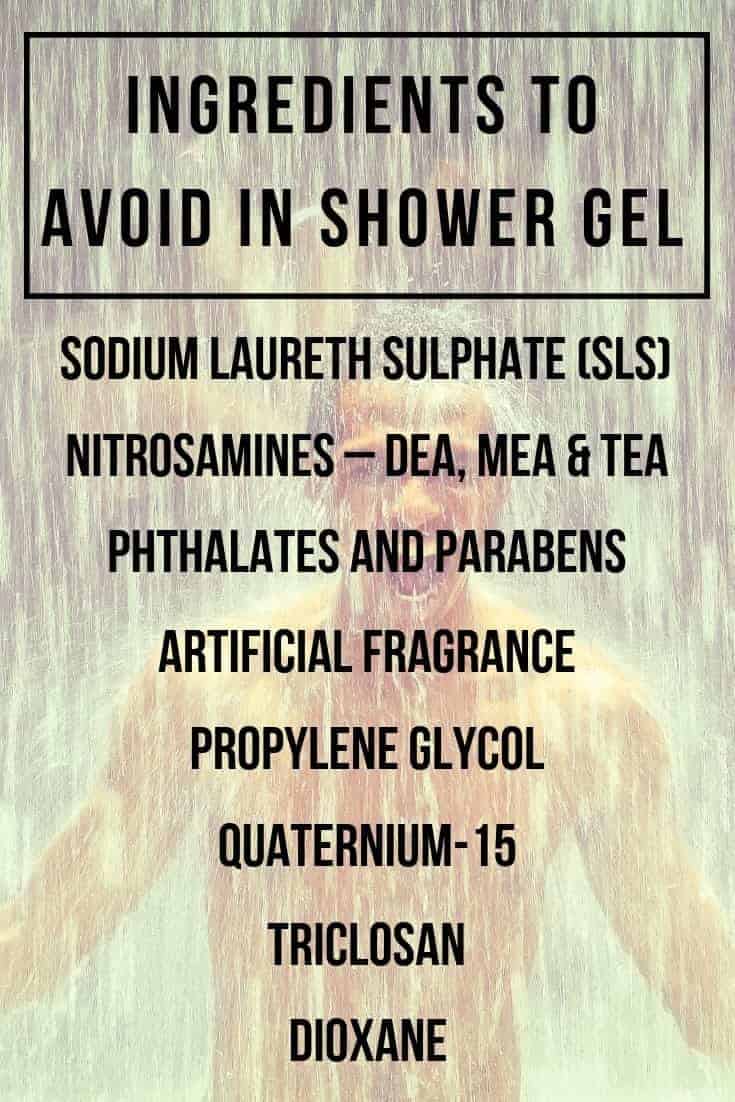 Conclusion
If we had to pick just one of these natural shower gels to recommend it would be Green People's Neutral Scent Free Shower Gel because it's free from all of the nasty ingredients frequently found in other shower gels such as parabens, SLS, phthalates and synthetic fragrances.

Naturaler is a UK website full of tips and recommendations for living a more eco-friendly, chemical-free and natural lifestyle.