Whether you're making the most of the British summer or travelling overseas to soak in some tropical weather, sunscreen is a necessary part of enjoying days outside in the sun.
We all need the sun to live, but sunscreens are essential to protect your skin from burning under the sun's powerful UV rays when relaxing on the beach or, swimming or just strolling around and taking in the scenery.
However, your sunscreen may be doing more harm than good to the planet – studies show that the chemicals in many sunscreens are damaging our oceans, poisoning the ecosystem and killing coral reefs.
Next time you go for a swim or snorkel in the ocean, make sure you get prepared with reef-safe sunscreens that not only protect you from the sun but keep our precious oceans healthy too.
We've researched the market and picked out 5 of the best reef-safe sunscreens you can buy in the UK in 2019. Check out our top picks for ocean-friendly sunscreens that will protect you from the sun's harsh rays without damaging our precious oceans.
Best Biodegradable & Reef-Safe Sunscreens (UK 2019)
1. Green People Scent Free Sun Lotion SPF 30
You can always rely on British natural skincare brand Green People to offer something that is friendly to the environment and uses state-of-the-art technology as well as natural ingredients.
This sun lotion is part of their scent-free range, making it suitable for people with sensitive skin.
It was a winner in the natural health segment of the International Beauty Awards, 2016, and offers broad spectrum SPF 30 sun protection from UVA and UVB rays.
It uses titanium dioxide as a mineral sunscreen, backed up by a chemical UV filter called hydroxybenzoyl hexyl benzoate, which is non-toxic and safe for both humans and marine life, with no likelihood of skin sensitivities, according to Green People.
This sunscreen is suitable for people prone to skin irritations and it doesn't contain pores clogging ingredients that can contribute to prickly heat.
It's a non-greasy formula that is water repellent and can be used for swimming, snorkelling and other beach or water activities, but you do need to reapply every two hours for consistent protection.
This lotion is safe to use on the face and doesn't leave a white residue on the skin.
It's a vegetarian formula but it contains beeswax, so vegans should check out Green People's SPF 15 options, as these don't contain any animal ingredients.
Additional key ingredients are included to retain moisture and provide antioxidant protection such as aloe vera, green tea, avocado, chamomile, rosemary and edelweiss.
This formula does contain a couple of ingredients that may alarm some people, however. It uses nano titanium dioxide particles that are micronised into tiny particles.
Nano sunscreens have caused concern because the particles are so tiny they can penetrate the skin and harm the internal organs, as well as reacting with other molecules such as oxygen, causing damage to the skin and body.
According to Green people, this reactivity is prevented by coating the particles in a fine layer of silicates during the manufacturing process.
The brand also claims that when nano particles of titanium dioxide are incorporated into cream or lotion, they clump together in groups that are too large to penetrate the skin, causing them to sit on the skin's surface where they reflect UV rays. Green People has this to say on the topic of nano particles:
"We share many people's concerns over the advances being made in nano-technology, particularly in the creation of novel molecules such nano-spheres and nano-tubes. However, nano-particulate Titanium dioxide obtained by micro-fine grinding of the mineral has been safely used as a UV filter in cosmetics for over 30 years and there is a wealth of evidence to support that safety." (source)
Some people may also be concerned that the ingredient list includes palm oil, though Green People say they use organic palm oil that is certified by the Soil Association or a German organic certification organisation called Ecocert IMO, with stringent environmental standards to protect local ecosystems.
The Green People Scent Free sun lotion is free from both oxybenzone and octinoxate, which are ingredients found in regular sunscreens that can be absorbed through the skin.
It's reef safe and the company also supports the Marine Conservation Society, a leading UK charity that works to protect British beaches, seas and marine wildlife, by donating 30p for every sale of this sunscreen.
2. Shade All-Natural Sunscreen SPF 25
Shade All-Natural Sunscreen offers the ultimate in simplicity. This SPF 25 formula uses only four ingredients to nourish the skin and protect you from the sun.
A base of organic shea butter, organic coconut oil (both certified by the Soil Association) and unrefined beeswax are added to the active ingredient of non-nano zinc oxide.
Zinc oxide provides a physical barrier to prevent the sun's rays from reaching your skin by reflecting UV rays away from the skins surface.
Zinc oxide is also one of the most trusted and well-established sunscreen materials out there (see some other recommended zinc oxide sunscreens here).
If you've ever seen a lifeguard with a stripe of white zinc oxide across their nose, you will have some idea of how this sunscreen works. It will sit on the surface of the skin, leaving a visible white caste and may be difficult to rub in.
To use, apply a generous amount of around one teaspoon to the face and one shot glass to cover an adult body, at least 15 minutes before going out in the sun. Put on two coats and reapply every 2-3 hours.
This formula contains nourishing and moisturising ingredients, making it a good option for people with sensitive or dry skin.
People with oily or acne prone skin types may want to avoid this product however, as coconut oil is known to block the pores, a condition which can also contribute to prickly heat.
The balm may also be difficult to wash off, so you may need to dissolve it off the skin using a hot, damp washcloth or an oil-based cleanser.
This sunscreen is not tested for use in water and cannot claim to be water resistant; although the inactive ingredients are oils and aren't water soluble, the zinc oxide may wash off in water.
This sunscreen won the gold prize in the Green Parent Natural Beauty Awards 2018 by Natural Lifestyle magazine. It also comes in a metal tin, which is great for people who are looking to reduce their plastic waste, another matter that is having a dire impact on our oceans.
3. Green People Organic Children Sun Lotion SPF 30
Green People's Organic Children's Sun Lotion is an SPF 30 formula that is very similar to their scent free sun lotion listed earlier, but with a few changes to make it ideal for kids.
It was a winner in the Beauty Shortlist Mama and Baby award 2018, and offers protection against UVA and UVB rays.
It's water repellent, non-comedogenic and suitable for sensitive skin or prickly heat sufferers. It's a non-greasy but moisturising and soothing for sensitive skins.
The major difference in this formula compared to the adult one that it has a thinner, lighter consistency for easier application on children's thin, delicate skin.
It's designed to be safe even on babies under 3 months old and contains 78% organic ingredients including aloe vera, avocado, olive and rosemary. It can be applied on the face, and although it is designed for kids, adults can use it too!
4. Badger SPF 30 Zinc Oxide Sunscreen Cream
Badger SPF 30 Zinc Oxide Sunscreen Cream is a firm favourite across the pond in Canada and the United States. It uses non-nano zinc oxide to provide broad spectrum protection from UVA and UVB rays.
Zinc oxide is the only active ingredient in this formula and, as with most products based on this mineral, it will leave a white caste on the skin.
The formula also includes a base with nourishing ingredients that are high in vitamins and antioxidants for extra skin protection, including sunflower oil, vitamin E, beeswax and sea buckthorn.
It's also 94-99% organic, as certified by the Natural Products Association.
This lotion is non-pore-clogging and non-greasy, providing moisturisation without being too heavy. Although not vegan, it is cruelty free and carries the Leaping Bunny logo.
The formula is water and sweat resistant for a minimum of 40 minutes, making it suitable for short swimming stints or sports. It is biodegradable and reef safe, and highly recommended by the Environmental Working Group, as well as consumer groups including Safe Mama.
Badger is a family-owned and run company in New Hampshire, America. It was founded in 1995 when Bill Whyte, a carpenter, created a balm to help moisturise his cracked hands during the harsh winter.
The company started out selling his popular Badger Balm but later expanded to sell over 100 products, all based on simple, natural ingredients.
5. Alba Botanica Hawaiian Sunscreen SPF 45
Alba Botanical's Hawaiian Sunscreen SPF 45 differs from the other options we've looked at because it uses mostly chemical UV filters to protect the skin, rather than mineral barriers.
The two main mineral sunscreens are zinc oxide and titanium dioxide, but this formula contains only 1% titanium dioxide, which is used in conjunction with a range of chemicals, with homosalate being the most prominent at 10%.
This product is probably not the best for sensitive skin types, as it contains some harsh ingredients, including fragrance, and should not be used around the eye area.
It also includes palm oil, which could be of concern to people as some palm oil production is having a devastating effect on the rainforests of Indonesia.
Although it may not be the most natural or gentle formula, it is free of many common nasties, including parabens, and controversial nano-particles.
It is also free from oxybenzone and octinoxate, and can thereby be classified as reef-safe. It is a biodegradable formula that is gluten free and vegan, as well as cruelty free as certified by the CCIC Leaping Bunny.
There are also a few practical advantages to this sunscreen. While mineral formulas, particularly zinc oxide-based products, tend to be hard to apply and leave a white tint on the skin, this sunscreen glides easily on, without leaving a white residue, making it suitable for use under makeup or for daily wear out and about on the streets.
It is quick absorbing and water resistant for 80 minutes and, last but not least, it is recommended by the Skin Cancer Foundation.
What Effect Does Regular Sunscreen Have on the Ocean?
Scientists have found that the chemicals in sunscreen are washing off into the sea, with popular beaches taking the brunt of the damage.
Reefs around Hawaii are exposed to around 6000 tonnes of sunscreen every year, with devastating effects for the coral growing there.
Coral not only adds to the beauty of reef ecosystems, but also provides food and shelter to marine wildlife, as well as producing oxygen that we humans need to breathe!
Not to mention the effect on fish and other marine life that may eventually wind up on the dinner table.
The two major culprits are the chemicals oxybenzone and octinoxate, two chemicals often found in sunscreen lotions.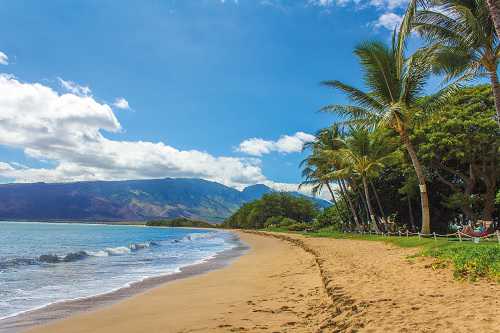 Hawaii has already sought to ban the sale of lotions containing these two ingredients with a bill that says they cause "genetic damage to coral and other marine organisms."
The law has already passed through the state legislature and is awaiting the signature of the state's governor – if completed, it will come into effect in 2021.
Although the move has seen resistance from sunscreen manufacturers and the local medical association, Mike Gabbard, the state senator who introduced the bill said:
"Hawaii is definitely on the cutting edge by banning these dangerous chemicals in sunscreens… This will make a huge difference in protecting our coral reefs, marine life, and human health." (source)
Marine parks in Florida, Mexico and the Virgin Islands also discourage use of these chemicals, but they aren't the only places affected by them – the health of our oceans is a universal problem.
So what can you do to ensure your next trip to the beach is as healthy for the planet, as it is for you?
Check the ingredients list!
No matter what product you're buying, it's always a good idea to check what's in it and sunscreen is no exception – avoid products that contain oxybenzone or octinoxate.
Some of the effects oxybenxone can have on coral reefs include:
Bleaching coral
Damaging coral larvae
Damaging coral DNA and impairing their reproductive success
Which Sunscreen Ingredients Are Harmful and Which Are Reef Safe?
The following sunscreen ingredients are known to be harmful to coral reefs and marine life:
Oxybenzone (benzophenone-3)
Benzophenone-4
Octinoxate (Ethylhexyl methoxycinnamate)
Butylparaben
Benzylparaben
Methylparaben
Ethylparaben
Propylparaben
4-methylbenzylidene camphor
Microplastics
Nanoparticles
Octocrylene
Para-aminobenzoic acid (PABA)
Triclosan
Zinc oxide is considered to be safe for marine life as long as it isn't in the form of nanoparticles.
Beeswax and plant oils are commonly used non-active ingredients in natural sunscreens. They are biodegradable and are considered safe for marine life.
Conclusion
If we had to recommend just one of these biodegradable and reef-safe sunscreens to recommend it would be Green People Scent Free Sun Lotion because not only is it environmentally friendly, it's also non-greasy, water-repellent and suitable for those with sensitive skin.
Not all sunscreens are created equal, but there must be one thing we can all agree on – we go the beach to enjoy the gifts of nature, and most of us would hate to think that our actions are actually destroying the marine ecosystems that we enjoy so greatly.
The more of us who choose reef-safe sunscreens, the more brands will begin to change their ingredients so that we can preserve our oceans for future generations.

Naturaler is a UK website full of tips and recommendations for living a more eco-friendly, chemical-free and natural lifestyle.