African black soap is one of the hottest natural beauty products at the moment.
It has been promoted as the solution for stretch marks, breakouts, hyperpigmentation and everything in between.
African black soap has been produced for centuries in West Africa, particularly Ghana, where it is used as a cleanser for both the hair and skin. It's softer and dissolves more easily than typical soaps used in Europe and North America.
Local names for black soap include ose dudu, sabulun salo and ncha nkota.
One of the best things about black soap is that it's cheap, so it's a beauty product everyone can benefit from.
Plus, raw African black soap doesn't contain any nasty stuff.
It's handmade from plants and simply takes advantage of all the good stuff that nature offers and leaves all of the harmful chemicals that other soaps use out of the mix.
As authentic black soap is handmade, you know exactly what it contains. It also means that every purchase of black soap directly benefits the communities in Africa that make it.
So not only are you getting a cure-all soap, but you are also helping a local community in Africa, which is very cool!
Let's take a look at where you can get hold of the best African black soap in the UK.
Best African Black Soap in the UK
1. Sky Organics African Black Soap
This organic African black soap from Sky Organic is some of the purest black soap available in the UK. It is made in Ghana from cocoa, aloe and Shea butter, among other ingredients.
Sky Organics has sourced this black soap from Ghana and made sure that it is fair trade, organic and cruelty-free.
Also, thanks to only using plant-based ingredients, this black soap is also vegan-friendly.
So, this black soap is great to use for everyone, no matter your skin type or anything else, this massive lump of black soap is perfect for you. For not a lot of money, you can enjoy all the benefits of black soap for a long time.
2. Dudu-Osun African Black Soap
This black soap from Dudu-Osun is a little fancier than the one above. All this means is that this black soap is actually moulded to look like regular, more traditional, soap. It is still made entirely from natural ingredients and is still great for your skin.
This African black soap comes in a pack of 6, 150g bars. This is a massive amount of black soap that will see your skin good for months. It is packed full of goodness that can help heal acne, eczema and help fight the ageing process.
If you prefer your soap fancy, this is the black soap for you! It looks fancy, but it is still some of the purest African black soap available in the UK.
3. PraNaturals 100% Organic Raw African Black Soap
This 100% raw African black soap from PraNatural is another one that doesn't care about appearances but focuses more on the power of the black soap.
It is as raw and natural as you can buy in the UK containing all the treats that black soap has to offer. From cocoa pod ash and coconut oil to Shea butter and palm kernel oil, this black soap has it all to do it all for your skin.
This black soap is, once again, ethically sourced directly from Ghana and excellent at everything we mentioned above.
This pack contains 200 grams of this miracle soap, so if you like using black soap a lot, perhaps go with one of the other black soaps on this list.
However, if you fancy giving black soap a go and just want a small piece to try before committing your life to black soap, this is the perfect amount.
4. Shea Moisture Organic African Black Soap
Well, this African black soap from Shea Moisture certainly has the fanciest packaging on this list, even if the black soap is raw and gnarly-looking.
This black soap is as raw as it comes and so it's perfect for those who suffer from acne, sensitive skin, eczema and anything else.
Once again, you don't get a lot of black soap for your money from Shea Moisture, but it's cheaper than most of the other black soap on this list, so that's something.
This black soap would make a great gift for someone who needs black soap in their life. Thanks to the fancy packaging it would be great to add to the ultimate skincare pampering basket!
5. Naissance Genuine African Black Soap
Well, coming in at 90 grams, this is certainly the smallest amount of black soap that you can buy on this list.
However, it is some of the best stuff available! It's 100% raw black soap from Africa made using traditional methods.
It has all the good stuff that black soap is known for including shea butter, palm oil and coconut.
This black soap is great for your hair, body, face and hands and will make any skin condition better. It is, of course, great for any skin type too. Plus, it's also vegan.
Now you may think that this black soap sounds a lot like the other cheaper ones above and you'd be right. This black soap would make a great gift, but if you're after a lot of black soap and aren't worried about the packaging, our money would be on one of the other ones above.
Benefits of African Black Soap
We spoke very briefly about the benefits of black soap above, but let's delve a little deeper. Black soap has a lot of benefits. Here are just a few:
1. Antibacterial
Handmade black soap contains plants that are naturally antibacterial. This means that black soap may actually remove more bacteria than a chemical-laden cleanser.
However, even though black soap is powerful, it is still perfectly fine to use on your hands, body and face. Plus, it's great for every skin type!
2. Safe for every skin type
No matter whether you have sensitive, oily, dry or combination skin, black soap is fine for you and may actually help you find relief from your skin type's symptoms.
Unlike scented soaps, black soap only contains natural ingredients so every skin type should be happy if you use raw black soap.
3. Moisturises skin without making it oily
Shea butter is one of the main elements in black soap. While this helps to relieve itchiness and soothe dry skin, it is the addition of coconut oil and cocoa that adds moisture and also stops overactive oil glands.
4. Soothes irritation
If you have eczema, skin allergies or contact dermatitis, black soap may actually help soothe the itchiness from these conditions.  It may even help to clear rashes. For a better chance at help with these conditions, try and find a black soap that contains oatmeal.
5. Can help tackle acne
As black soap can balance your skin's natural oils and help to repair damaged skin cells, it may be able to clear very severe acne.
These are just a few of the benefits of black soap. There are loads more. Check out this article by Healthline for even more reasons why you should add black soap to your daily skin-care routine.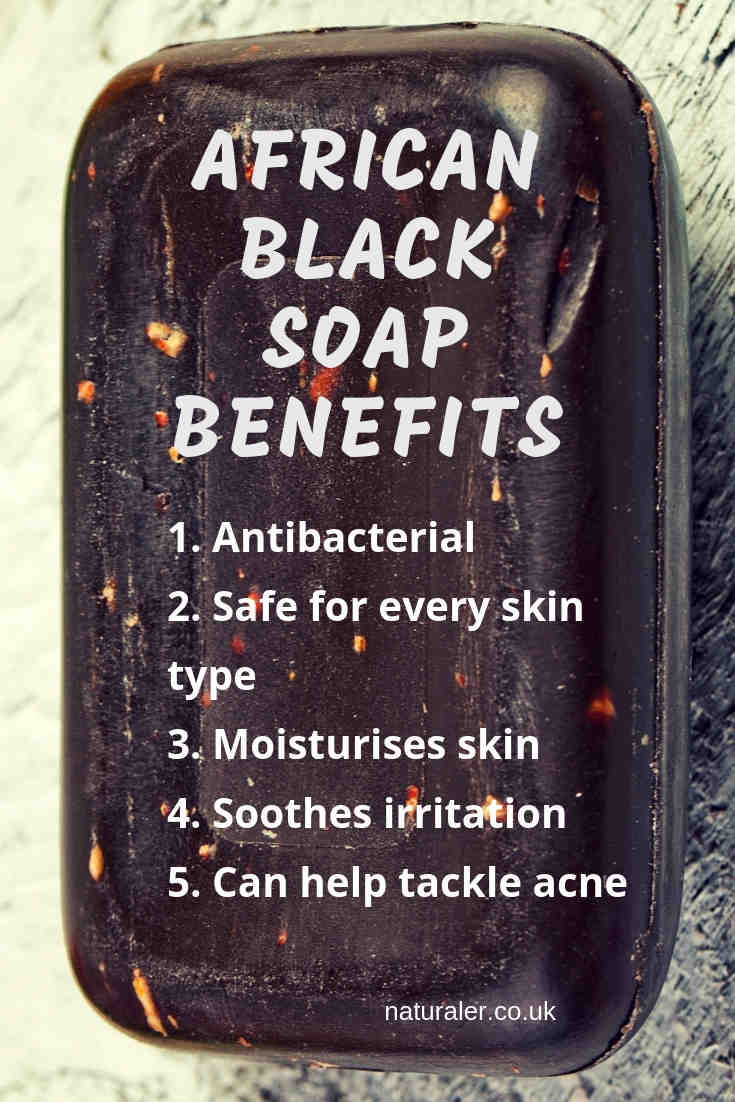 African Black Soap FAQs
Can African Black Soap Be Used as a Shampoo?
Yes, though it's usually included as an ingredient in homemade shampoo rather than used on its own. For example, this recipe combines black soap with several essential oils to create a natural shampoo.
Can African Black Soap Be Used on White Skin?
Yes, you don't need to be black or African to use African black soap! It can be used on skin of all types and tones.
Can You Get Palm Oil-Free African Black Soap?
Most African black soap is made with palm oil, which is a controversial ingredient as palm oil production has contributed to deforestation across the world. Palm oil can be produced sustainably, and switching palm oil for another oil doesn't always make a product more sustainable.
If you want to avoid palm oil altogether, the only palm oil-free African black soap we could find available in the UK is this one from Cebra Ethical Skincare. It's handmade in Ghana using organic unrefined shea butter, water and plantain leaf ash.
Does African Black Soap Dry Out Skin?
Some people find that African black soap dries their skin out. Adding raw honey when you apply the soap may help prevent this. Some degree of drying can be desirable when trying to treat acne, which is associated with oily skin.
Is African Black Soap Good for Acne and Eczema?
Many people find that it helps reduce acne eczema, though it doesn't work for everyone and some even find that it makes things worse. African black soap is frequently recommended as a treatment for acne and is worth trying, though there's no guarantee that it will help.
Why Is African Black Soap Black?
African black soap isn't always completely black—it can be a light to dark brown colour depending on how it was made and which ingredients were used. The black colour comes from the plantain leaves, which are dried and roasted. If they are roasted for longer, this will make the soap darker.
What Is African Black Soap Made From?
African black soap is made from a combination of plants that have antioxidant and anti-inflammatory properties. Most authentic African black soap uses the following key ingredients:
Coconut oil or palm oil – This gives the soap its soapy texture and helps bind the ingredients together.
Cocoa butter – Cocoa butter can help hydrate the skin and soothe burns and rashes.
Shea butter – Shea butter has lots of benefits for the skin including reducing inflammation and acting as a moisturiser.
Plantain skin ash – This is an important ingredient in genuine African black soap, and it's what gives the soap its dark colour. Plantain skin ash is sometimes left out in products that merely imitate the original recipes and use other dyes to give the soap a dark colour.
Sometimes extra ingredients are added to give the soap a particular scent or texture, or with the intention of providing additional skincare benefits. These can include:
Oats
Aloe
Vitamin E
Glycerin
Rosemary extract
Conclusion
We hope this look at African black soap has been helpful to you. There is certainly a lot of great black soap available in the UK, but these are our favourites.
If we had to pick just one to recommend, it would be Sky Organics African Black Soap as it's a highly rated soap that is simple, pure, organic, fair trade, vegan and cruelty-free.
For more natural skin, hair and body products, make sure you explore our website further.

Naturaler is a UK website full of tips and recommendations for living a more eco-friendly, chemical-free and natural lifestyle.